THE BEST SPEAKERSIM
STOMBOX GETS BETTER
The Torpedo C.A.B. M+ («Cabinets in A Box») is the missing link between the guitarist's rig and the PA or an audio interface. Use the best virtual cabinets available or load your own IR files.
Torpedo C.A.B. M now includes a free upgrade to Torpedo C.A.B. M+. New and existing C.A.B. M owners can simply upgrade their C.A.B. M firmware via Torpedo remote (USB). This FREE update includes a stunning clean preamp (based on an all original '74 Silverface B'man), audio enhancer, tuner, additional reverbs and noise gate to work seamlessly with the power-amp simulators, virtual cabinets and dynamic IR (DynIR) technologies within the acclaimed Torpedo C.A.B. M+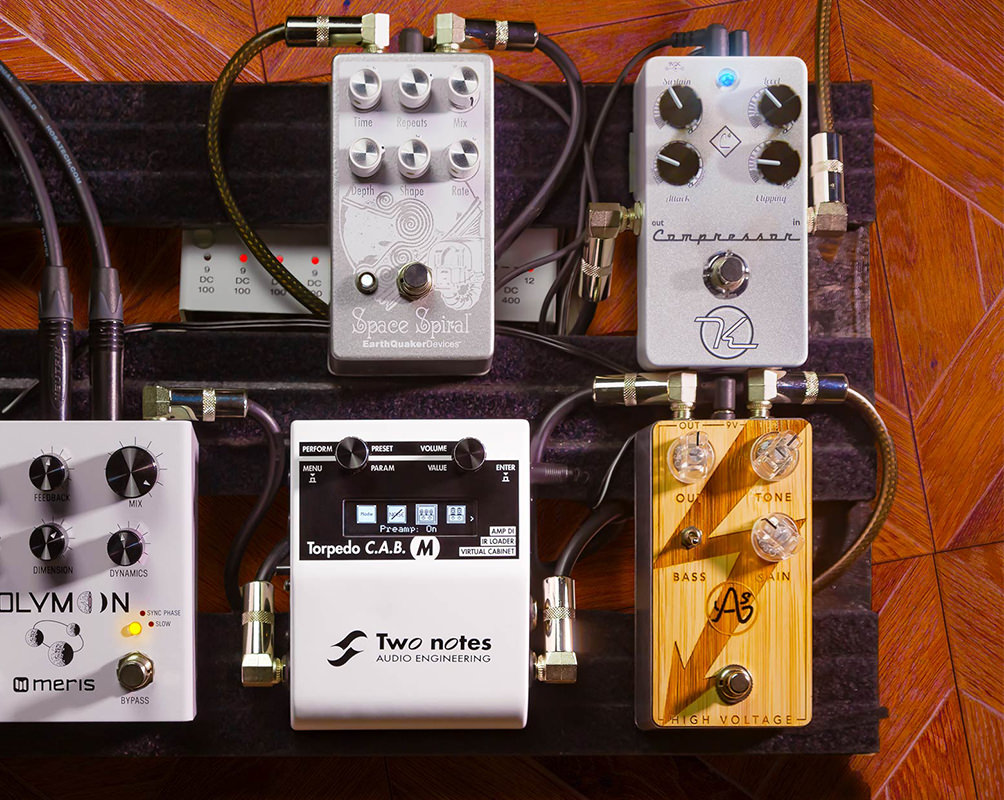 Leave your tube amp at home
The Torpedo C.A.B. M has been upgraded to include a high headroom clean preamp based on a '74 Silverface B'man – the Torpedo C.A.B. M+ takes its rightful place as the ultimate clean pedal platform sitting right there on your pedalboard
Exclusive Torpedo technology
Highly realistic speaker simulation is achieved by use of convolution. Two notes started from that technology and brought it much further, to accurately reproduce the characteristics of the whole miking chain (speaker, microphone, preamplifier, studio room acoustic).

Many parameters influence the sound of your guitar or bass rig when it comes to recording. Hence, taking good care of the cabinet selection and miking will dramatically improve the sound of your takes. The Torpedo simulation reproduces the tiniest variations of a cabinet behavior (such as its frequency response). Move the microphone in the virtual studio room thanks to the Torpedo IR synthesis: all the settings you need to achieve great recordings are here.

Because we want you to express your full potential, the Torpedo processing is compatible with third-party IRs, and the Torpedo C.A.B. M+ can load mono files in high resolution, up to 200ms in real time.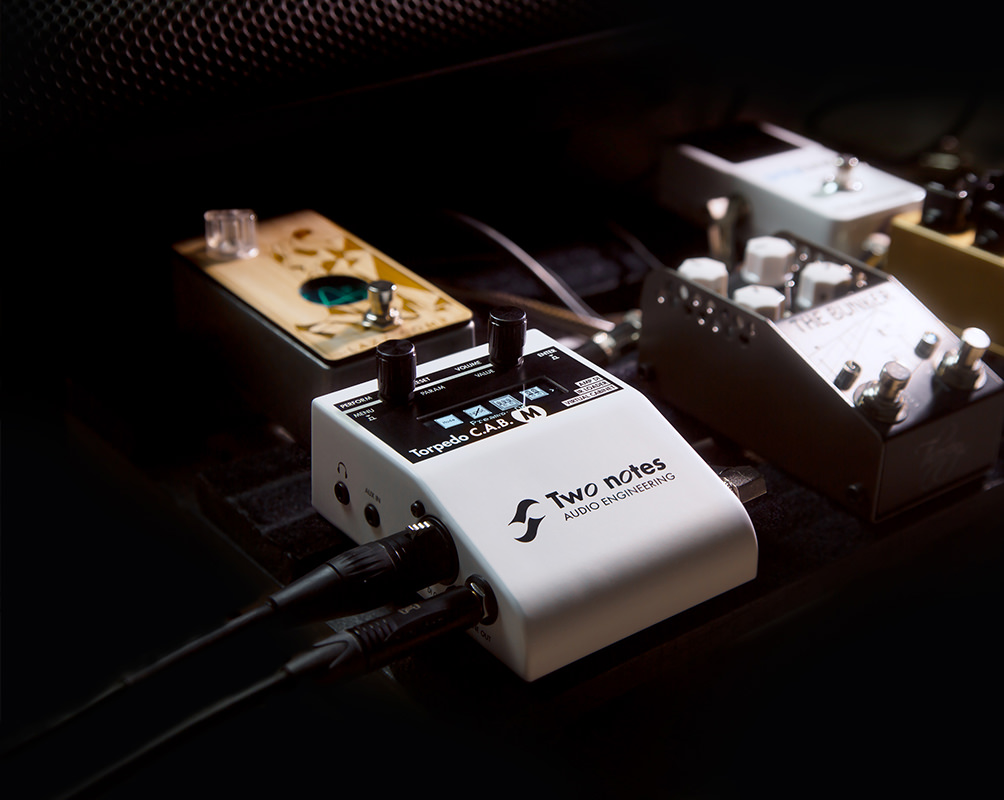 Effortlessly control your miking chain
Want to explore a legendary backline of speaker cabinets and microphones? Pair Torpedo C.A.B. M+ with your computer using Torpedo Remote (or phone and tablet with Wireless Torpedo Remote) to experience the full range of Two notes Dynamic IR technology. No other pedal offers such universal control of the miking chain - with dual miking available on every cabinet you may never use a real mic again. With our unique Dynamic IR / Virtual Cabinet technology – each cabinet contains the equivalent of 160,000 static IRs.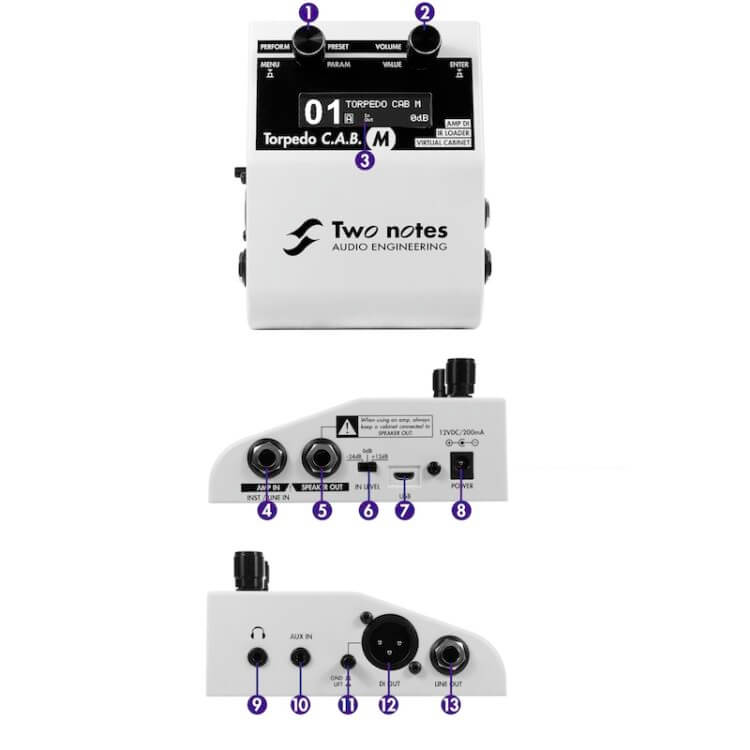 Connectivity
1- Parameter/Preset Encoder
2- Value/Volume Encoder
3- OLED display screen
4- Amp/Instrument/Line input
5- Speaker Output (!!when an amp is connected to the AMP input, the related cabinet has to be connected to the SPEAKER output of the pedal!!)
6- Input level sensitivity
7- USB for Remote application
8- Mains power adapter connector
9- Headphones output
10- Auxiliary input
11- Ground lift switch
12- Balanced XLR D.I output
13- Balanced TRS jack output
Torpedo C.A.B.M+ user manual