DPA MICROPHONES
d:facto™ 4018
Vocal microphone
EXCELLENT SONIC PRODUCTION
DPA MICROPHONES
d:facto™ 4018
Vocal
microphone
EXCELLENT SONIC PRODUCTION
Exceptionally natural sound
Perfectly even supercardioid polar pattern
High separation
Extreme SPL processing
Low noise floor
Slim design
Flexible adapter system for most professional wireless systems
The d:facto™ series brings real studio sound to the live stage and broadcast studio. These microphones are available in both an extremely linear version and a version with a high-end boost. The modular design of the d:facto™ series allows both the capsule and the adapter to be exchanged, making it the most flexible vocal microphone on the market.

The d:facto™ is designed specifically for performing vocals on stage and features a supercardioid capsule designed to reproduce every nuance of the human voice transparently, consistently and carringly. Two versions are available. The d:facto™ Linear Vocal Microphone (4018VL) is extremely linear. The d:facto™ Vocal Microphone (4018V) is linear, but with a high-end boost. The 4018V is often chosen because it "comes through" on a television set where content is typically transmitted to built-in television speakers with limited audio quality.
Except for the linearity/amplification, these microphones are identical. Both feature an isolation-optimized supercardioid polar pattern. This directional pattern offers the best of both worlds - of cardioid and supercardioid patterns. These microphones can pick up loud voices with a three-stage pop-protection grille and best-in-class noise performance. They also provide excellent sound reproduction with full detail and balanced linear phase and frequency response that users have come to trust in DPA microphones.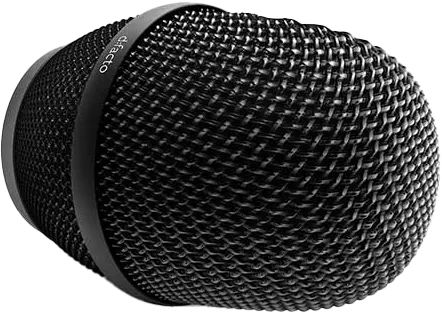 Optimized for live performances
d:facto™ vocal microphones are the ultimate stage microphones - whether the performance is taking place in a cozy club or the largest concert hall.
Like traditional supercardioid microphones, the d:facto™ series features high lateral and rear sound attenuation with at least 9 dB attenuation to the sides. However, it is not bound by the less desirable aspects of the supercardioid, such as the uncontrolled and nonlinear rear lobes.
The d:facto™ series has a larger opening angle at the front of the microphone than most supercardioids. The opening angle is identical to that of a first-order cardioid at ±60 degrees off center, resulting in the same sound field as a cardioid - only with extremely high and uniform side and rear damping.