2-WAY NEAR FIELD 8"
REFERENCE STUDIO MONITOR
Whether you're recording, mixing or mastering, your studio monitors are always the first source of reference. The studio monitors of the BX series of M-Audio build on a legendary history. Back in 2009, they were among the best-selling monitor speakers. Even in the D3 generation, M-Audio ensures unique features for musicians and professional recording studios. Dedicated analog amplifiers deliver superior dynamics and sonic accuracy across the entire frequency spectrum, while the Kevlar cone woofers and silk domes with revised waveguide-technology provide full, defined sound.
.
FEATURES
Active nearfield reference studio monitor with 8" Kevlar woofer
Powerful 150 watt bi-amp Class A/B power amplifier
1.25" silk dome tweeter delivers excellent transient response
New, optimized waveguide for precise sound reproduction
Ultra-wide frequency response with low bass 37 - 22,000 Hz
"Acoustic Space" control for sonic fine-tuning
Optimized rear bass reflex port for extended low-frequency response
Balanced XLR input and balanced/unbalanced 6.3 mm jack inputs for mixers, amplifiers, instruments, DJ equipment and more
LED on the front of the cabinet glows brightly when the speaker is placed at the ideal listening angle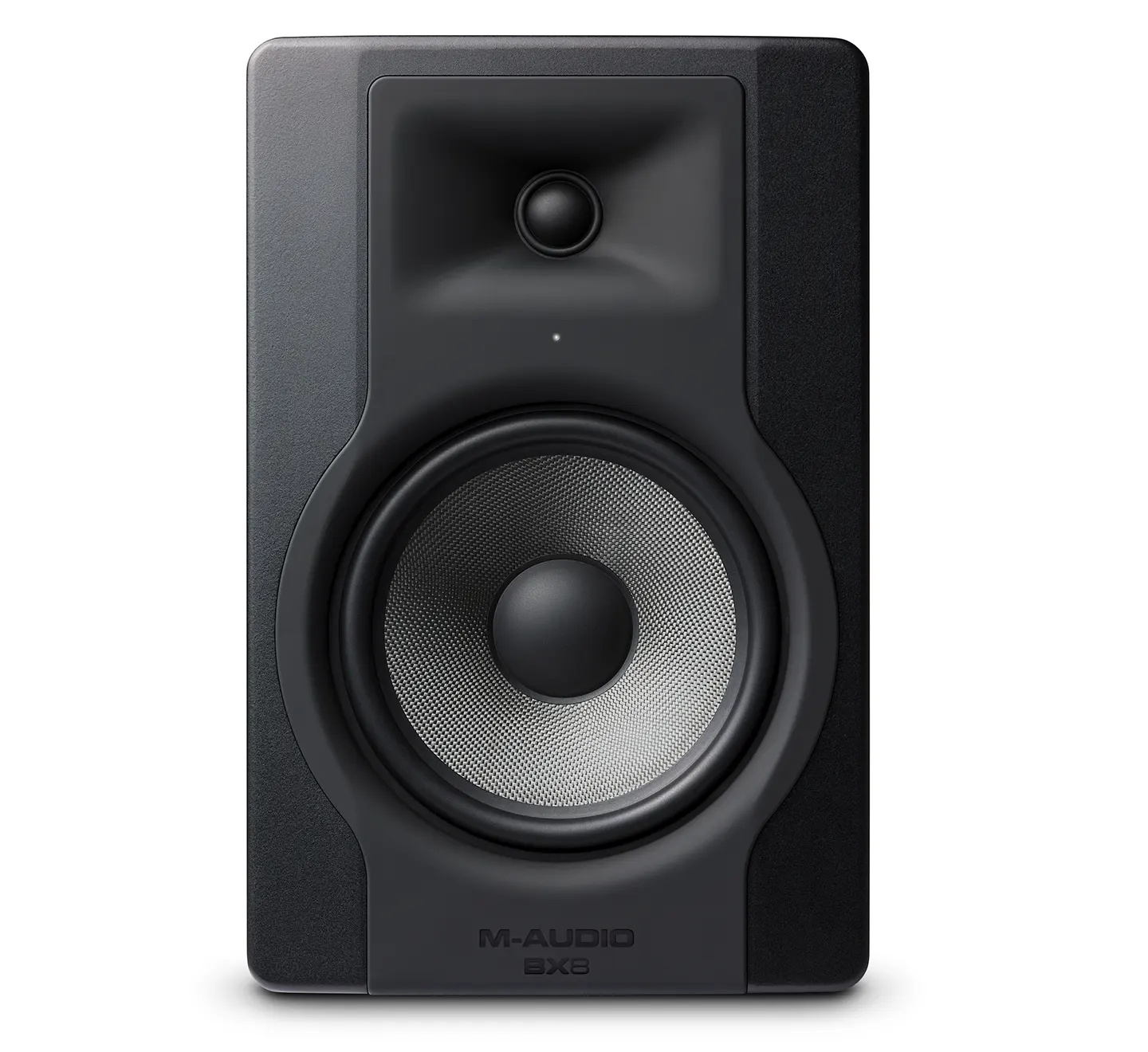 MAXIMUM PERFORMANCE - ACCURATE SOUND
A powerful 150 watt Class A/B power amplifier delivers a sound level of up to 110 dB, so even for the loudest and most dynamic mix there is still enough headroom available. Experience, thanks to the new optimized waveguide, a wide and exceptional sound image for even more vibrant sound. A new room correction circuit on the back now makes it possible to minimize the influence of distracting bass frequencies - from the basement to the professional studio - without compromising sound quality or stereo imaging.
.
Superior components
During the development of the BX8 D3 special attention was paid to first-class parts. High-quality components provide ultra-wide, linear frequency response with minimal distortion and lowest self-noise. Thanks to its 8"-Kevlar woofer (20.3 cm), which provides a powerful low bass up to 37 Hz, the BX8 D3 Monitor is guaranteed an extremely long life. The tweeter diaphragm is made of real silk which gives them a smooth sound - quite the opposite of many metal diaphragms in other monitors, which are often of poor quality. To keep distortion to a minimum, the tweeter is completely separated from the rest of the cabinet for balanced frequency response up to 22 kHz.
The integrated power amplifier works according to the Bi-Amping concept, amplifies tweeter and woofer each separately. In conjunction with a finely tuned crossover is thus guaranteed that both in the high and low range only those frequencies are sent, which can be optimally reproduced. The deep frequency cutoff at 1900 Hz provides a wide-ranging, nearly distortion-free signal output within the critical midrange frequencies.
As a result, with BX8 D3 you get sonic accuracy even with complex sounds across the entire frequency spectrum.
Designed for professionals - and for beginners
Countless professionals use M-Audio studio monitors to produce and mix - creating the music and sounds we hear every day. Now, with the same design philosophy and technology, everyone can live out their passion for great sound - the BX D3 series makes it possible. With BX8 D3 you know exactly what's going on in your mix, and can make better decisions about how to transfer it to various other systems - whether MP3 earphones, car stereo, or hi-fi.
M-Audio BX8 D3
8" STUDIO REFERENCE MONITOR
M-Audio BX8 D3
8" STUDIO REFERENCE MONITOR