USB audio interface
for streaming and content creation
M-Game Solo is a USB live streaming mixer with customizable LED lighting, integrated sampler and voice shaping and effects, combined with a professional audio interface and physical mixing surface.
Developed by the gaming experts at M-Game in collaboration with the audio engineering team at M-Audio, the M-Game Solo is a powerful gaming audio interface and live streaming mixer. Welcome to your best streaming experience.
With the M-Game Solo, you can easily create a fun and customizable live streaming setup with tools to enhance your gaming experience and impress your audience. The M-Game Solo USB streaming mixer is the ultimate USB audio interface for world-class streaming and content creation.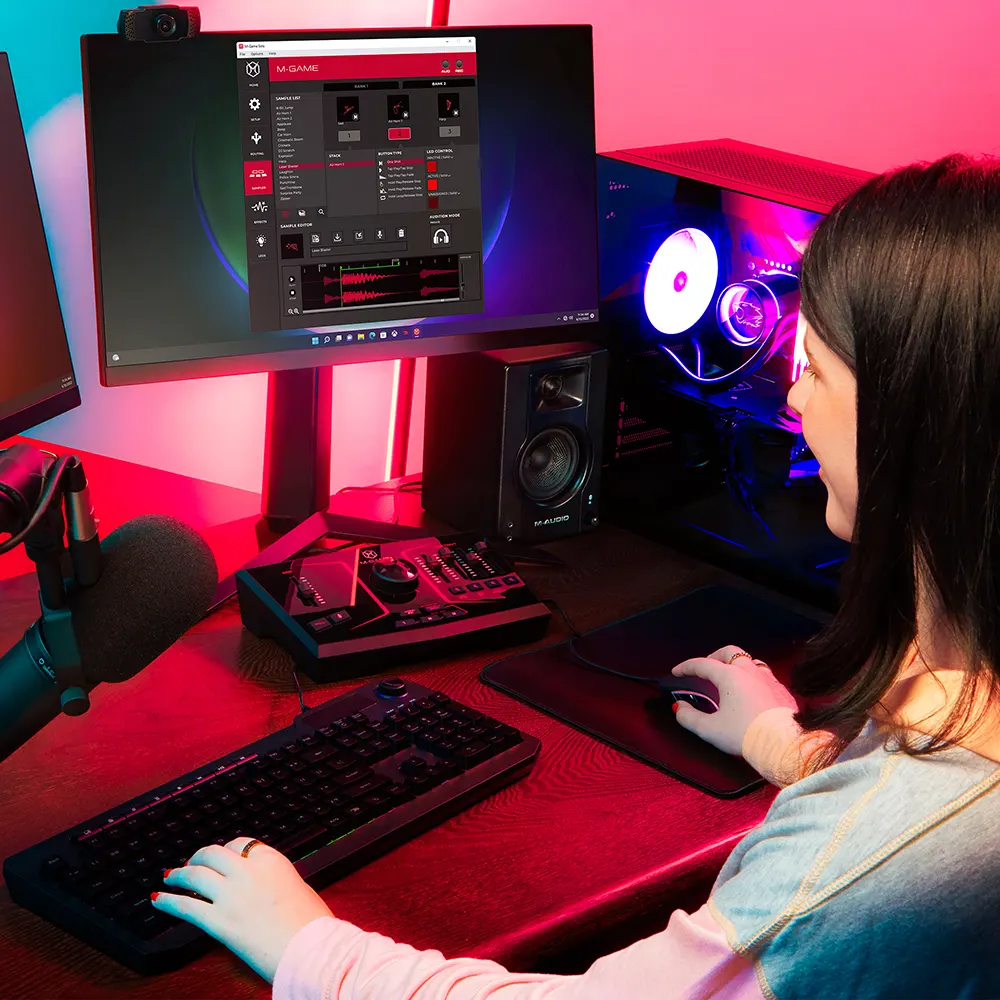 USB AND CONSOLE CONNECTION
No more humming, buzzing or strange cable configurations
INSTANT VOICE AND SOUND FX
Trigger samples and apply voice effects
CENTRAL CONTROLLER
Easy control of headphone and speaker volume
CRYSTAL PREAMPLIFIER CIRCUIT
XLR microphone connector with 110dB dynamic range
5 INDIVIDUAL CONTROLS PLUS HEADPHONE AND MAIN VOLUME
Independent level controls for microphone, game, chat, samples, headphones and more
CRYSTAL CLEAR MIC TECHNOLOGY
Improve microphone quality by configuring limiter, gate, compressor, high pass filter, EQ, mic booster and de-esser
FOOTSWITCH CONNECTION
Assignment to any key combination or macro
MUTE AND #$%& BUTTON
Microphone mute button with viewable audio samples, censorship has never sounded so good
M-GAME Solo
DUAL-USB-AUDIO INTERFACE FOR STREAMING AND CONTENT CREATION
M-Game Solo
DUAL-USB-AUDIO INTERFACE FOR STREAMING AND CONTENT CREATION