USB microphone with analog
compression in studio quality
RECORDINGS WITH HYPEMIC AS IF BY MAGIC
Have you ever wondered why your favorite recordings seem to jump out of the speaker? The reason is compression. HypeMiC offers studio-quality analog compression that's easy to use and makes your vocals, voice-overs, instruments, drums and podcasts - everything you record - sound professionally great! With HypeMiC and your iPhone or computer, you can make professional recordings on the go.
HYPEMIC HIGHLIGHTS
Studio quality analog compressor
PureDIGITAL connector for pristine sound quality up to 24-bit/96kHz
High-quality microphone capsule with cardioid characteristic for condenser microphones
The headphone output with blend function offers latency-free recording.
Premium accessory kit including tripod, pop filter and carrying case
No configuration required, just plug in and record with any audio app.
Works with iOS, Mac and PC
HEAR THE DIFFERENCE WITH APOGEE HYPE MIC COMPRESSION
If you are struggling to make your recording, podcast or livestream stand out from the masses with a present and powerful sound, you may have heard that "compression" helps you achieve your goals. Apogee HypeMiC's built-in compression does just that.
Apogee has tried every possible formulation to describe compression - it's "reducing the dynamic range", it's "squeezing the audio", it's "the polish you hear on the radio" - but in the end, the best way to understand compression is to hear it in action.
Apogee asked LA-based singer-songwriter Joel Taylor to record an entire track using only HypeMics, so Apogee recorded each instrument and vocal with a pair of HypeMiCs carefully positioned to accurately capture his performance. With one crucial little difference, one mic had compression on, one didn't - science, my friends!
The engineers noticed something interesting about the lead vocal tracks - even if the peak levels of both tracks were precisely matched (in other words, the loudest note on each track was set to exactly the same level on the meters of the audio tracks) - the compressed vocals had a punchy, direct character that made mixing much easier.
Listen to the final mix - everything was recorded with a single HypeMiC, including piano, bass, guitars, vocals and even the drums - a single microphone! We chose the compressed microphone for bass, drums, one guitar and vocals, while we chose the uncompressed microphone for the piano and the other guitar.
Download the raw tracks to listen to them yourself! Drag them into your favorite DAW and push the faders up. Imagine the creativity you unleashed with such a simple and great sounding professional tool!
MUSIC - VOICE
HypeMiC's unique analog compression improves vocals like no other microphone. The three compression settings available in HypeMiC allow for truly balanced and "mixed" recording, reducing the need for extensive processing and mixing. Capturing your perfect take has never been easier.
ACOUSTIC INSTRUMENTS
HypeMiC brings a new level of smoothness and warmth to acoustic instrument recordings. Different compression levels allow you to record the full sound of your instrument without compromise. HypeMiC is designed for high sound pressure levels and provides more clarity and detail when recording loud acoustic instruments from drums to horns to choirs
Perfect for podcasting with your HypeMiC and saving music ideas. Share great recordings with just one click.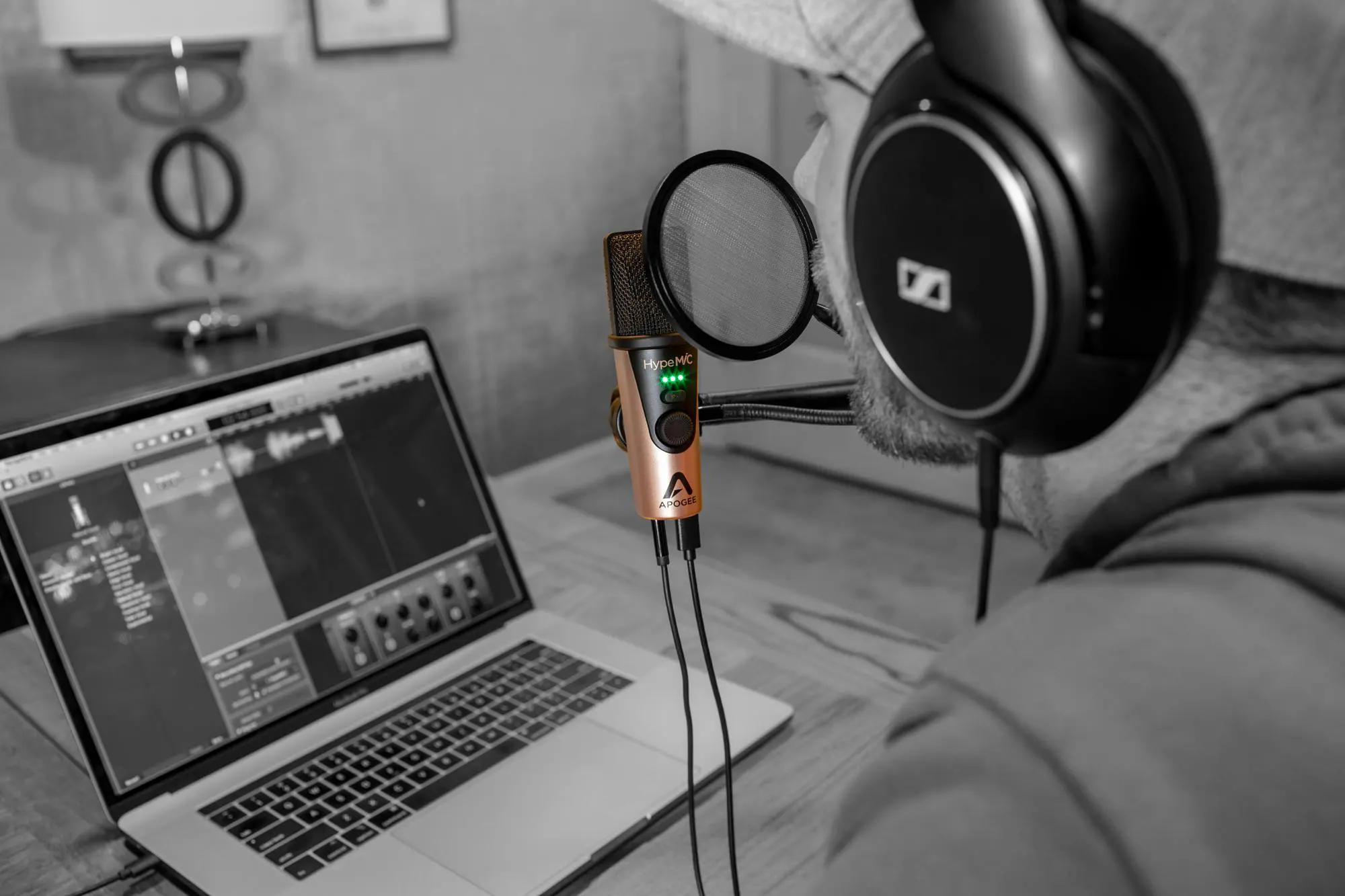 VOICE/AUDIO FOR VIDEO
Podcasts, voiceovers, interviews, YouTube appearances, live streaming & conference calls . 
Ideal for live streaming, podcasts and broadcasts, HypeMiC balances dynamics for clarity, resulting in better, broadcast-ready recordings. HypeMiC is compatible with any Mac/PC and iOS app where you can select an audio device, so you never have to go without a professional studio when you're on the road.
SPECIAL RECORDINGS
HYPEMIC ANALOG OUTPUT

HypeMiC is a great tool to add new sounds to your recordings and mixes. You can send audio from the HypeMiC stereo output to a mixer, audio interface or to a standalone recorder to capture the unique and powerful sound of HypeMiC's compression settings.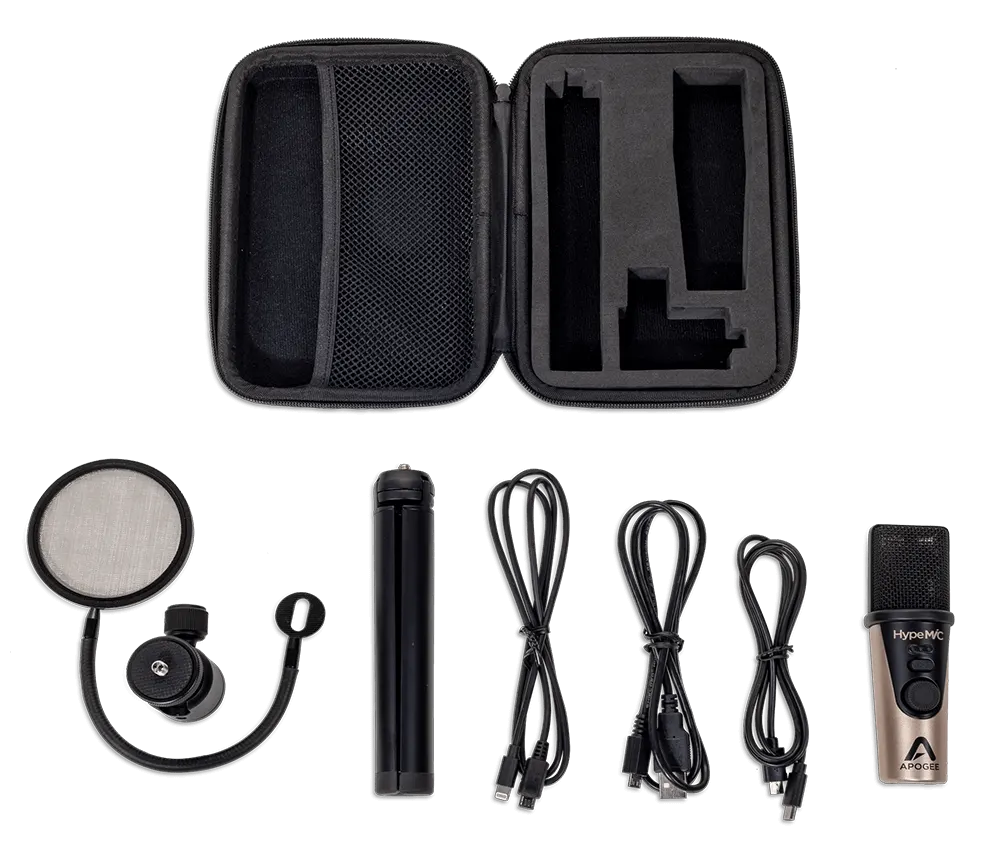 Apogee Hype MiC
USB MICROPHONE WITH ANALOG COMPRESSION
Apogee Hype MiC
USB MICROPHONE WITH ANALOG COMPRESSION