3.5" 120W BLUETOOTH MULTIMEDIA REFERENCE MONITORS
Would you like the ability to stream a mix to more than just your hardwired studio monitors? Do you own a Bluetooth® turntable but don't have the space to put speakers next to it? Enjoy a better listening experience with the compact, attractive, and Bluetooth®-enabled M-Audio BX3BT multimedia reference monitors.
Impressive sound, compact design
The BX3BT monitors from M-Audio are designed for a great sound experience, delivering 120 watts of transparent sound in an elegant, compact design that is the optimal solution for first-class sound. The two-way design features an acoustically neutral MDF enclosure with bass reflex that delivers powerful bass through the Black Kevlar® drivers. The enhanced rear ports and computer-optimized tweeters provide the full frequency spectrum to make every song, movie and video game sound big and lifelike!
.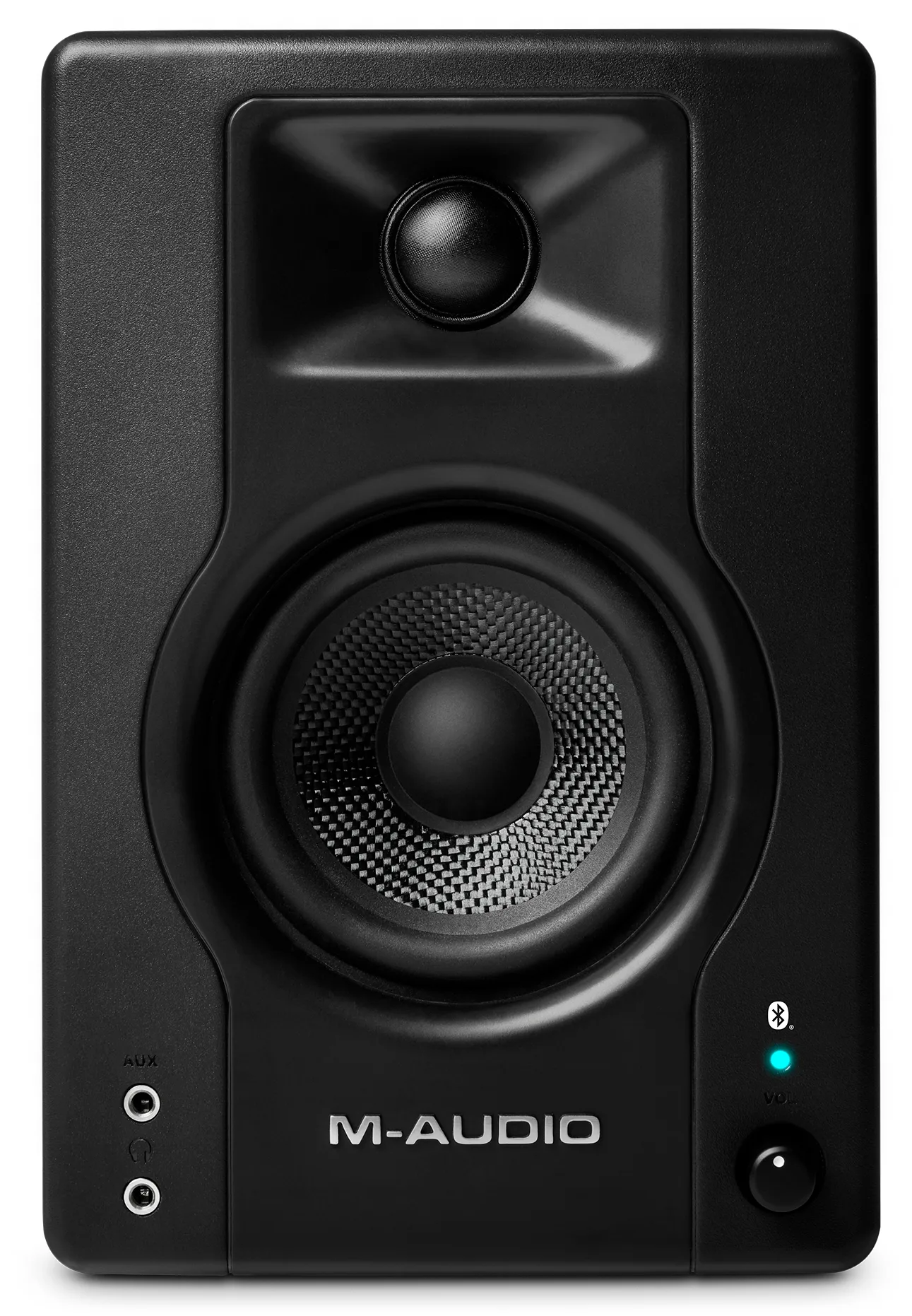 Active speaker control & EQ
M-Audio BX3BT has controls on the back that allow you to adjust the sound, depending on the placement of the active speakers,. The High and Low EQ controls let you add a little more thump or clarity to your music. The M-Audio BX3BT has a Left/Right Active Speaker Position switch that lets you choose which speaker sounds from the left or right side.
.
Connect your devices
The front and rear of the BX3BT provide all the connections you need to connect any playback device. There are 1/4"-, 1/8"- and RCA inputs on the back, and a 1/8"-Aux input and headphone jack on the front to listen to music in peace and privacy. Very handy for working at night in the home office or for mixing sessions where you don't want to disturb anyone.
Endless creativity with MPC Beats software DAW - effects and instruments included
The M-Audio BX3BT comes bundled with MPC Beats, the powerful DAW software for Mac and PC based on the legendary MPC hardware. MPC Beats offers a wide range of instrument plug-ins, effect plug-ins, audio and drum samples, and is the best way to make great-sounding music fast.
.
Features
Bluetooth® connectivity Easily pairs with any Bluetooth-enabled device for wireless streaming
Black Kevlar® woofers; 1" tweeter with natural silk dome
New computer-optimized tweeter waveguide for precise imaging
High EQ and Low EQ controls to dial in the perfect sound
Improved rear ports for extended low-frequency response
Left/right active speaker position switch for adjusting volume control on both sides
Bluetooth, 1/4", 1/8" and RCA inputs for connection to virtually any audio source
1/8"-AUX input on the front panel for quick connection of smartphones or other audio sources
Acoustically neutral MDF enclosure with bass reflex design for deep, rich sound
Includes 1/8" speaker interconnect cable, 1/8" to 1/8" cable and 1/8" to RCA cable
Technical data
Frequency response: 80 Hz 22 kHz
Output power: 120 W (total peak), 2 x 25 W (RMS)
Driver:

LF driver 3.5" / 88.9 mm
HF driver 1" / 25.4 mm; silk dome

Audio inputs: (1) RCA stereo input pair 2 1/4" (6.35 mm)
TRS inputs: (1) 1/8" (3.5 mm) stereo aux input
Headphone output: 1/8" (3.5 mm) stereo output
Connection cable: 1/8" (3.5 mm) TRS
Power consumption: 100-240 VAC, 50/60 Hz, 85 W
Bluetooth range: 30.5 m
Dimensions: Width x Depth x Height, 140 x 145 X 208 mm per speaker
Weight (per speaker pair): 3.35 kg
M-AUDIO BX3BT
3.5" 120W BLUETOOTH MULTIMEDIA REFERENCE MONITORS
M-AUDIO BX3BT
3.5" 120W BLUETOOTH MULTIMEDIA REFERENCE MONITORS