25-key USB MIDI Controller
with SMART CONTROL
AND AUTO-MAPPING
25-key USB MIDI Controller mit
SMART CONTROL UND AUTO-MAPPING
The Oxygen 25 MKV controller includes powerful features essential for creating and producing music, such as Note Repeat (a staple in beat production), Full Velocity Control of keys and pads, eight assignable knobs for controlling effects plug-ins and virtual instruments, and an assignable fader for mixing: all of which open up a world of precise techniques for music production and make your music sound professional and modern.
Built-in Arpeggiator
Arpeggiators help add excitement and movement to music quickly and easily. The Oxygen 25 MKV's built-in arpeggiator affects whatever you play on the keys of any virtual instrument in your DAW. When the arpeggiator is enabled, the keyboard repeatedly plays the keys that are pressed in the selected sequence. The timing and rhythm of the arpeggiator are based on the timing setting of the keyboard, either in the tempo of the keyboard or in the tempo setting of your DAW. Each note in the arpeggio has the length selected for the timing setting. For example, if you select 1/4, each note in the arpeggio will be audible in quarter note increments. This powerful tool can work in Latch or Momentary mode, making it easy to unleash your creativity.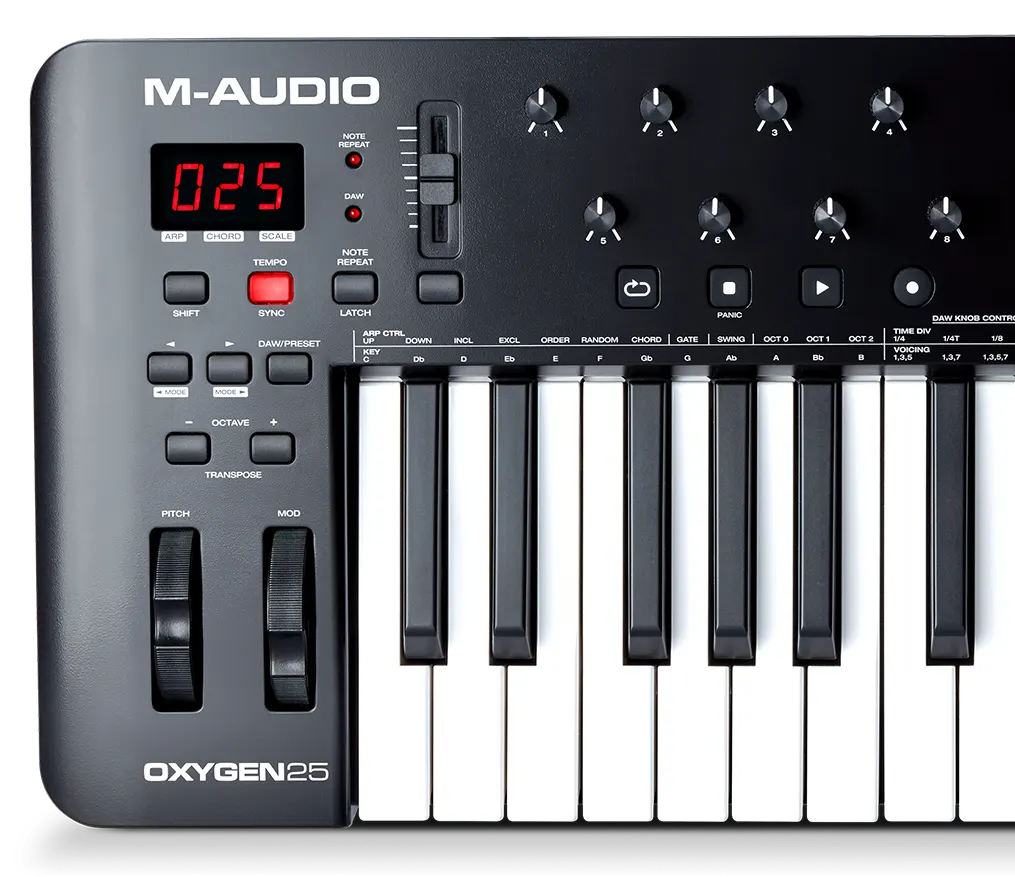 Auto mapping for more creative DAW control
Using the Oxygen 25 MKV controller with any DAW is incredibly easy. Controls such as transport, fader, pan, record, solo, mute, select and many more are automatically mapped to most DAWs for a smooth workflow. The Oxygen 25 MKV works with all major DAWs - including Ableton, Pro Tools, MPC Beats, Cubase, Logic Pro, Studio One and many more. By simply selecting your DAW on the Oxygen 25 MKV keyboard controller and configuring your DAW's presets for the keyboard, a new world of creative production is at your fingertips. The Oxygen 25 MKV keyboard also includes presets for all included virtual instruments and plugins (Mini Grand and Hybrid 3). These world-class plug-ins can be fully controlled and used in real time via the Oxygen 25 MKV keyboard controller.
SMART CONTROL
Smart Chord and Smart Scale technology are the links between your musically creative mind and your final productions. The Smart Chord feature helps you bring out your inner musical genius by playing entire chords with a single keystroke, and with the Smart Scale feature, the Oxygen 25 MKV's keys play the exact notes within a selected scale. Both features offer even more with a Custom Mode and over 15 different scale variations. With Smart Chord and Smart Scale technology, making music has never been easier.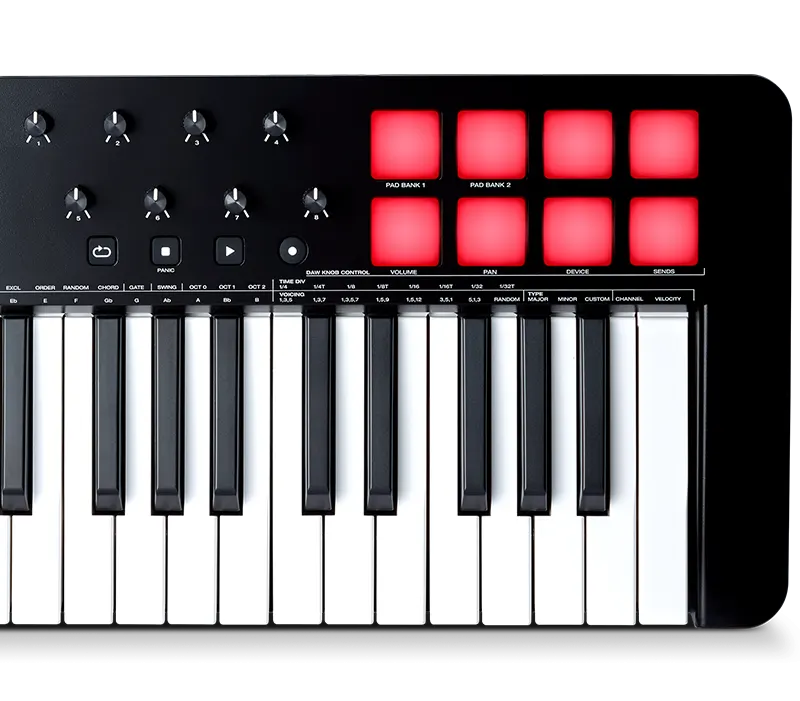 OVER 60 FREE INTERACTIVE LESSONS FROM MELODICS
Melodics is the best way to improve your skills and confidence in using your MIDI controller. Download Melodics to your desktop or tablet and learn with fun, relevance and effectiveness, with a huge variety of lessons. You'll be able to play great sounding music from modern genres with immediate feedback. Whether you're just starting out or a seasoned pro looking to learn advanced techniques, Melodics will grow with you. It's free to download and includes over 60 free lessons to help you get started.
Premium Software Suite
The Oxygen 25 MKV includes everything you need to get creative from the start. Record, playback, arrange, and mix your tracks with a choice of two professional DAWs, including MPC Beats and Ableton Live Lite. The arsenal of DAWs is complemented by two incredible virtual instrument plugins, the critically acclaimed Hybrid 3 multi-oscillator synthesizer and Mini Grand - a virtual acoustic piano instrument that offers a wide range of the most realistic piano sounds on the market. With the Expansion Packs from Akai Professional's legendary MPC series, you can dive into a world of innovative sounds - from hard kicks to snares, everything you need to add that professional touch to your production is included.
Oxygen 25 MKV FEATURES
25 standard-sized velocity-sensitive keys.
Preset and DAW buttons for automatically assigned DAW instruments and plug-ins.
Assignable fader
Smart Chord mode allows you to play enharmonic or custom chord voicings
Smart Scale mode eliminates wrong notes
Arpeggiator with Type, Octave, Gate and Swing controls
2 banks of 8 velocity-sensitive trigger pads with note repeat for beat production
(8) assignable knobs for manipulating virtual instruments and plug-ins
Transport buttons let you control your DAW without having to reach for the mouse
Display provides instant parameter feedback Ergonomically designed pitch and modulation wheels & 1/4" sustain pedal input
Includes MIDI Editor software and a complete software production package with Ableton Live Lite, MPC Beats, 2 AIR Music Technology virtual instruments (Hybrid, Mini Grand) and 5 MPC Beats Expansion Packs