AVID SIBELIUS Ultimate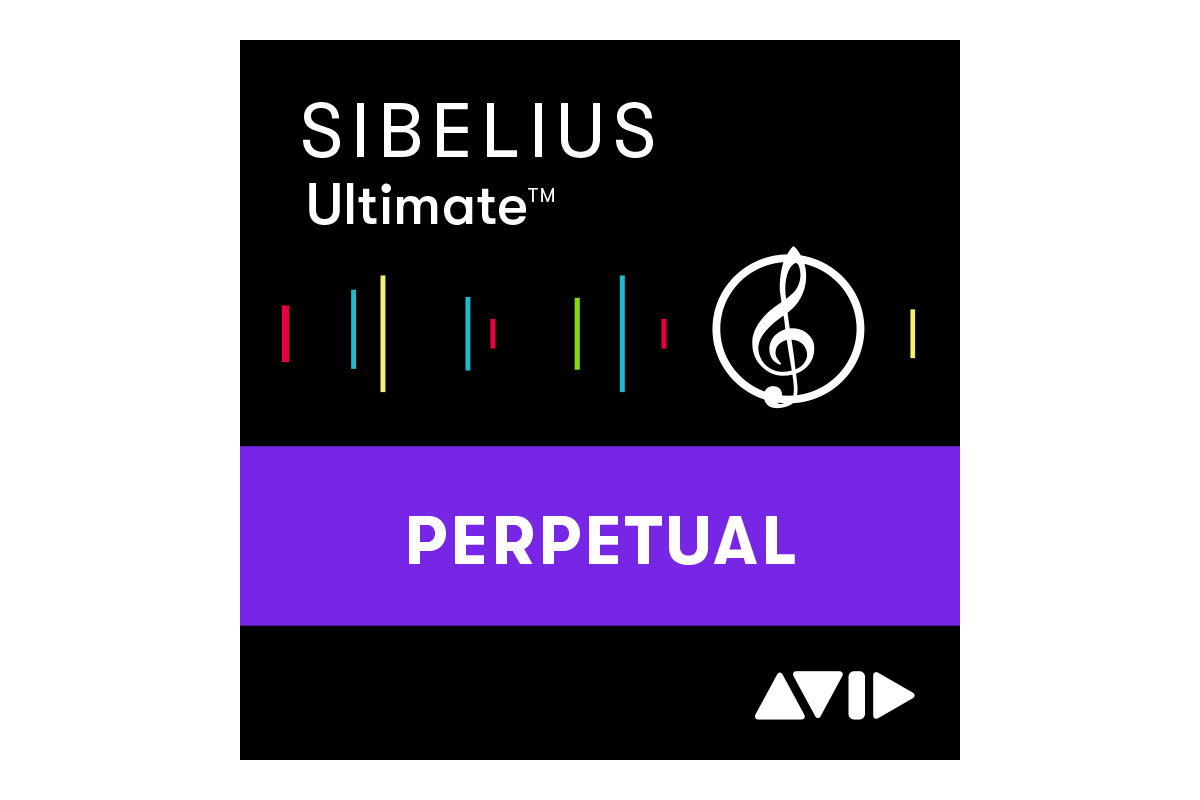 GET THE MODERN NOTATION TOOLS THAT PROFESSIONAL COMPOSERS, ARRANGERS, MUSIC ENGRAVERS, EDUCATORS, AND MUSIC PUBLISHERS RELY ON.
SIBELIUS ULTIMATE SOFTWARE PERPETUAL LICENSE (DOWNLOAD)
Sibelius | Ultimate software
Sound library—36 GB of professional-quality samples
Additional software—PhotoScore, NotateMe Lite and AudioScore Lite
ReWire audio/data transfer software
Support - Sibelius | Ultimate Software Update & Support Plan, which includes access to all new product updates and Standard Support for the duration of your subscription (or renewable annually if you purchase a Perpetual License)
Note: If you purchase a perpetual license, please note that the 1-Year Software Updates + Support Plan can only be renewed until 30 days after the expiration date. If you do not renew your annual plan, you will lose the ability to update your software. Not sure what the best solution is for you? Call us or send us a message.
FEATURES
COMPOSE, ARRANGE AND SET MUSIC WITHOUT LIMITS
Sibelius | Ultimate (former name: Sibelius) offers an advanced toolset that lets you edit an unlimited number of instrument parts and customize every facet of your score to suit your needs. Create sophisticated scores with an advanced set of notation tools and symbols, customizable notes and instruments, and workflows for film scores. And accelerate score polishing with advanced tools for layout, editing, and publishing.
WRITING MUSIC FAST AND EASY
Thanks to a complete upgrade of the underlying infrastructure, Sibelius | Ultimate offers powerful multi-editing features and an intuitive task-oriented interface that guides you through the entire process of creating a score. Enter notes in the on-screen notation, piano keyboard window, or fretboard window, or record them with your MIDI keyboard. Add notation elements, dynamics, custom symbols, and lyrics. Easily navigate large, complex scores using the Timeline.
CREATE BEAUTIFUL SCORES QUICKLY
Spend more time writing than correcting music. As you write notes, the magnetic layout automatically arranges everything exactly the right distance apart, without collisions, with beautiful results, in half the time. And the Dynamic Voices feature can automatically create separate instrumental parts, updating them as you change anything in the score.
TRANSFORM MUSIC INTO SCORES
Sibelius contains two software applications that let you convert recorded, printed, and handwritten music into notation. AudioScore Lite lets you enter notes directly by singing into a microphone or playing a monophonic instrument. PhotoScore & NotateMe Lite let you convert printed, PDF, and JPEG sheet music into editable scores, and even write handwritten notes.
HEAR EVERY DETAIL OF YOUR MUSIC WITH AMAZING CLARITY
With the included high-quality sampled 10GB sound library Instruments with, you can play back your compositions as they would sound with full instrumentation. The Espressivo feature adds a human element to the sound, so your score sounds exactly as you imagined it. You also get virtual instruments and effects in VST and AU formats.
GET THE UNSURPASSED PRO TOOLS INTEGRATION
Get even more out of your compositions by integrating Pro Tools into your workflow. With the included ReWire, you can easily record instrument parts from your Sibelius | Ultimate scores into Pro Tools and other DAWs for further recording, editing, and mixing. You can also send Pro Tools tracks directly from the Score Editor to Sibelius | Ultimate to further refine notations.
CAPTURE IDEAS
Have you thought of a short melody, chord progression, or line of lyrics that you want to capture quickly? You don't have to drop everything to do that. Ideas Hub is where you can quickly record those inspired music snippets and ideas to use or reuse later. If you have writer's block, Sibelius | Ultimate has over 2000 ideas in its library to give you new inspiration and reboot your creativity.
PERFECTING YOUR SCORE
Easily edit and perfect every element of the score with a complete set of DTP tools and the Score Inspector. Precisely adjust text, dynamics, and other elements with tracking, scaling, and alignment tools. Use hierarchically organized styles to change fonts and highlight passages. Add graphics with drag-and-drop ease. Even create your own house styles and manuscript papers to give your scores a unique look.
PUBLISH YOUR WORK
Share an unlimited number of scores online with Sibelius | Cloud Sharing and invite others to view, play, and comment on your music. Expand your storage with an AVID Cloud Premium plan. You can also collaborate via MusicXML, print scores, or export your music as MP3, MIDI, or PDF files.
PRACTICE AND PLAY MUSIC WITH YOUR IPAD
Do you own an iPad? Export your score to AVID Scorch, an iOS app that turns your iPad into an interactive music stand and score library for practicing and performing. With AVID Scorch on your iPad, you can view and customize scores for your instrument by transposing, changing instruments, or even converting notes to and from guitar tablature.
TEACHING MUSIC COMPOSITION
Sibelius | Ultimate is ideal for music notation, composition, and music theory training for students of all ages. It includes over 1700 ready-made lesson materials, including worksheets, projects, and exercises, as well as a Classroom Control window to track your students' progress. In addition, Sibelius | Ultimate network licenses make it easy to assign student licenses to any computer-even the student's home computer.