88-KEY GRADED HAMMER-ACTION
USB-MIDI-CONTROLLER
WITH SMART CONTROLS
& AUTO-MAPPING
The M-Audio Hammer 88 Pro is a full-featured 88-key MIDI keyboard controller with USB power and graduated hammer action that opens up a wide world of creativity for you! The new Hammer 88 Pro was designed with user and artist feedback in mind as the optimal studio and live performance tool. Add the natural piano feel of the Hammer 88 Pro to your equipment and take your music to the next level!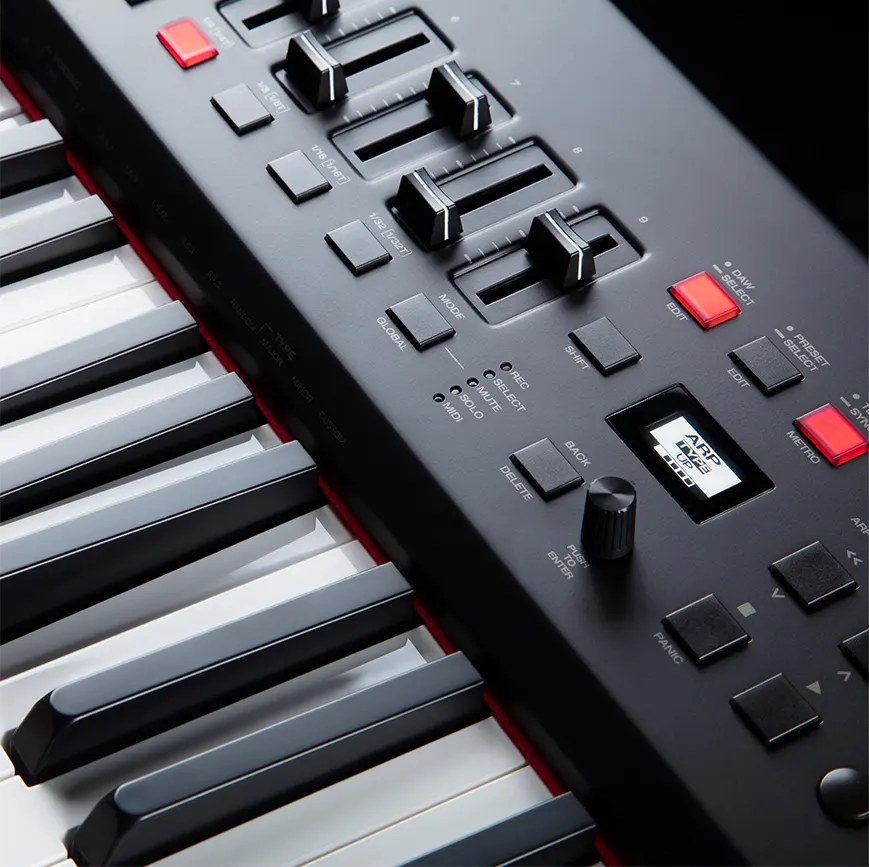 DAW Auto Mapping & Performance Control
Thanks to the front-center OLED screen, it's easier than ever to find and check out sounds, assign controls, and mix and edit your sessions. Hammer 88 Pro can control any DAW and automatically assign frequently used functions like transport, faders, pan knobs and more! Whether you're using Pro Tools, MPC Beats, Cubase, Logic, Studio One or any other major DAW, just select the function and Auto-Mapping will take care of the rest! It also maps all the virtual instruments included in the Hammer 88 Pro software bundle (Hybrid, Velvet, Mini Grand). These premium AIR Music Tech plugins can be fully controlled by the Hammer 88 Pro and used in real time as you produce and mix your music.
SMART CONTROLS
Hammer 88 Pro features M-Audio's brand new Smart Chord and Smart Scale technology. These features allow you to let your imagination run wild and seamlessly blend your hardware with your ideas across all 88 keys. Creating music on your computer has never been so intuitive and inspiring, thanks to these workflow-oriented features.
When Smart Chord is enabled, pressing a single key or pad plays a whole chord, not just a note. The key or pad you press determines the root note of the chord. The rest of the chord's properties (major, minor, etc.) are determined by the settings you choose. Smart Chord also has a Custom Mode that lets you determine the chord structure assigned to each key by playing it manually. For example, if you select Custom Mode and play a 1-b3-5-b7 chord, each key will be assigned that chord structure. The note of the key you press will serve as the root of the chord, and all parameters can be edited directly on the Hammer 88 Pro!
Smart Scale technology allows you to set the keyboard to play only the notes of the selected scale. This allows you to play within a selected scale without the risk of playing "wrong" notes. You can choose from 16 different scale variations when assigning a scale to the keyboard. Smart Scale is easy to enable and disable, and allows you to set the scale parameters you need to focus on creating.
Hammer 88 Pro Features
Best-in-class 88 graded hammer-action keys with aftertouch and assignable zones
(16) RGB, backlit, assignable, velocity-sensitive pads with note repeat for beat production, launching clips and more
(8) assignable knobs & buttons for controlling virtual instruments, mix plug-ins, DAW controls and more
(9) assignable faders for controlling virtual instruments, plug-ins, DAW faders, and more
Preset and DAW buttons for automatically assigned DAW controls & plug-in parameters
Smart Chord mode allows you to play enharmonic or custom chord voicings
Smart Scale mode eliminates wrong notes and makes it easy to create a perfect song
Arpeggiator with Type, Octave, Gate and Swing controls
Ergonomically designed pitch and modulation wheels & (3) footswitch pedal inputs and (1) expression pedal input
USB MIDI port and 5-pin MIDI input and output for connecting external MIDI devices
Intuitive layout with OLED display for quick editing of controls
Includes a music tray, MIDI editor software and a complete software production package
The Hammer 88 Pro is loaded with important features that are essential for modern music production on any computer or DAW. At the top of that list is Auto Mapping, which instantly maps the Hammer 88 Pro to many popular DAWs like Pro Tools, MPC Beats, Cubase, Logic Pro, Studio One, and Fruity Loops, as well as the virtual instruments included with the Hammer 88 Pro. The built-in arpeggiator affects anything you play on the keys of any virtual instrument in your DAW. This tool can work in Latch or Momentary mode, making it easy to adapt to your style.
The new M-Audio Hammer 88 Pro offers a complete software package that includes multiple DAWs, virtual instruments, and sample packs so that anysongwriter, producer, live streaming musician, or composer has all the tools they need for complete production.
Virtual Instruments
Hybrid 3 - Multi-oscillator synthesiser
Velvet - Electric piano
Mini Grand - Acoustic piano
MPC Expansion Packs
MPC Beats Producer Kits - Multi-Genre Beat Production Pack
F9 Instruments Beats Edition - 25 High Quality Instrument Samples
LANIAKEA Sounds – TrapSoul & LoFi Production Pack
MSX Audio - Soulful Drums Collection
ADSR - LoFi Producer Collection
MVP Urban Roulette Beats Edition - Urban Kits & Samples Expansion Pack
Cr2 Deep House Beats Edition - Deep House Expansion Pack
Cr2 Techno Beats Edition
MVP HookCity Trap n Soul Beats Edition