32-Mini-Key powerful USB MIDI Controller with smart Controls and Auto-Mapping
M-Audio's Oxygen Pro Mini is a portable and powerful MIDI controller with 32 mini-Keys, USB connectivity and a complete set of essential production tools to streamline your creative process. Immerse yourself in worlds of unprecedented expressiveness and creativity and effortlessly bring your creative idea to life. Focus on creating music, not programming your software. Everything the modern music producer demands, designed to give your creativity free play. Whether you want to make music on the road or in the studio, the M-Audio Oxygen Pro Series is perfectly flexible for any workflow.
Oxygen Pro Mini features a combination of 32 premium, velocity-sensitive, semi-weighted mini-Keys with built-in arpeggiator, 8 RGB, backlit assignable velocity-sensitive pads with Note Repeat and 4 assignable knobs, buttons and faders. Oxygen Pro Mini comes complete with everything you need to get the most out of your virtual instrument collection and DAW.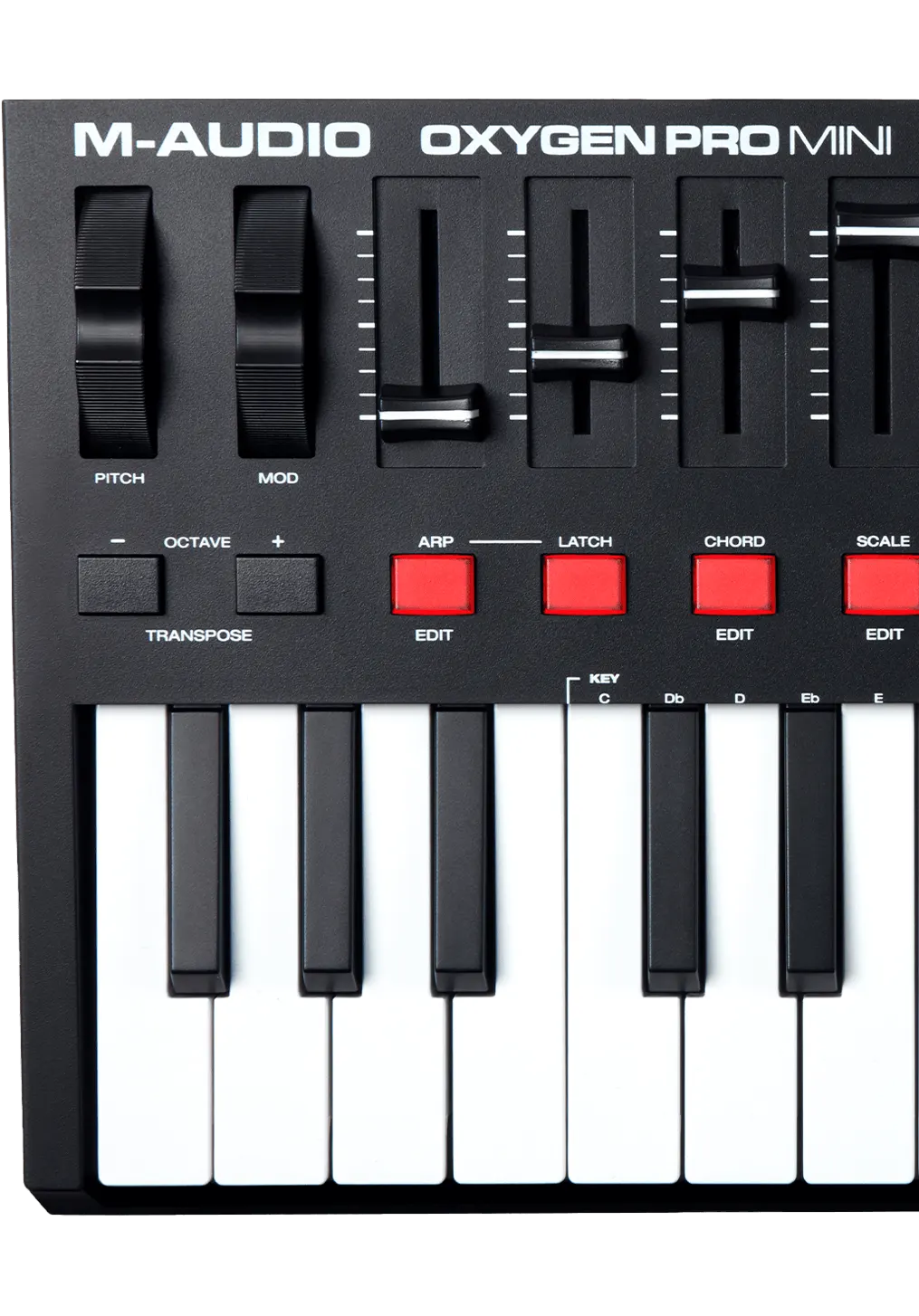 Seamless DAW & performance control with Auto-Mapping
With its easy-to-read OLED screen, configuring the Oxygen Pro Mini with any mainstream DAW couldn't be easier. Whether you use Pro Tools, MPC Beats, Ableton Live, Cubase, Logic Pro X, Studio One or any other music-making platform, just select the configuration you need and Auto-Mapping will take care of the rest. Unleash complete tactile control over your DAW with automatically mapped core functions like transport, pan control and more, directly to the Oxygen Pro Mini's hardware controls. What's more, Oxygen Pro Mini instantly maps to all the world-class virtual instruments from Air Music Tech included in the Oxygen Pro Series (Hybrid 3, Velvet, Mini Grand, Vacuum, Boom, DB-33) to provide an unprecedented level of real-time tactile control while you create and mix your music.
Smart control
With Smart Chord and Smart Scale technology, Oxygen Pro Mini eliminates all barriers to your production. When Smart Chord is enabled, pressing a single key or pad plays an entire chord with easy-to-use options for setting chord characteristics and custom gradients via the keyboard. With Smart Scale the Oxygen Pro Mini keyboard can be set to one of 16 scale variations, so only notes in the selected scale will be played. The result? You spend less time encountering technology-based obstacles and more time realizing your creative vision.
The next generation playing experience
The PrecisionTouch keyboard from M-Audio combines professional, semi-weighted action keys with advanced high-speed scanning technology for an expressive, unrivaled playing experience. It has never been easier to create the mood, dynamics and emotions you want to express in your music.
Premium Software Suite
Whatever your preferred method of production, Oxygen Pro Mini has everything you need for instant creative potential right from the start. Record, edit, arrange and mix your tracks with a choice of professional DAWs, including MPC Beats and Ableton Live Lite. Find and create every sound imaginable with a virtual instrument collection from legendary developer AIR Music Tech, including Hybrid 3, Velvet, Mini Grand. And finally, immerse yourself in a world of cutting-edge sound content with a collection of expansion packs from Akai Professional's legendary MPC Series - from hard-hitting kicks to snares that pop - everything you need to give your production the professional edge.
Features
32 first-class, velocity-sensitive, semi-weighted keys
(8) RGB, backlit, assignable, velocity-sensitive pads with Note Repeat for beat production, clip start and more
(4) assignable faders, knobs and buttons to control virtual instruments, mix plug-ins, DAW controls and more
Preset and DAW buttons for automatically mapped DAW controls & plug-in parameters
Smart Chord mode allows you to play enharmonic or user-defined chordal voices
Smart Scale mode eliminates wrong notes and makes it easy to create a perfect song.
Arpeggiator with type, octave, gate and swing control
Ergonomically designed pitch and modulation wheels; 1⁄4 inch input of sustain pedal
USB-MIDI connector and 5-pin MIDI output to control external MIDI devices
Intuitive layout with an OLED screen for quick control changes
Includes MIDI editor software and a complete software production package