DPA Microphones 4560 CORE
Binaural Headset Microphone
UNOBTRUSIVE AND EASY 3D SOUND RECORDING
The 4560 CORE Binaural Headset Microphone is, in its essence, a pair of 4060 CORE Miniature Omnidirectional Microphones that are mounted on two ear hooks (as known from the 4266 Flex type of headset). The microphones are a stereo pair; two handpicked 4060s, selected on sensitivity within ±1.5 dB. The actual headset is ergonomically designed to fit comfortably and easily. It adjusts to fit any ear size and head shape while at the same time it mounts securely and is hardly visible. Foam windscreens are supplied with the microphones to secure the position in the ear and to offer some damping of wind noise.
SOUND BITES FROM THE PLAY: GOOD FOR NOTHING
This play was developed by students of the Danish National School of Performing Arts. Nanna-Karina Schleimann created sound design and musical compositions.


"GFN Alex": One actor is talking; another actor is listening (wearing the binaural microphones). During this scene they both put their heads into a cardboard box. The audience now experiences being in that box as well.
"Composition": Composition/sound effects for a scene. 
"Pose Paranoia": Composition/sound effects for a scene.
The 4060 CORE Miniature Omnidirectional Microphones in this headset exhibit an exceptionally accurate omnidirectional pattern and therefore do not need to be aimed directly at the sound source to achieve quality pickup. This pattern also makes it less sensitive to handling noise as well as pop and wind noise. These 4060s handle sound pressure levels up to 134 dB before clipping occurs. This mic is well suited for applications where the sound source is more remote or damped and you need to have a good balance signal versus noise.
Binaural recording is a technique that uses two microphones to create an immersive 3D stereo sound experience for the listener. When correctly accomplished, these recordings allow the listener to hear sounds like they are actually in the same position as the person who did the actual recording.
Binaural recordings differ from more well-known stereo techniques because binaural uses two omnidirectional mics positioned close together (as if in a listeners ears) to replicate the sound pick up of the human ear as close as possible. Stereo on the other hand, use cardioid microphones with a larger space between them.
Online media – including Facebook, Google and others who are making an effort to create more appealing products, including immersive sound could benefit from binaural recording. Film recordists are using binaural techniques to gather content they can use for atmospheric sounds. In addition, podcasts using the binaural technique can provide content that is much more immersive and alive compared to traditional techniques.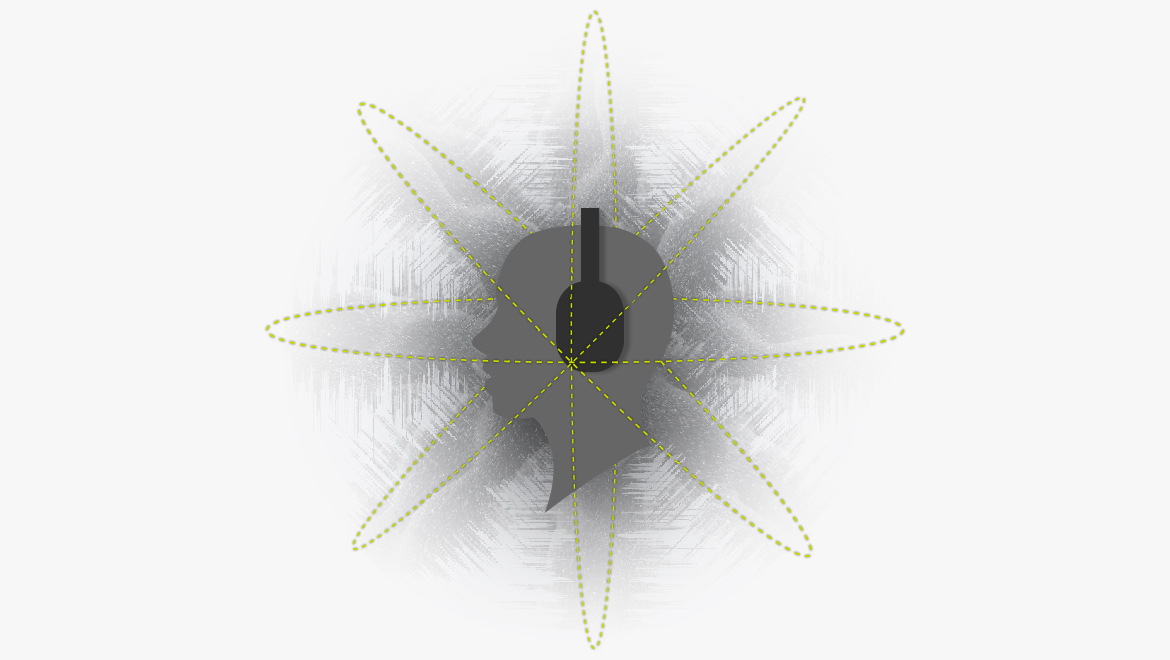 BINAURAL
RECORDING TECHNIQUES
The binaural recording technique builds on the principle of placing microphones on a human's head. The microphones' position is either just outside each ear canal or at the bottom of the ear canal close to the eardrum. When you reproduce the recording and listen with headphones, the image is very much similar to "being there". 
DPA 4560 CORE
BINAURAL HEADSET MICROPHONE