2-AD/4-DA 768 kHz high-performance converter
Based on the continuous development of the ADI-2 Pro, RME presents the next addition to the award-winning ADI-2 series. The latest masterpiece comes with a newly designed circuit board, improved specifications and a faster DSP for an outstanding transparent sound signature, extremely powerful headphone amplifiers including IEM power setting, an extremely low-noise, balanced 4.4-mm Pentaconn connector, a trigger-out function for turning external devices on and off, and finally an RIAA mode for direct digitizing of vinyl records at the highest quality.
A large number of devices packed into a single housing
The ADI-2/4 Pro SE is a 2-channel analog-to-digital input and 4-channel digital-to-analog output converter in a half-rack (9.5") chassiswith 1 U height. The latest 32-bit / 768 kHz converters provide a noise ratio of up to 123 dBA. Reference-class technical specifications are combined with unprecedented functionality. A powerful DSP provides a wide range of useful audio processing functions, including a parametric 5-band EQ, fast bass/treble adjustment, crossfeed and a new concept for loudness control.
The ADI-2/4 Pro features two servo-balanced analog inputs on combo jacks (XLR / TRS), two separate balanced and unbalanced outputs on XLR and TRS, two stereo headphone outputs (Extreme Power) on the front panel for simple balanced operation of all headphones, including IEMs via Pentaconn connector.
In addition, there is an optical S/PDIF input that also understands ADAT, as well as a coaxial S/PDIF (RCA) and an AES input (XLR) via an included breakout cable. These universal I/O options provide excellent quality and flexible connectivity for those who don't want to compromise on audio.
With independent balanced outputs for Line and Phones, the rear outputs are no longer muted. The balanced Line and balanced Phones outputs can be used simultaneously, even with different sources/signals. The balanced jack outputs on the rear can be fed from the Line 1/2 or Phones 3/4 signal path and are perfect for insert effects during the mastering process.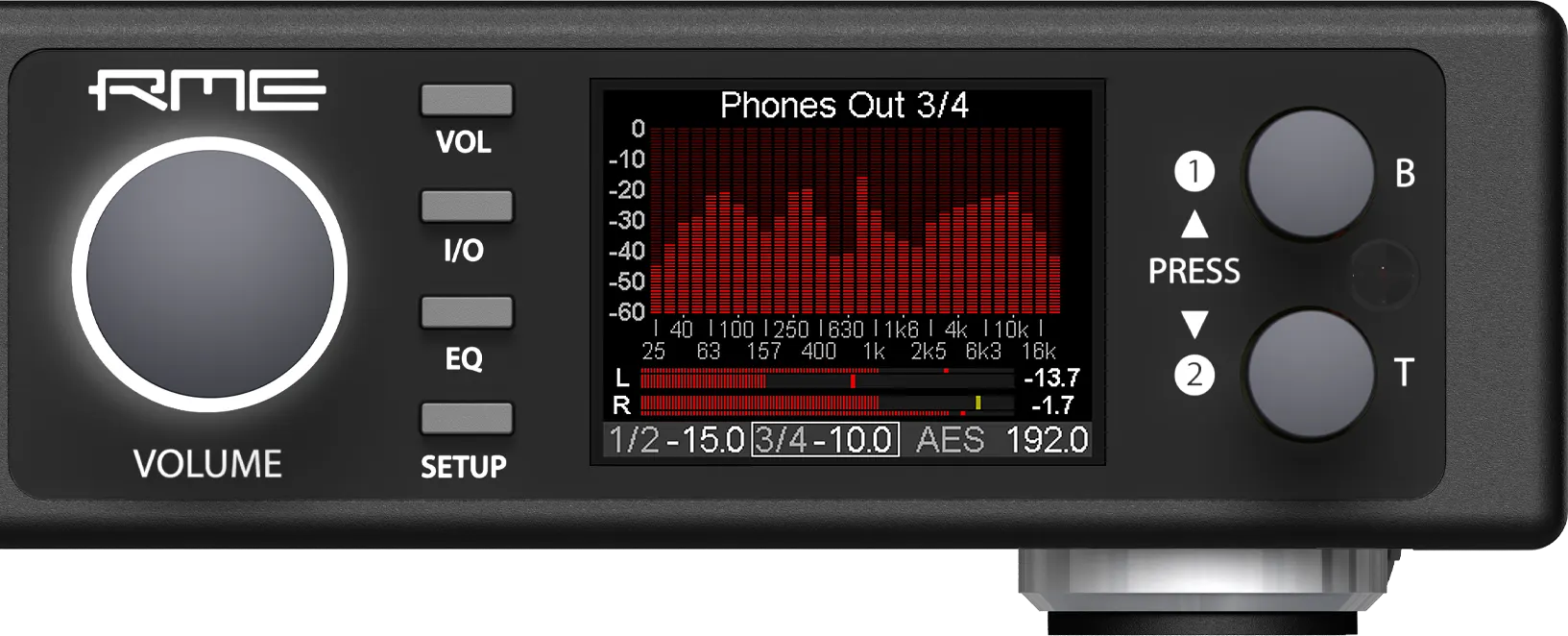 A high-resolution IPS panel for the graphical user interface further facilitates operation and displays other functions provided by the DSP, namely peak level meters, a 30-band analyzer using DIGICheck biquad filter technology, and a status overview screen showing the current states of SPDIF, AES, USB, and Clock.
The USB 2.0 port is fully Class Compliant (UAC 2.0), a standard natively supported by operating systems such as iOS, macOS, Linux and Windows 10 (since version 1709), and is also used for firmware updates. The ADI-2/4 Pro features an external switching power supply with lockable connector, so it can be easily powered by battery power, opening up both mobile applications and galvanically isolated deployment options.
As a computer interface, the ADI-2/4 Pro offers stereo (2 in / 2 out) and multi-channel (6 in / 8 out) modes. Compatibility with macOS is right out of the box. Under Windows the ADI-2/4 Pro uses RME's MADIface driver for full WDM and ASIO compatibility and highest performance.
Extreme Power Headphones - The new reference in accuracy and dynamic range
The RME-designed Extreme Power headphone stage has been further enhanced to deliver incredibly powerful headphone outputs (2.1 watts unbalanced, 3.4 watts balanced into 32 ohms, per channel). With a special IEM mode, the low-noise Extreme Power design offers additional IEM (high power, low power, IEM) power levels for full IEM compatibility.
All three headphone outputs feature mute relay, overcurrent detection, dc protection, plug detection and DSP control, such as. automatic assignment of volume, volume control, auto-balanced mode, dual phones mode, user interaction on overload detection, and automatic scaling of the level meter at low impedance.
RME's latest True Balanced mode realizes balanced headphone operation independent of the XLR outputs. The unit now features 2 balanced input channels and 4 balanced output channels. Balanced headphones only use DAC channels 3/4, and the rear outputs can still output an independent signal via DAC 1/2. In True Balanced mode, the ADI-2/4 Pro SE's maximum output level increases to +7 dBu for IEM, +13 dBu for Low Power, and +25 dBu for High Power. The signal-to-noise ratio remains unchanged.

Even more flexible and powerful
The new Trigger Out jack provides a 12 V switching signal via a 3.5 mm mono jack plug, which allows you to e.g. switch power amplifiers with Trigger In together with the ADI-2/4 Pro on and off.
To make the operation of the ADI-2/4 Pro SE as flexible as possible, the unit features a universal DC input jack that accepts voltages from 9.5 volts to 15 volts. A high efficiency (> 90%) internal switching regulator of the latest technology prevents internal humming noise by operating above audible frequencies. The internal switching regulator is followed by standard linear regulators, followed by super-low-noise linear regulators. Therefore, the ADI-2/4 Pro SE achieves its technical specifications even with less optimal power supplies. Or in other words, The choice of power supply is not decisive.
Shortly after the release of the original ADI-2 Pro, RME received many requests for digitizing records. Thanks to MM (moving magnet) compatibility, the ADI-2/4 Pro SE no longer requires an external preamp and can be connected directly to turntables. It has appropriate input impedance, RIAA equalization and the necessary preamplification.
RME ADI-2/4 Pro SE
2-AD/4-DA 768 KHZ, HIGH-PERFORMANCE CONVERTER
RME ADI-2/4 Pro SE
2-AD/4-DA 768 KHZ, HIGH-PERFORMANCE CONVERTER