4.5" 120-Watt Multimedia
Reference Monitors
Are you unhappy with the sound quality of your built-in computer speakers? Want a better listening experience for your favorite music, podcasts, live streams, video games, video calls and conferences? Then M-Audio BX4 monitors are the perfect choice! Compact, attractive and easy to install, M-Audio BX4 desktop speakers are carefully designed to let you experience your media like never before!
FEATURES
4.5" Black Kevlar low frequency drivers; 1-inch natural silk dome tweeters
New computer-optimised tweeter waveguide for precise imaging
High-EQ and Low-EQ controls for dialling in the perfect sound
Enhanced rear ports for extended low-frequency response
Left/right Active Speaker Position switch for configuring which side has volume control
1⁄4-inch, 1⁄8-inch, and RCA inputs for connecting to virtually any audio source
Front 1⁄8-inch AUX input for quick connection of smartphones or other audio sources
Acoustically-inert MDF cabinet with bass reflex design for deep, rich sound
Includes 1⁄8-inch speaker interconnect cable, 1⁄8-inch to 1⁄8-inch cable and 1⁄8-inch to RCA cable
Production Software Suite with Pro Tools | First M-Audio Edition and 20 AVID Effect Plugins included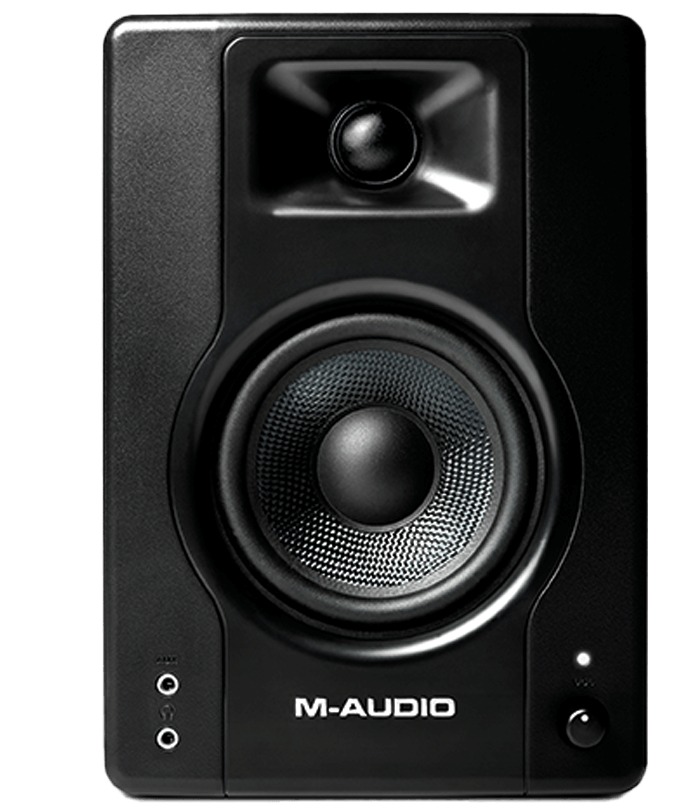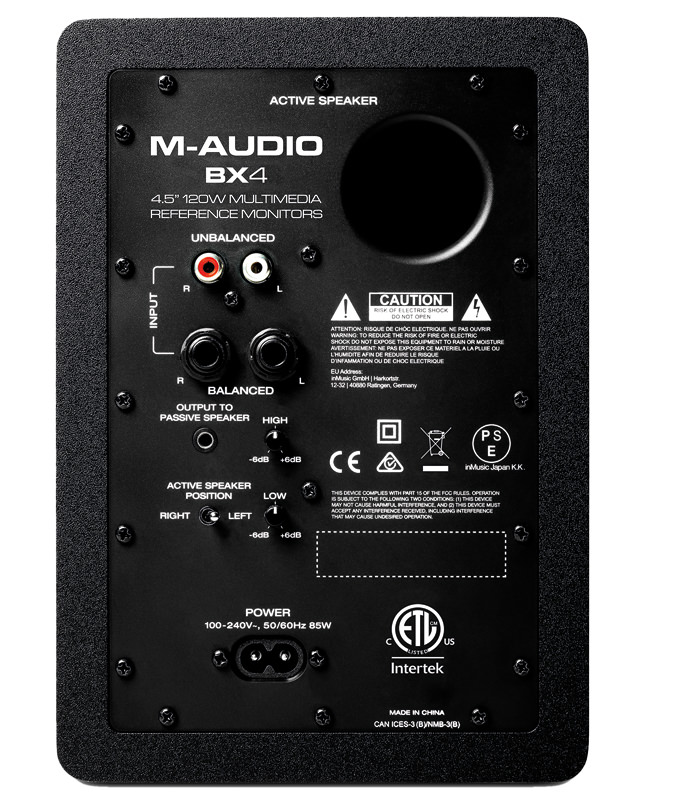 Perfect connections
The connectors on the rear panel offer jack (6.3mm) and RCA inputs, so they are compatible with all your equipment. There's even a mini-jack (3.5mm) aux input and a headphone jack on the front of the speaker for your tablet, computer or mobile device.
Tailored sound
With the BX4, no stone is left unturned when it comes to providing you with the ultimate customized listening experience. The High EQ and Low EQ controls allow you to adjust the perfect sound for your environment. The Left/Right Active Speaker Position switch even lets you choose which speaker is on the left or right side - especially useful if you're left-handed and want the speaker with the volume control on your left.
Pro Tools | First M-Audio Edition included
Pro Tools is the industry standard for recording software. This great audio and MIDI recording software provides great services for musicians, podcasters, live streamers or singer-songwriters who want to realize, record and share their ideas with the whole world. Pro Tools | First M-Audio Edition includes Unlimited Busses, Elastic Time and Elastic Pitch, Offline Bounce and 1GB of available cloud storage for collaboration or to access projects from any computer with Internet access, and provides compatibility with all included AIR Music Tech virtual instruments. With this amazing software recording package, you bring ideas from the imagination to the real world.