24-BIT/192KHZ 8-CHANNEL, AES42
INTERFACE FOR DIGITAL MICROPHONES
CONNECTIFITY
8 x AES42 Input
8 x Analog I/O
4 x AES/EBU I/O
2 x ADAT I/O
1 x WordClock I/O
1 x MIDI I/O
1 x Com-Port I/O
optional: MADI I/O (I64 MADI Card)
The DMC-842 is both an 8-Channels AES42 interface as well as a controller for digital microphones. The unique device allows for connection and control of up to 8 digital microphones, and converting their signals to ADAT, AES/EBU, analog and (optional) MADI. Eight individually switchable hi-end sample rate converters offer a flexible clocking and further usage options, especially as the inputs are compatible to AES3 and AES/EBU too.
When developing the DMC-842, RME worked closely with the microphone manufacturers to secure maximum compatibility and best functionality. As a result the DMC-842 is the most flexible and most compatible AES42 interface available - a true milestone for the broad acceptance of the new digital microphone technology.
The DMC-842 is fully remote controllable, via MIDI, AES and (optional) MADI. The optional I64 MADI Card provides serial pass-through capability from one DMC-842 to the next (up to 8). All up to 64 audio signals are then available at the last device on one single line. Such a way of cascading is also possible with the Micstasy and the ADI-8 QS. The signals passed through the DMC-842 are available at the analog outputs, making an expensive splitter box on stage obsolete.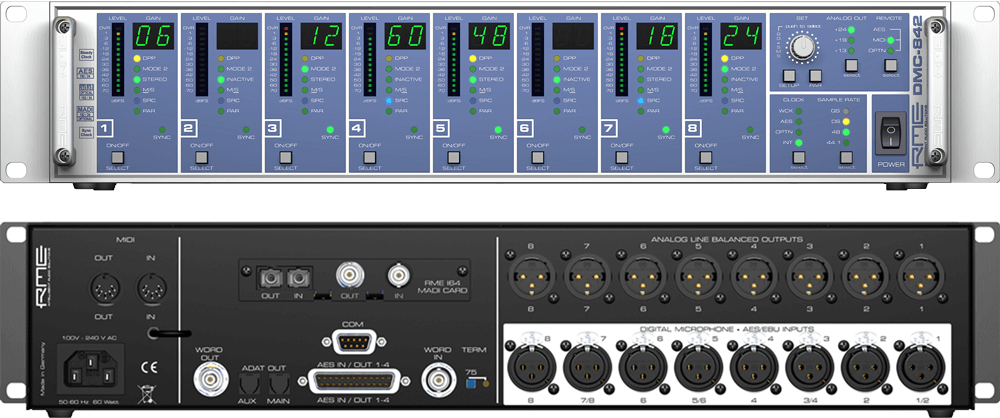 Fully compatible to AES42
8 XLR AES42 inputs (AES3 compatible)
8 balanced XLR Line outputs
24 bit sample rate conversion switchable per input
Digital Phantom Power switchable per input
Supports Mode 1 and Mode 2
63 dB gain range per channel, even in asynchronous Mode 1
LED level meter with 13 LEDs per channel
M/S de-/encoding
4 x AES/EBU Out via D-sub, 8 channels @ 192 kHz
2 x ADAT Out, 8 channels @ 96 kHz
Optional MADI I/O (I64 MADI Card) with serial cascading and digital/analog return path
MIDI I/O
Fully remote controllable
Future-proof by flash updates
In a standard 19" box with 2 unit height the device offers numerous extraordinary features like Intelligent Clock Control (ICC) , SyncCheck ®, SteadyClock, MultiMode, MIDI over MADI, and remote control via MADI and MIDI.
The technologies known from other RME products like SyncCheck® ensure perfect synchronization and clear detection of errors. Also multiple units can be stacked and operated sample-aligned, using word clock. All settings are stored when the unit is switched off. The DMC-842 can be fully remote controlled and configured via MIDI, and all status displays can be queried through MIDI. Each DMC-842 can be given a separate ID, allowing separate remote controllability of various devices with only one MIDI channel. RME's SteadyClock(TM) guarantees excellent clock quality in any situation. Due to the highly efficient jitter reduction, the DMC-842's DA-converters operate independently from the quality of the external clock signal, as if they are working with internal clock all the time - guaranteeing a pristine sound quality! Additionally Intelligent Clock Control (ICC) will retain the last valid sample frequency in case of a loss of the input signal.
RME DMC-842
8-CHANNEL AES42 INTERFACE FOR DIGITAL MICROPHONES
RME DMC-842
8-CHANNEL AES42 INTERFACE FOR DIGITAL MICROPHONES