RME HDSPE RAYDAT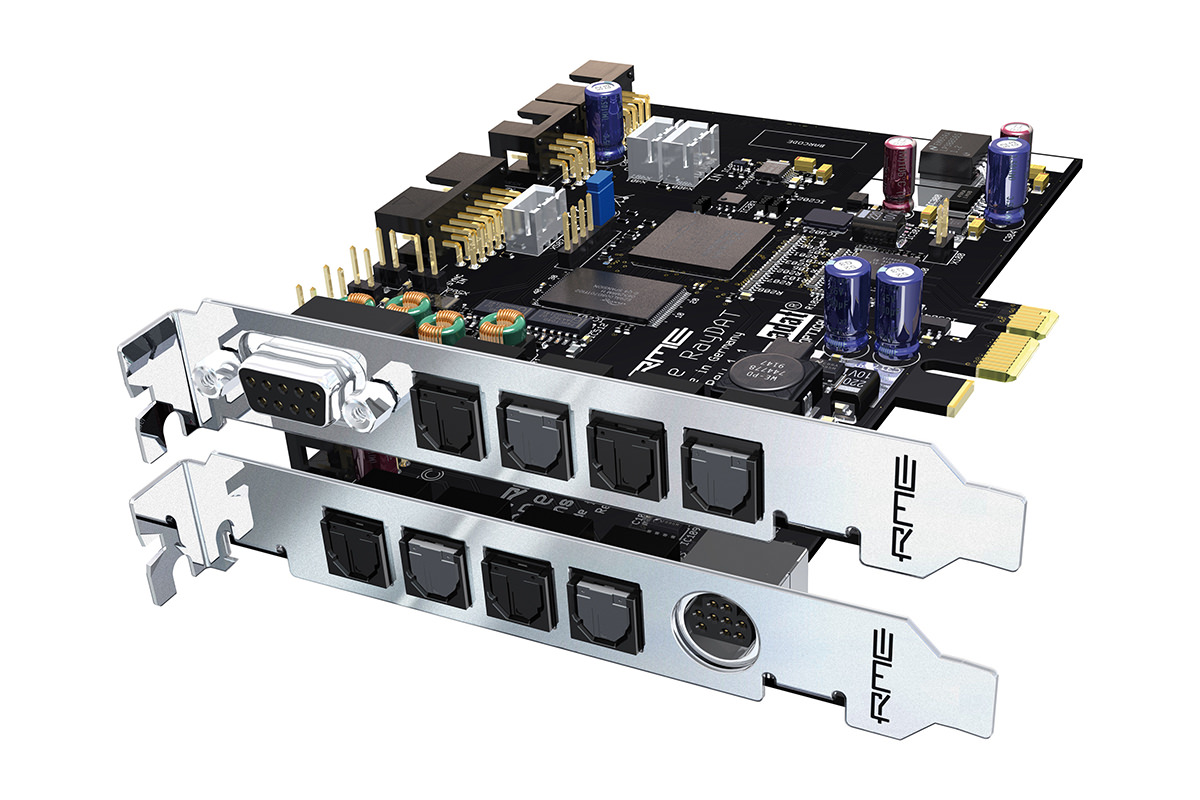 72-CHANNEL 192 KHZ ADAT/AES PCI EXPRESS CARD
HDSPe RayDAT is a multi-channel, multi-format and multi-task tool in stunning professional quality, the ideal solution from recording up to the final mastering. For the first time, even SPDIF (phono) and AES/EBU (XLR) are simultaneously operational due to separated hardware and record/playback devices. RayDAT offers no less than 4 x ADAT optical I/O, SPDIF I/O and AES/EBU I/O. That's a whopping 36 channels of inputs and outputs. On top, there are 2 MIDI I/Os and TotalMix, RME's unsurpassed DSP-based real-time mixer/router, with hardware-calculated level metering and complete MIDI remote capability. HDSPe RayDAT also supports the optional TCO for synchronization to timecode (LTC/video).
Internal ADAT inputs and outputs allow to add up to two TDIF ports directly inside the computer via RME's optional expansion boards.
HDSPe RayDAT is the newly developed PCI Express version of the HDSP 9652. A genuine PCI Express core consequently takes full advantage of the new format, achieving significant performance gains in multitrack audio. Thanks to RME's secure flash update technology, firmware improvements, adjustments, and bugfixes can be installed easily at any time.
CONNECTIVITY
36 Inputs / 36 Outputs
4 x ADAT I/O (up to 192 kHz via S/MUX4)
1 x AES/EBU I/O (192 kHz)
1 x SPDIF I/O (192 kHZ)
2 x MIDI I/O
TotalMix
optional: Time Code Option (TCO)
optional: Expansion Board WCM
FEATURES
4 x ADAT digital I/O, supporting 192 kHz via S/MUX4 operation
1 x SPDIF digital I/O, 192 kHz-capable
1 x AES/EBU digital I/O, 192 kHz-capable
2 x MIDI I/O, 32 channels high-speed MIDI via breakout cable
Up to 36 inputs and 36 outputs can be used simultaneously!
DIGICheck, RME's unique metering- and analysing tool
TotalMix: 2592 channel mixer with 42 bit internal resolution
Native PCI Express - no PCI to PCI Express bridge used
S/MUX poured in hardware: 16 channels 24-bit/96kHz for record and playback on ADAT optical
HDSPe RayDAT includes SteadyClockTM, RME's own clock technology, combining professional features like maximum jitter suppression at full varipitch capabilities and software controlled sample rates.
INCLUDED SOFTWARE:
DIGICheck for Windows: Spectral Analyser, professional level meter for 2, 8, or 36 channels, Vector Audio Scope, various other audio analysis tools.
Drivers: Windows 2000/XP/Vista/7/64 (full ASIO multi-client operation of WDM, GSIF 2.1 and ASIO 2.0), Mac OS X Intel (Core Audio and Core MIDI).

SETTINGS
Just click on the hammer symbol in the systray of the taskbar and the settings dialog of the HDSPe RayDAT comes up. The clear structured, easy to understand window plus the unique informative status windows for input signal, clock mode, sample rate and time code make your work with the card to a real pleasure. With a simple mouse click you gain access to the full power of your card.
When working with several digital sources it is not only necessary that these are all properly locked, they also have to be totally synchronized. Else drop outs and crackling occurs. RME's exclusive SyncCheck © checks all input signals. In clock mode Master the synchronous operation to the internal clock is checked. This outstanding and unique technology helps to find errors immediately. The actual state of each input is displayed in the settings dialog.
RME's unique SyncCheck and AutoSync technology has evolved into the new Intelligent Clock Control (ICC) of the HDSPe system. HDSPe RayDAT measures and displayes the frequency of all clock sources. Even word clock! Based on validity and current sample rate the system then decides which clock source should be used - fully automated and performed in hardware. With this the HDSPe system offers the most easiest handling of the present clocks, although having a lot digital inputs, plus the most advanced support when configuring the clock setup.