RME FIREFACE 802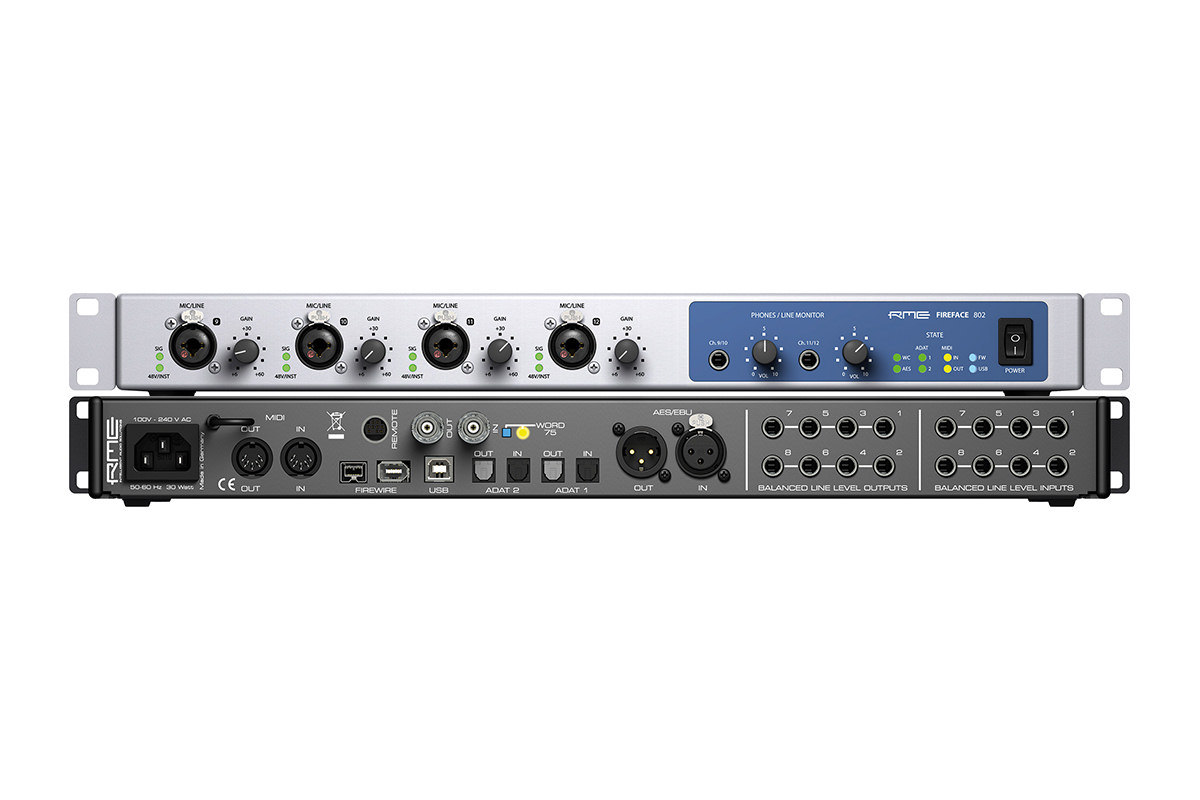 60-CHANNEL HIGH-END 192 KHZ USB & FIREWIRE AUDIO INTERFACE
The Fireface 802 renews RME's reputation built on the legendary Fireface 800. 60 channels of audio, high-end microphone preamps, reference class converters, a complete effects section and operation at up to 192 kHz are the base for many more features:
Ultra-low latency operation with USB or FireWire, combined with the legendary RME driver stability and maintenance. Active jitter suppression, individually switchable reference levels for all inputs and outputs, full stand-alone functionality, RME's unique DIGICheck metering and analysis toolbox, and identical operation on Windows PC and Mac.
TotalMix FX, RME's digital high-end mixer and signal router, driven by two powerful DSPs, with integrated EQ, Dynamics and Reverb/Echo effects at up to 192 kHz, plus a built-in monitoring controller.
The full-blown feature set also includes optional Class Compliant mode and operation with TotalMix FX for iPad, RME's app to fully control the 802 from the iPad, without any computer. The easy to use app includes metering for all 90 channels plus effects bus, different setup screens, and complete control of all features.
The Fireface 802 is a highly integrated pro audio solution, a full-blown studio, all within a 19" enclosure. An interface designed for users who don't want to make compromises in sound, stability and ultra-low latency operation, and who long for an unrivaled professional feature set. Once again a milestone interface from RME, including the best of the best and even a bit more.
CONNECTIVITY
30 Input / 30 Output channels
12 x Analog I/O
4 x Mic/Instrument Preamp
1 x AES/EBU I/O
2 x ADAT I/O (or 1 x ADAT I/O plus 1 x SPDIF I/O optical)
1 x Word Clock I/O
1 x MIDI I/O
FireWire or USB operation
TotalMix FX
optional: Advanced Remote Control USB

Inputs and Outputs
The Fireface 802 provides 60 channels of audio: 30 input and 30 output channels.
All inputs and outputs can be used at the same time. Up to 12 analog and 18 digital channels can be recorded onto 30 tracks separately.
ANALOG I/O
The Fireface 802 has 12 analog I/Os
12 Inputs: 8 balanced TRS on the back and 4 XLR inputs with Mic/Instrument preamps on the front.
12 Outputs: On the rear: 8 balanced TRS. On the front: Two hi-power TRS stereo phones outputs provide high volumes even with hi-impedance headphones (playback channels 9/10 and 11/12).

Back:
Inputs 1-8 (TRS - balanced)
Outputs 1-8 (TRS – balanced)
Front:
Inputs: 9-12 (XLR/TS Combo – balanced/unbalanced)
Outputs: 9/10, 11/12 - Phones (TRS - Stereo, unbalanced)
DIGITAL I/O
AES/EBU: The Fireface 802 has one professional AES/EBU I/O operating at up to 192 kHz.
ADAT: Two 8-channel ADAT I/Os allow for a connection of two additional AD/DA converters or the insertion of effects devices and mixing consoles. Both I/Os support sample rates at up to 192 kHz (S/MUX4). Like AES/EBU, these 16 ADAT channels are available simultaneously with the analog channels. Using two external converters like the ADI-8 QS, the 802 will provide 28 analog inputs and outputs, 20 with a sample rate of 96 kHz, and still 16 at 192 kHz.
SPDIF: The second ADAT I/O can be used as optical SPDIF I/O, making the Fireface 802 connections even more flexible.
Word Clock & MIDI: A word clock input and output (BNC) with switchable termination and a MIDI I/O complete the list of connections, turning the Fireface 802 into a professional audio system with universal usability.


TOTALMIX FX
The DSP based TotalMix mixer allows fully independent routing and mixing of all 30 input and 30 playback channels to all 30 physical outputs. Up to 15 totally independent stereo submixes plus a luxury Control Room section offer unrivalled monitoring capabilities and unsurpassed routing flexibility.
Every input and output channel comes with a luxury feature set, comparable to a full-scale digital console. The effects per channel include 3-band parametric EQ, adjustable Low Cut, Auto Level, Compressor, Expander, MS Processing and phase reversal. The Reverb and Echo effects unit is available for all channels by a stereo send and return bus. The Fireface 802 offers all these effects in all sample rates, including 192 kHz.


USB & FireWire
Like already known from the Fireface UCX and UFX (and indeed using the same matured driver family) the Fireface 802 combines USB 2.0 and FireWire 400 within one interface.
USB 2.0: The Fireface 802 has been uncompromisingly optimized for highest performance under Windows and Mac OS. It uses customized firmwares for every operating system. Like Fireface UCX and UFX, the 802 provides revolutionary ultra-low latencies* even with multiple channels, comparable to those of PCI and PCI-Express solutions.
* Minimal latencies are not guaranteed as they depend on the specific computer and application.
FIREWIRE: RME's FireWire core offers exceptional compatibility at highest performance. 10 years of experience with FireWire guarantee optimal and undisturbed operation with any computer having a FireWire port.