TWO NOTES

TORPEDO CAPTOR X
FOR TUPE AMP LOVERS
Available in 8 and 16 Ohms
A premium, compact reactive load box and more
Playing your tube amp in a great sounding room, with an exceptional choice of perfectly matched speaker cabinets and microphones, is really joyful and an experience like no other. The Torpedo Captor X is for tube amp lovers who crave this every time they play - no matter the environment.
THE COMPACT SOLUTION TO YOUR AMP BEING TOO LOUD

Play your amp at its sweet spot and control your volume with the attenuator. The digital load box also allows you to enjoy your 100 watt rig in silence via headphones. Just plug and play.
Fed up with lifting heavy cabinets, inconsistent sound and stage volume issues? Go direct to the PA or audio interface with DynIR, the acclaimed cab sim technology from Two Notes.
EFFORTLESSLY CONTROL THE MIKING CHAIN
Want to explore a legendary bottom line of speaker boxes and microphones? Pair Torpedo Captor X with your phone, tablet or computer using Torpedo Remote
.
No other compact reactive load box offers such universal control of the microphone chain and with two microphones per cabinet, you can never use a real microphone again.
TWO XLR OUTPUTS – THREE POSSIBILITIES

Enjoy the stereo experience when you play at home, but in a live situation or in a studio, you might want to route the outputs differently. Enable Dual Mono routing and send different signals to your FOH and monitors.

Do you want to change the tone after recording your killer riff? Enable dry / wet routing to send both your cabin signal and the dry amplifier signal independently to your audio interface.
ENHANCE YOUR TONE
Torpedo Captor X brings studio quality processing to the Torpedo Captor family, which includes a Twin Tracker, Stereo Reverb, Enhancer and Voicing.
TWIN TRACKER
Twin Tracker is an automatic double tracker. The sound of your mono amplifier is directed to the left output and Twin Tracker creates another track (a virtual guitarist) on the right channel in real time. The slight differences in time and attack contribute to a reinforced tone and massive sound.
STEREO REVERB
Two notes Audio Engineering developed a completely new stereo reverb algorithm for Torpedo Captor X. Use the Space control to adjust the width of your stereo field; Create a subtle acoustics of recording room and huge rooms for environmental sound landscapes.
ENHANCER
Sometimes you need a touch of magic to get the sound you are looking for: the Enhancer is a combination of dynamic and tone modeling tools, adapted for your guitar and bass. The thickness and brightness emphasize the bass and treble of the tone, respectively. The body will make your tone more complete and more present.
VOICING
Voicing is a fast tone control that allows you to change the overall sound of all your presets at once. You may need to make a quick solution to adapt your sound to the place you are playing or the session you are recording. Mark to the left to emphasize the medium frequencies and cut better through the mix and mark to the right for a wider and more modern tone.

GET RIG READY FOR SUMMER
Torpedo Captor X is a compact reactive load box, tube amp attenuator, miked cab simulator, IR loader and stereo expander for home, live and studio use.
A- Power the unit with the supplied adapter
B- Send Stereo, Dual Mono or Dry/Wet signals through the XLR DI outputs.
C- Eliminate unwanted hum caused by ground loops
D- Ensure the fan is kept clear.
E- Connect the supplied ⅛" jack to MIDI cable adapter for MIDI control.
F- Control Torpedo Captor X from a computer (Windows or macOS) via Torpedo Remote. USB cable supplied.
G- Connect speaker cabinet here with a ¼" jack SPEAKER cable.
H- Choose your cabinet volume level:Low position is Home level. Halfway position is Club level. Full position is Stadium level
I- Connect your amplifier's output here with a ¼" jack speaker cable (8 Ohms output, 100W RMS max admissible power)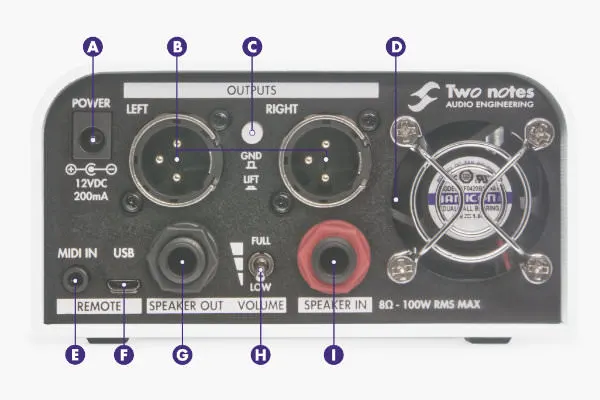 1- Monitor the input and output levels with the grill LED (red = clipping signal)
2- Control the level of the headphone and XLR DI outputs.
3- Adjust your global tone depending on tube amp choice and playing environment.
4- Add room space to widen the stereo effect on the headphone and XLR DI outputs.
5- Ensure the vent is kept clear.
6- Plug your headphones here.
7- Set the input level to avoid clipping of the signal.
8- Instantly switch between your favorite presets.
The Torpedo Captor X comes with a selection of 32 Two notes cabinets and much more.