2-channel USB audio interface
with 2 combo inputs
2-channel USB audio interface
with 2 combo inputs
The M-Track Duo is the most powerful and portable recording interface in its class. It delivers 16-bit/48 kHz audio resolution in a compact and easy-to-use format that's ideal for creating music on any Mac, PC, or iOS device. Suitable for recording of any kind, this flexible interface features two combo inputs with Crystal preamps including phantom power for your mic or guitar. Plus, there's a dedicated line-level input selection switch for connecting digital pianos, drum machines, or other stereo devices with 1⁄4-inch line levels. M-Track Duo is powered entirely by USB, making it portable and perfect for everyone. Take it in your pocket, grab your laptop and create your next podcast, song or mix wherever you want!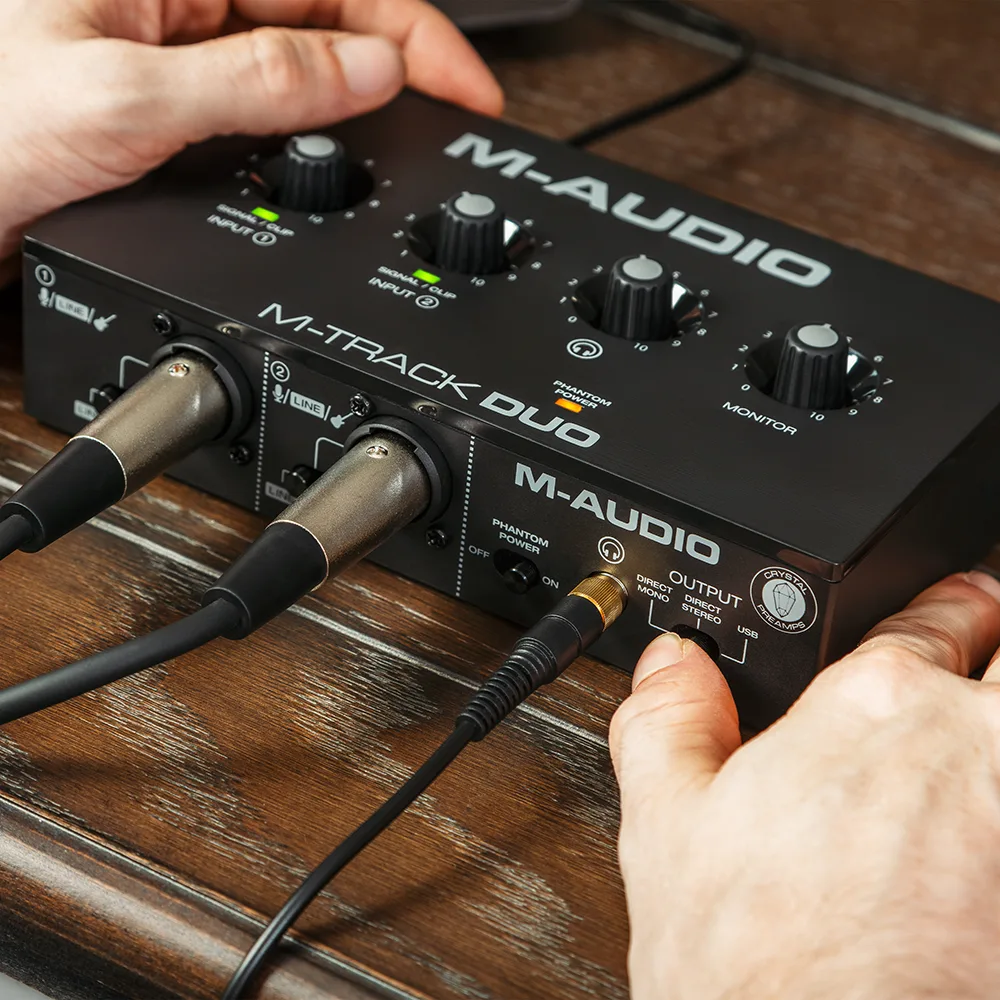 Direct monitoring & headphone output
M-Track Duo provides latency-free monitoring of the microphone, line, or instrument input signal via the two stereo outputs (1⁄4 inch) and the stereo headphone output (1⁄4 inch). The USB/Direct switch adjusts the balance between the inputs and playback from your software. This allows you to easily record new parts or add parts to an existing composition.
Start Recording
The M-Track Duo comes with a complete software package that has everything you need to get started right away. Included is the top-notch DAW MPC Beats. This DAW make it easy and fun for you to create professional sounding podcasts, music or professional sounding beat productions on any Mac or PC.
effect plugins and sounds
But that's not all! There are some additional goodies included that will help any podcaster, guitarist or producer. The first item on the list are 3 Virtual Instruments - TubeSynth, Electric, Bassline, 80 FX Plugins - AIR Channel Strip, Half Time, 2GB of factory content with bonus F9 instruments library. This exclusive and diverse collection provides everything you need for creative production, mixing and mastering, including reverbs, equalizers, delays, filters and so much more.
Revalver for your guitar
The Eleven Lite guitar amp plugin is also included and is perfect for capturing any riff. With a choice 2x Amps, 3x Cabs, 3x Mics, 3x Effects. Rock it!

Crystal preamps, best-in-class A/D converters and premium components
When designing the Crystal preamps, M-Audio engineers made sure you got a transparent, low-noise preamp that guarantees the best sound from your microphones and captures your performance exactly the way you want it. The M-Track Duo features top-of-the-line A/D converters for 16-bit resolution digital audio and an impressive dynamic range that captures every nuance and subtlety of your performance.