2-In/2-Out 24/192
USB Audio Interface
THE PERFECT CHOICE FOR SOLO PERFORMERS WHO WANT STUDIO-QUALITY RECORDINGS!
With the AIR 192|4, you can create flawless 24-bit/192kHz studio-quality recordings with an intuitive and easy-to-use audio interface. The AIR 192|4 enables you to record up to 2 channels at once with its dedicated XLR+¼" balanced combo input, and an all-new ¼" instrument input that has a specially-designed gain and impedance stage to provide the most accurate representation of a guitar or bass plugged directly into the interface.
AIR Music's Xpand!2 is a multitimbral workstation offering four active sound slots, or parts, per patch. Each part is provided with its own MIDI channel, Note Range (Zone), Mix, Arpeggiation, Modulation, and Effects settings—an excellent method for creating individual parts. Harnessing the four parts together to build one amazing Patch is where Xpand!2 reveals its true power. Using everything from wavetables and FM synthesis to sample playback, the expert sound design team at Air Music Tech has carefully created thousands of ready-to-play Xpand!2 patches.
Chop up and mix 2 gigs of samples ranging from deep ambient synth pad loops to vintage drum one shots. These are all designed to inspire your music production and provide professional sounding samples that will shine in your mix. Touch Loops perfectly captures the tone and intensity of each sample, so they enhance and complement any song, wherever you use them. This incredible value can be found in your M-Audio account, ready to be downloaded and chopped to your liking!
CRYSTAL™ PREAMPS, PRISTINE A/D CONVERTERS AND PREMIUM COMPONENTS
M-Audios engineers designed the Crystal Preamps to provide you with a transparent, low-noise preamp that guarantees the best sound from your microphones and captures your performance exactly the way you intended. The AIR 192|4 incorporates pristine A/D converters for 24-bit resolution digital audio with explosive dynamic range that captures every nuance and subtlety of the performance.
HEAR THE PERFORMANCE NOW—NOT A SECOND LATER
When recording, you want to focus on capturing that perfect moment, and getting the best performance out of your artist and talent. You don't want to be bogged down by "clicks," "pops" or latency. The AIR 192|4 not only features a high-speed USB connection for providing the lowest round trip latency (2.59ms*) between your machine and your hardware, but it also features monitor mix control for listening directly to the source inputs, providing you with zero-latency technology.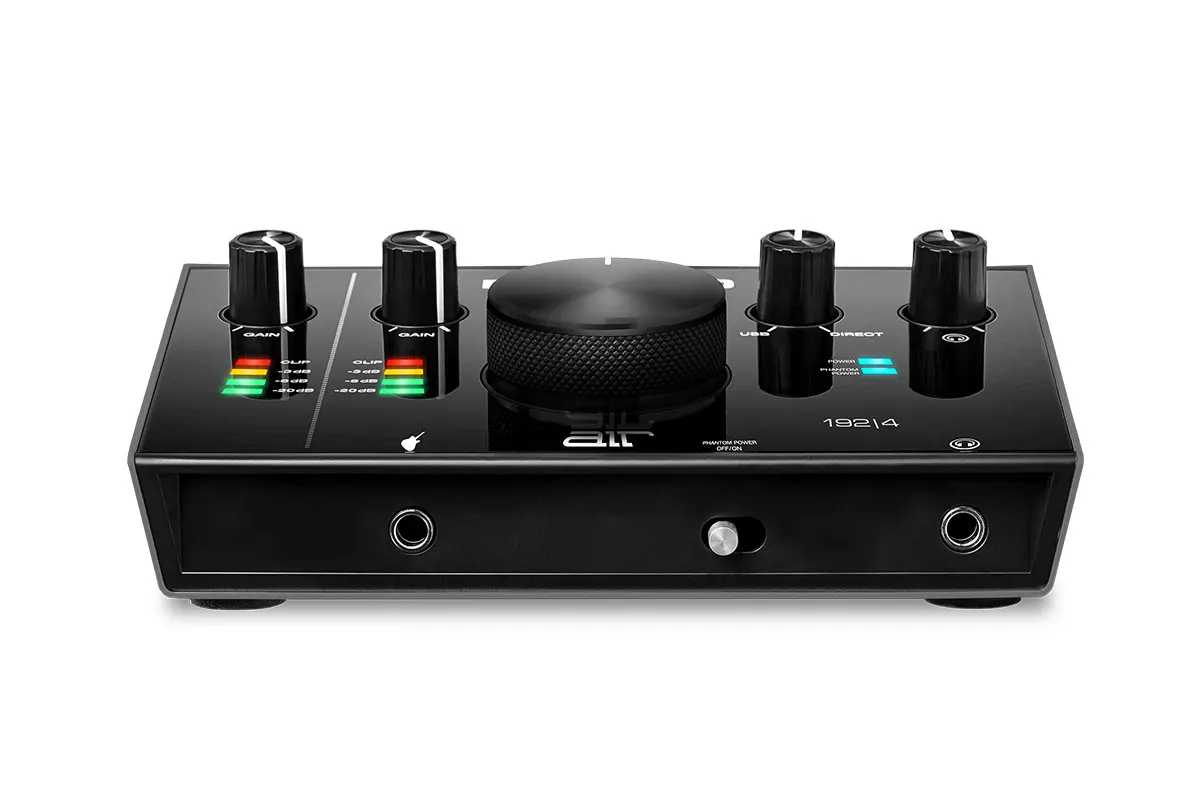 Key Features
24-bit/192kHz resolution for professional recording and monitoring
Hi-Speed USB circuitry gives you the fastest connection, with a class-leading round trip latency of only 2.59ms*
Transparent Crystal™ preamps and ultra-pristine A/D converters for unsurpassed audio recording quality
VU LED meters for dialing in the perfect level
XLR+¼" TRS combo input with dedicated signal circuit and (1) ¼" instrument input with dedicated signal circuit for the most accurate sound available
Stereo ¼" outs; ¼" headphone out with independent level control
Rugged metal chassis; large central control for easy volume adjustment
USB/Direct knob for balancing between the input signal and the computer signal
*Round trip latency is dependent on buffer settings, and computer hardware
What's In The Box
AIR 192|4
Power Supply
USB-C-to-USB-C Cable
USB-C-to-USB-A Cable
Software Download Card
User Guide
Safety and Warranty Manual
M-AUDIO AIR 192|4
2-In/2-Out 24/192 USB Audio Interface
M-AUDIO AIR 192|4
2-In/2-Out 24/192 USB Audio Interface