16 CHANNEL A/D, 10 CHANNEL D/A CONVERTER
WITH ADAT, AVB, MADI & SEPARATE PHONES OUT
The RME M-1610 Pro combines 16 analog inputs with 8 balanced analog line level outputs, independent stereo headphone outputs, redundant AVB ports, up to two independent MADI ports, ADAT outputs, remote control with web interface and two internal power supplies - RME M-32 Pro performance at an attractive price.
SIMPLICITY AT FIRST SIGHT - FLEXIBLE AND RELIABLE ON ALL LEVELS
With 16 analog inputs including switchable sensitivity of up to +24 dBu per channel, eight associated analog outputs and an additional headphone output, the M-1610 Pro adds flexible analog I/O options to any studio setup. In combination with the coaxial and (optional) optical MADI connectors, four optical ADAT outputs and redundant DC-coupled outputs, the unit presents itself as one of the most versatile and powerful converters on the market.
EXPAND ANY MADI DEVICE WITH ANALOG AND AVB IN- AND OUTPUT
Based on numerous requests from recording engineers who need to handle a large number of analog effects and instruments in their sessions, RME combines the exceptional performance of the M-32 AD Pro and M- 32 DA Pro converters in a single, unbeatably affordable unit.

While the M-32 Pro series is primarily designed for fixed installations, the M-1610 Pro offers a range of additional features that address seamless operation in studio, live and broadcast environments. Redundant network connections, a headphone output for monitoring and troubleshooting purposes, and buttons for quick access to source selection and volume are also available.
With ultra-low converter latencies and deterministic AVB network transmission including configurable network delay down to 0.3 ms, the M-1610 Pro ensures sampling - even across multiple devices - at outstanding speed, time-synchronized in nanoseconds across the entire network.
In combination with SteadyClock FS, RME's ultra-low digital jitter clock technology, the conversion from and to analog presents itself at the highest grade - at any level and across all digital formats. Thus, unlike comparable devices, the three analog line levels of the M-1610 Pro work with the same dynamic range.
PLUG'N'PLAY - FAST USER INTERACTION
All device states can be controlled directly via the front panel by using the rotary encoder and several buttons and offer convenient and direct access to all functions. In addition, RME AVB devices can be easily controlled remotely via a web interface or any network connection (incl. W-LAN), allowing for quick creation of gain groups, activating/deactivating phantom power and routing signals to the headphone output for monitoring purposes.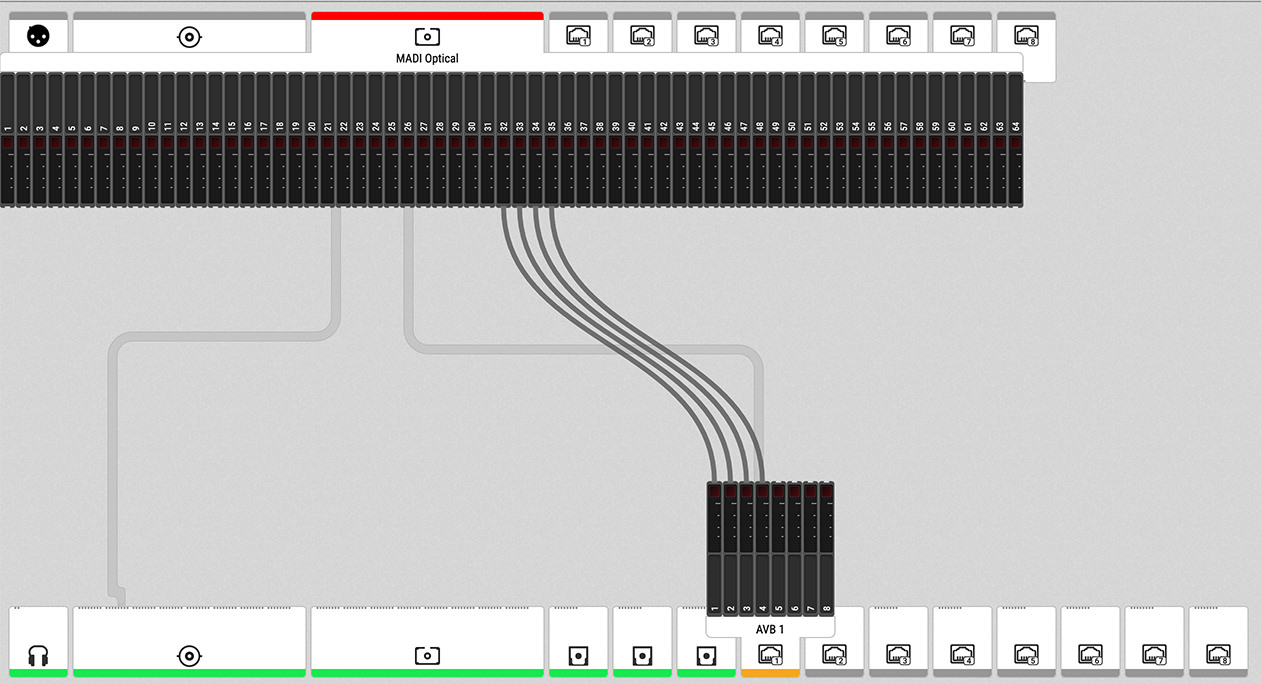 The integrated routing matrix allows fast routing of any analog input - as well as all digital signals and AVB streams - directly to the headphone output. This makes it easy and efficient to solve signal, clocking, connection or other problems.
STEADYCLOCK FS
For digital audio, timing, often called "clocking", is of crucial importance. It is the reference for the sequence of audio bits. Unfortunately this reference clock is often not as stable as it should be in theory. The M-1610 Pro therefore offers full SteadyClock FS support for lowest jitter and highest jitter immunity.
This ensures excellent performance in all clock modes and high quality analog conversion so you can hear your mix as it actually sounds. The digital format conversion in RME products is done without loss or degradation, and SteadyClock FS ensures that a precise sound image is always output without degradation. This helps to optimize recordings and mixes, because it gives the sound spectrum more depth and clarity overall.