49-KEY USB-POWERED MIDI CONTROLLER
With Keystation 49 MK3, maximizing your creativity while minimizing the complication is easy: Use the fully assignable octave range buttons; pitch-bend and modulation wheels; volume slider, and transport and directional controls to play, perform, and record with your music software without using a mouse or trackpad. Keystation 49 MK3 also features a 1/4" (6.3mm) sustain pedal input that lets you use an external control pedal, such as the M-Audio SP2 (sold separately), for genuine piano sustain.
Pure Player Experience
Compact, lightweight and durable, Keystation 49 MK3 is perfect for traveling musicians who want to take command of music software during live performances or for producers who wish to add an intuitive MIDI controller with a natural feeling keybed to their studio—it easily satisfies both roles. For an easy-to-use and portable setup, Keystation 49 MK3 is USB-powered, class-compliant, and supports USB-MIDI connectivity. Plus, Keystation 49 MK3 supports iOS connectivity with the Apple Lightning to USB Camera Adapter (sold separately), enabling you to perform and compose with audio apps on your iPad and other iOS devices.
Premium Software Suite Included
This truly amazing software recording package is primed to get your ideas out of your imagination and amplified into the world. Enjoy!
AIR Music Technology Mini Grand
AIR Music Technology Velvet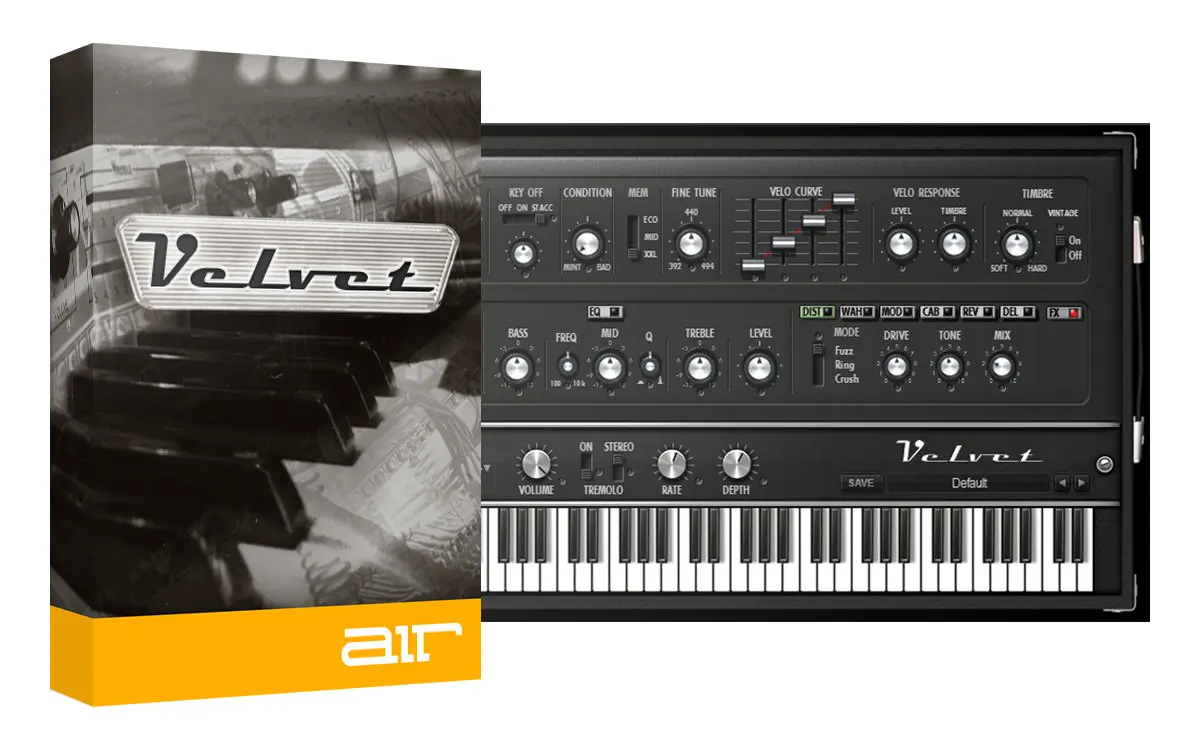 AIR Music's Mini Grand is a simple-to-use yet powerful virtual piano instrument with seven different acoustic piano sounds to suit a broad range of musical styles and production needs. Combining premium quality piano samples, innovative re-pedaling technology, built-in room simulation and equal and stretched tuning, Mini Grand is the go-to plugin for authentic, emotive piano sounds.
AIR Music's Velvet is a virtual electronic piano that combines five legendary electric pianos from the 60s and 70s into one versatile instrument. Based on the Fender Rhodes Suitcase, Fender Rhodes MK I and MK II Stage Pianos, Wurlitzer 200A and Hohner Pianet-T, Velvet accurately emulates the sound quality, response and nuances of each original instrument to bring your piano tracks to life.
Ableton Live Lite
AIR Music Technology Xpand!2
Ableton Live Lite is one of the most popular performance and production programs available in the world. A powerful music creation tool, Ableton Live Lite enables musicians and producers to spontaneously compose, record, remix, improvise, and edit musical ideas in a fluid audio/MIDI environment. Explore sonic possibilities in real time whether on stage or in the studio. When you are satisfied with your work, Ableton Live Lite lets you save it or mix it down.
AIR Music's Xpand!2 is a multitimbral workstation offering four active sound slots, or parts, per patch. Each part is provided with its own MIDI channel, Note Range (Zone), Mix, Arpeggiation, Modulation, and Effects settings—an excellent method for creating individual parts. Harnessing the four parts together to build one amazing Patch is where Xpand!2 reveals its true power. Using everything from wavetables and FM synthesis to sample playback, the expert sound design team at Air Music Tech has carefully created thousands of ready-to-play Xpand!2 patches.

Skoove
With Skoove, you'll learn to play piano with hundreds of interactive, high-quality online piano lessons structured for beginner, intermediate and advanced players. Skoove's unique method guides you with real-time feedback as you play, letting you hone your skills faster and learn everything you need to become a complete piano player.
Melodics
Join over 100,000 musicians building their skills with Melodics. Melodics is a desktop app that teaches you to play and perform with MIDI keyboards, pad controllers, and drums. Whether you're just starting out, or a seasoned pro looking to learn advanced techniques, Melodics grows with you. It comes with over 60 free lessons (Including 5 Exclusive to M-Audio) to get you started!
Get a free 2GB sample library from Touch Loops
Based in Los Angeles and London, Touch Loops equips customers with the most cutting-edge sound elements, instruments, hardware, and software recordings, expertly curated by a team of professional music producers and sound designers.
M-Audio and Touch Loops have formed a strategic partnership to give new and existing users of the Uber Mic, C-Series Interfaces, M-Track 8, Axiom AIR Mini 32, CTRL49, CODE Series (Black), Oxygen Series, Hammer 88 and Keystation Series, a 2GB (500+ sounds) library of cutting-edge in-demand sound content – from one shot drum hits to sultry melodic loops and deep, driving bass, this production-ready sample pack doesn't disappoint and guarantees to spearhead user's musical creativity, adding the finishing touch to a composition or simply sparking that initial idea.
Features
49 full-size velocity-sensitive synth-action keys with natural feel
USB-MIDI connection for playing virtual instruments, controlling recording software, and more
Transport and directional buttons for controlling any recording software/DAW
Volume fader for deeper control of plugins
Ergonomically designed pitch and modulation wheels for expressive performances
Advanced functionality customizes fader, buttons, pitch and mod wheels to control any DAW or plugin parameter
Compact design fits any desk, studio or stage setup perfectly
USB-powered, supports plug-and-play connectivity to your Mac or PC—no drivers required
iOS compatibility using the Apple iPad Camera Connection Kit (sold separately)
M-Audio Keystation 49 MK3
M-Audio Keystation 49 MK3