Discover an amazing new musical instrument: one that pushes the very limits of keyboard expression. Prepare to dissolve the boundaries between you and music. Prepare to express yourself like never before.
There's never been an instrument quite like Osmose. A keyboard you already know how to play, but with new expression hidden in every single key. Meet the keyboard synthesizer where every sound offers you brand-new playing experiences. Let's explore your new abilities:
ENHANCE YOUR
PLAYING EXPERIENCE...
Discover an instrument you can play like never before, where every note can be uniquely swelled, articulated, and curved. Where every sound will offer you brand new playing experiences. Let's discover your new abilities:
The Initial Pressure on every key is capable of capturing a very wide palette of subtle taps.
The Initial Pressure on every key is capable of capturing continuous gestures with absolute precision.
Push a single key to 'strum' a whole range of notes.
Tapping a note, or swelling a note, can each be interpreted as different actions to provide completely different results.
Osmose's pitch is mechanical, and that changes everything. Play Vibratos and Bendings like never before.
Ultra-Dynamic Polyphonic Aftertouch: adds an extra level of sound control, with an unparalleled sensitivity and playability.
Vibrate a note to add articulations to your sound.
...WITH 3D CONTROLS IN EVERY KEY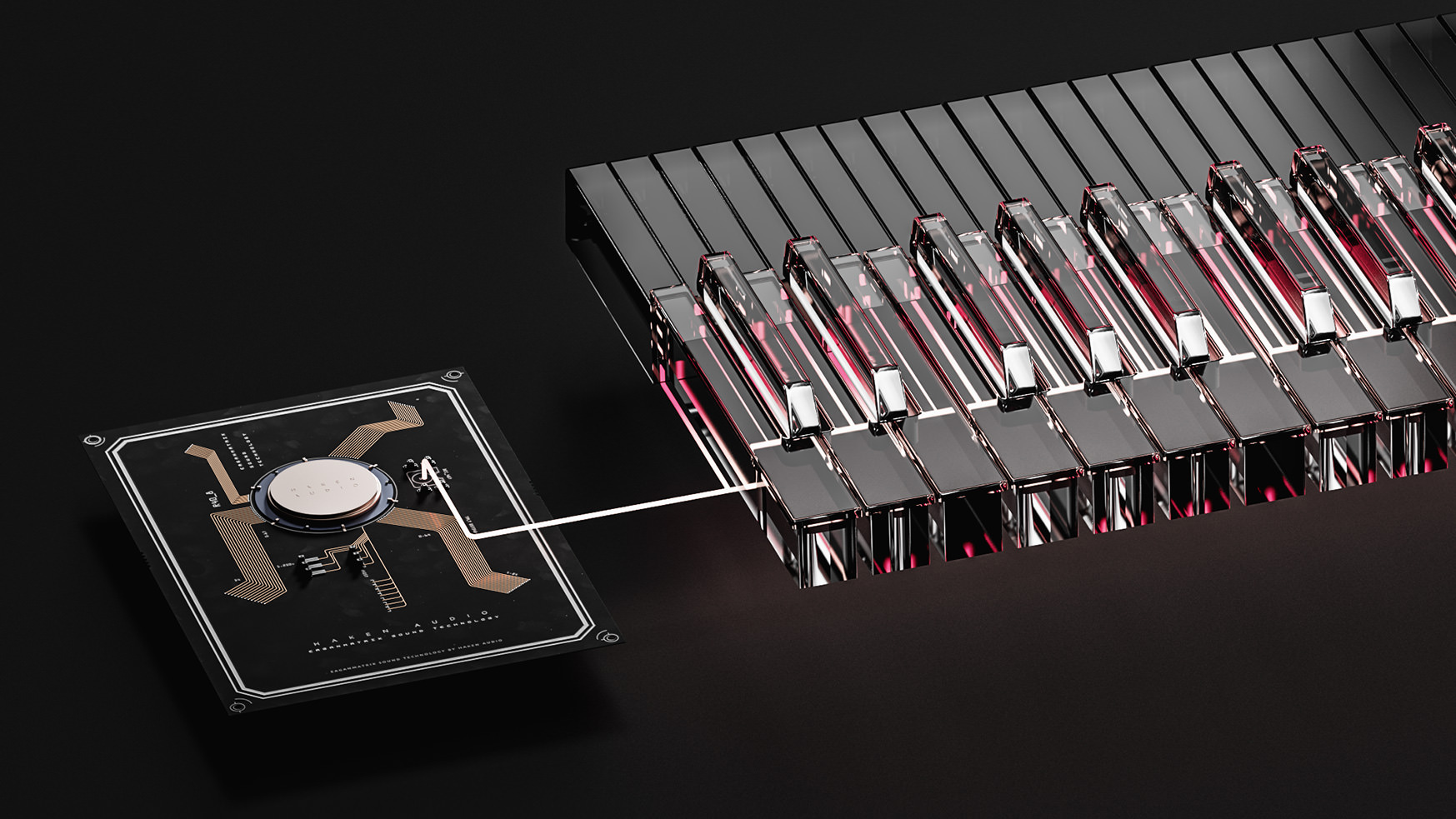 THE MOST ADVANCED SOUND ENGINE FOR EXPRESSIVITY
Osmose embeds Haken Audio's unique EaganMatrix sound engine: From virtual analog to FM synthesis, physical modeling and everything in between, never has a synth engine provided so much potential for expressive control. Explore an infinite landscape of incredible acoustic and electronic sounds.
YOUR EXISTING SYNTHS JUST GOT BETTER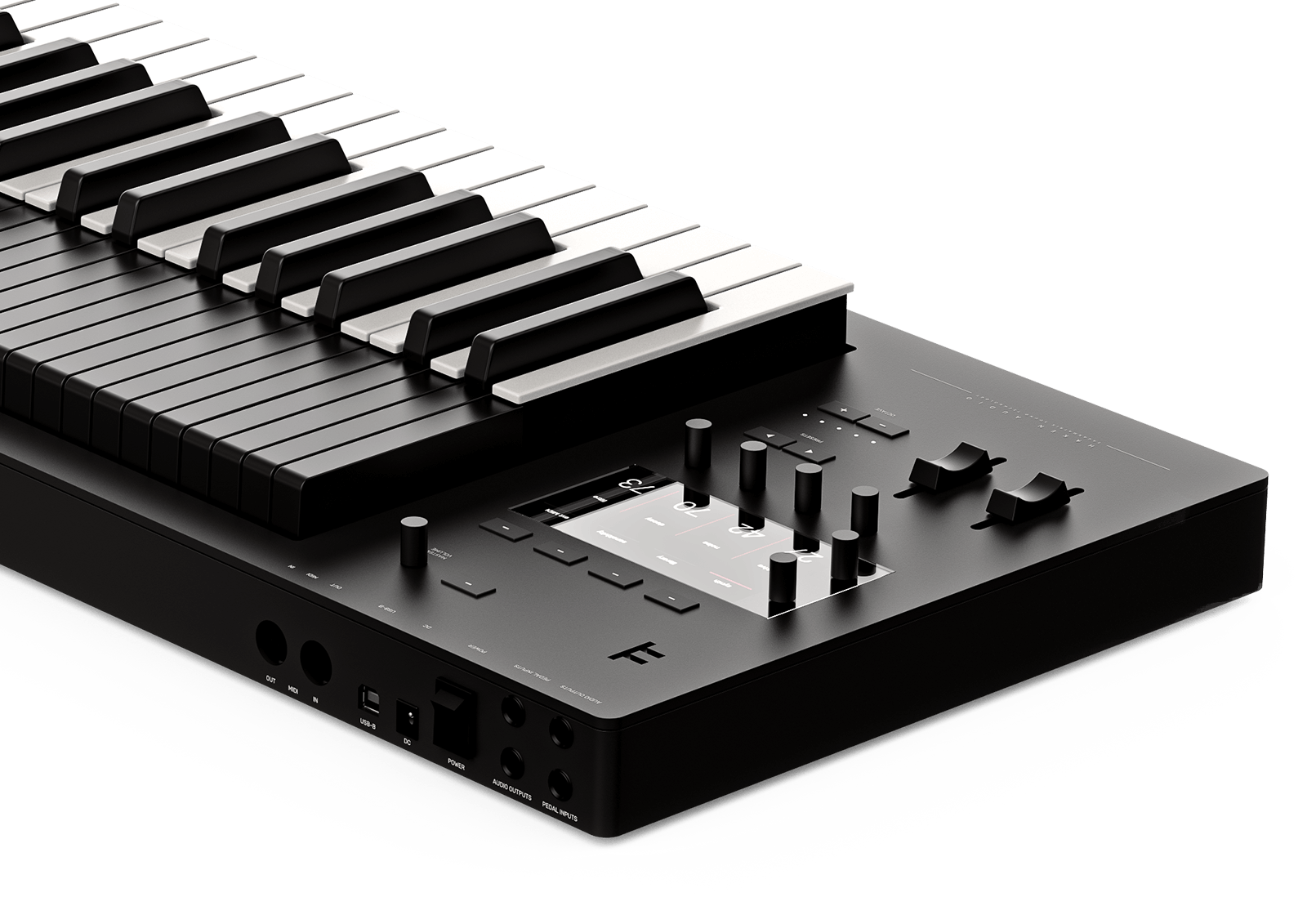 Unlock the true potential of your favourite hardware and software synthesizers when you combine them with the amazing expressive capacity of Osmose. Even if your synthesizer does not respond to polyphonic aftertouch or MPE, Osmose can still control it:
PIANO MODE
Osmose can emulate a classic keyboard controller, sending simple velocity messages.
POLY AFTERTOUCH AND GLOBAL PITCH BEND
Control your synth with Osmose's Initial Pressure system and Poly Aftertouch. Every key can also control the global pitch bend of your synth.
MULTICHANNEL MPE, MPE+
Osmose is also compatible with the major MIDI protocol for polyphonic expression, and MPE+, for the most advanced and accurate response.
STANDALONE CONFIGURATION
Set up your MIDI configuration directly from the in-built screen, without the need to connect to a computer.
Osmose is one of the most expressive synthesizers ever created. It is a complete stand-alone polyphonic synthesizer featuring the patented A.K.A. © mechanism, where the keybed responds polyphonically to pressure, aftertouch and note bend. It features a deep modular sound design engine, containing hundreds of incredible sounds ready to explore right out of the box, and can also be used as an advanced controller for hardware and software synthesizers.
INTERNAL SOUND ENGINE
EaganMatrix, a digital modular synth by Haken Audio
AUDIO CONTROLLERS
Pitch stick, Modulation stick
keybed
49 Full-size keys with A.K.A Technology
AUDIO OUTPUT
¼" stereo headphone jack, Two ¼" Mono output jack for main stereo, 24 Bit D/A
*Specifications subject to change
POLYPHONY
Up to 24 voices with Layered, Split Modes
PANEL CONTROLS
8 Knobs/Encoders, 9 buttons, LCD Color screen
MIDI
MIDI In, MIDI Out/Thru, USB Type B
PEDAL INPUT
Two continuous pedal inputs, assignable to sustain or flexible synth parameters