HIGH-PERFORMANCE PCM/DSD, 768 KHZ
DA CONVERTER
In 2016 RME released the
ADI-2 Pro
. With a lot of fresh ideas, innovative features and numerous useful functions it rolled up the AD/DA converter scene and quickly became a reference for both AD- and DA conversion. Equipped with two Extreme
Power
headphone outputs it also found its way into HiFi and home use, getting countless rave reviews for its sound, flexibility and technical prowess.
To address the home and HiFi users, RME exchanged some of the Pro's studio features with typical home and HiFi ones. With an adapted feature set and much simplified operation RME proudly presents the ADI-2 DAC. Built on the technology, concept and features of the ADI-2 Pro, the DAC concentrates on DA conversion in top high-end quality, along with two exceptional outputs for headphones and IEMs, and - a remote control.
THE DAC
Packed into the compact half 19" format factor, this little gem is filled with the finest high-end electronics, offering a reference class conversion from SPDIF coaxial, SPDIF optical (ADAT compatible) and USB to RCA, XLR, TRS and mini-TRS.


As the most versatile DAC available, the ADI-2 DAC offers balanced/unbalanced analog outputs, an Extreme Power headphone output, a super low noise IEM output, SteadyClock FS, 4-stage hardware output level control, DSP-based signal processing, external power supply operation, Class Compliant USB compatibility and sample rates up to 768 kHz as well as DSD and Direct DSD playback. The SPDIF input signal can even be recorded via USB - as one would expect from RME the DAC is a true 2 channel Full Duplex audio interface.
IMPROVING DA
The updated ADI-2 DAC uses the ES9028Q2M from ESS in a special circuit variant developed by RME engineers that drives the chip to high performance. With a noise floor of 123 dBA, distortion of less than -120 dB or THD+N of -116 dB, the device delivers excellent measurements and lets the IEM output achieve a sensationally low noise floor of -121 dBu. Added to this is +2.5 dB of digital headroom, so high inter-sample peaks produce no audible distortion. The reserve in the volume setting means that even at a volume setting of +2.5 dB, the analog output signal is still undistorted.
There are no significant changes in operation, functions, and behavior compared to its predecessor, so neither appearance nor name have changed. All differences are explained in the detailed manual of the ADI-2 DAC.
SUPER LOW NOISE FOR IEM LOVERS
The headphone revolution not only brought headphones but also IEMs (in ear monitors) back into the attention of audiophiles and music lovers. Modern IEMs have a reference sound that easily competes with bulky over-ear headphones, making them not only a mobile alternative, but also an interesting solution in home.


Modern IEMs are extremely sensitive and operate on very low voltages. As a side effect they uncover the noise floor of the player, DAC or headphone amp. When RME developed its Extreme Power headphone stage the basic noise floor was taken care to be as low as possible. Which was then confirmed in many reviews (most black background…). Even when used with IEMs.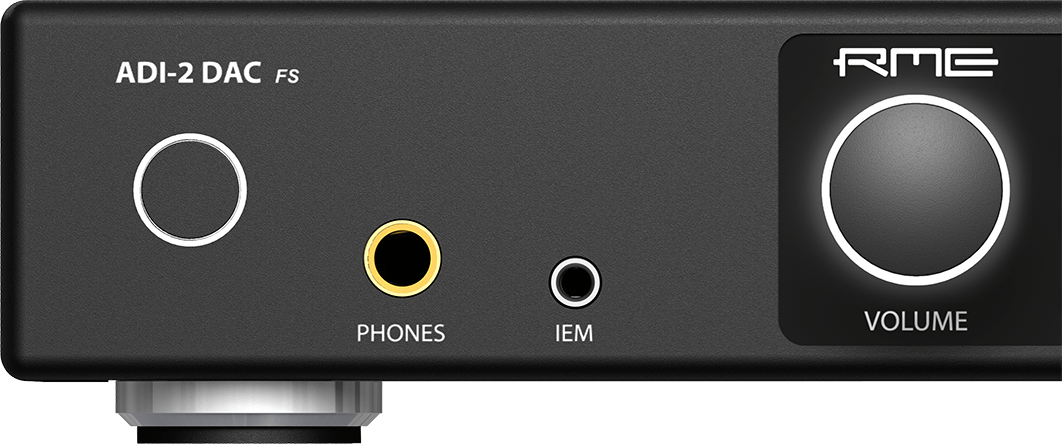 NEW EXTENDED MULTI-REMOTE SUPPORT (MRC)
The ADI-2 DAC comes with a remote that is not the usual cheap add-on. This nicely designed remote control has clearly labeled buttons, readable even in low light conditions without reading glasses, a nicely laid out button arrangement that is easy to remember, and perfect button ergonomics. Plus: It won't interfere with your ATV or other devices.

The ADI-2 DAC remote control provides buttons for standby on/off, volume, balance, bass and treble, input selection (optical, coaxial, USB), mute, on/off loudness, bass/treble and EQ.
In addition, there are four programmable buttons that provide access to 32 different functions and commands for maximum flexibility. There is no other converter or comparable device with such a sophisticated, easy to use and at the same time versatile remote control!
Note for owners of the previous remote: the new MRC is also available separately as an accessory. It can be used with all ADI-2 DACs, even older ones, if they are equipped with the latest firmware (at least version FPGA 27, DSP 33).
MORE PRO LEVEL PERFORMANCE WITH STEADYCLOCK FS
In digital audio, the clock frequency is an essential factor, as it creates the correlation between the audio bits and the time reference. Unfortunately, the clock frequency is not always as stable as desired. The
ADI-2 DAC FS
offers the full
SteadyClock FS
circuit as in the
ADI-2 Pro FS
for lowest jitter and highest jitter immunity. Excellent performance in all clock modes and High Quality Analog Conversion to hear your mix as it is. Digital format conversion in
RME
products are done without any loss or degredation, and
SteadyClock FS
ensures your sonic image will never experience degredation. This helps to optimize recordings and mixes because the soundstage has more
depth
and
clarity
.
FINAL CHORD
The ADI-2 DAC includes the improved SteadyClock FS, a fine-tuned to perfection analog circuitry, remote control, Extreme Power headphone output and a very special IEM output. It has all the bells and whistles that made the ADI-2 Pro famous, including its perfectly transparent sound signature and full DSP processing with Bass, Treble, Loudness, 5 Band Parametric EQ, Crossfeed and much more. With its simplified operation and stunning design it is the ideal center piece from home listening up to studio reference playback.
RME ADI-2 DAC FS
HIGH PERFORMANCE DA CONVERTER