Apogee Symphony I/O MKII Dante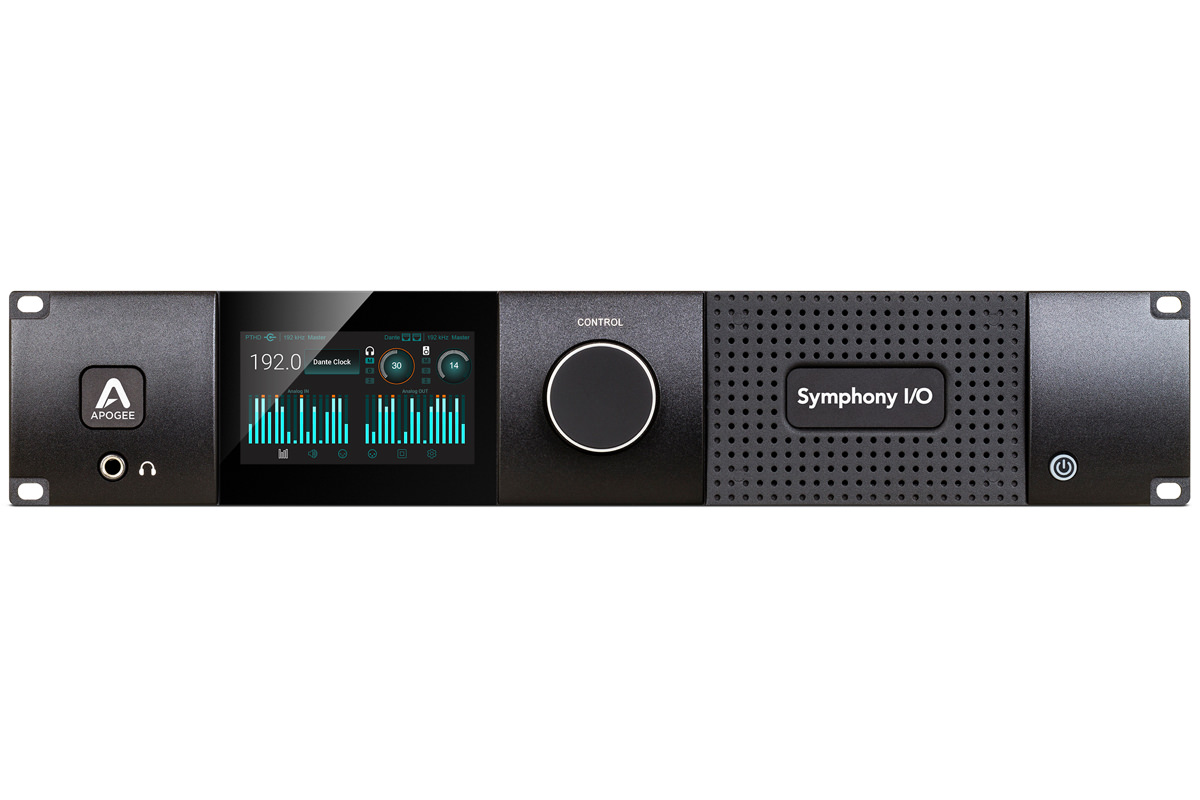 MULTI-CHANNEL AUDIO INTERFACE FOR DANTE™ FEATURING PRO TOOLS | HD™ CONNECTIVITY
ULTIMATE SOUND QUALITY, NOW AVAILABLE ON THE MOST POPULAR AUDIO-OVER-IP NETWORK
Symphony I/O Mk II is a multi-channel audio interface featuring Apogee's flagship AD/DA conversion, modular, configurable I/O (up to 32 inputs and outputs), intuitive touchscreen display and optional world-class microphone preamps. Designed to deliver professional sound quality for audio recording, mixing and mastering, Symphony I/O Mk II is the ultimate music production centerpiece for any modern studio. And now, with the Symphony I/O Mk II Dante option card and a simple ethernet cable, Symphony I/O Mk II can be easily connected and shared across post production, broadcast, live sound or recording studio networks, unleashing legendary sound quality on the world's most popular audio-over-IP solution. The Symphony I/O Mk II Dante option card also includes Pro Tools connectivity for integration of Pro Tools | HD systems into a Dante network environment. No other Dante-enabled audio interface offers this level of quality, flexibility and modularity.
HIGHLIGHTS
Ultimate Sound Quality – Features Apogee's Flagship AD/DA conversion and optional mic preamps I/O Flexibility – Up to 32 channels of analog inputs and outputs per unit with optional 8 mic preamp module
Pro Tools HD Peripheral Port – Up to 32 bidirectional channels up to 192kHz. Route Symphony I/O module inputs or Dante Rx to Pro Tools inputs by blocks of 8 channels. Pro Tools HD outputs are routed to Dante Tx and I/O module outputs
Interoperable networking technology – Works seamlessly with any other Dante-powered device
Up to 32 bidirectional channels at 96kHz – 16 bi-directional channels at 192kHz
Apogee Network Control software – Remote control of Symphony I/O settings, including mic pre (if installed), calibration and monitor controls – for macOS and Windows 10
Configurations
Symphony I/O MK II Pro Tools HD Chassis with Dante Option Card and at most two Symphony I/O MKII modules.
The Symphony I/O Mk II Dante option card uses Audinate's Brooklyn II module which features plug-and-play media networking for up to 32 bidirectional channels at 96kHz and 16 bidirectional channels up to 192k. The system can be configured with a number of custom options ranging from 8-32 analog I/O channels. Symphony I/O MK II Dante allows up to 32 channels with ProTools and redundant Dante connectivity to be fitted into a single two space rack device providing the smallest footprint available with this feature set.