USB MICROPHONE
FOR IPAD, IPHONE, MAC AND PC
STUDIO QUALITY MICROPHONE YOU CAN TAKE WITH YOU ANYWHERE
Apogee is pleased to introduce the MiC Plus, a new USB microphone for professional recording with an iPad, iPhone, Mac or PC. Featuring Apogee's unique PureDIGITAL connection technology, the MiC Plus, designed from the ground up, enables pristine recording at up to 24-bit/96 kHz and provides latency-free monitoring with the new blend function of the built-in headphone output.
Mic Plus is the perfect solution for music production, voice recording, and video applications such as YouTube and live streaming. It is an intuitive solution for professionals and ambitious users who don't want to miss the professional sound of a recording studio on the go.
The Apogee MiC Plus is a professional studio-quality USB microphone that connects to your iPad or iPhone, iPod touch, Mac or PC. With the MiC Plus, you can easily create incredible quality recordings wherever your music takes you. Record any sound source you can think of - vocals or a speaking voice, instruments or interviews - the possibilities are endless.
FEATURES
Professional condenser microphone with cardioid polar pattern
PureDIGITAL connection for pristine sound quality up to 24 bit / 96 kHz
46dB preamplification, digitally controlled for higher precision
Powerful headphone output with blend function for latency-free monitoring
No configuration required, just plug in and record
Made in the U.S.A.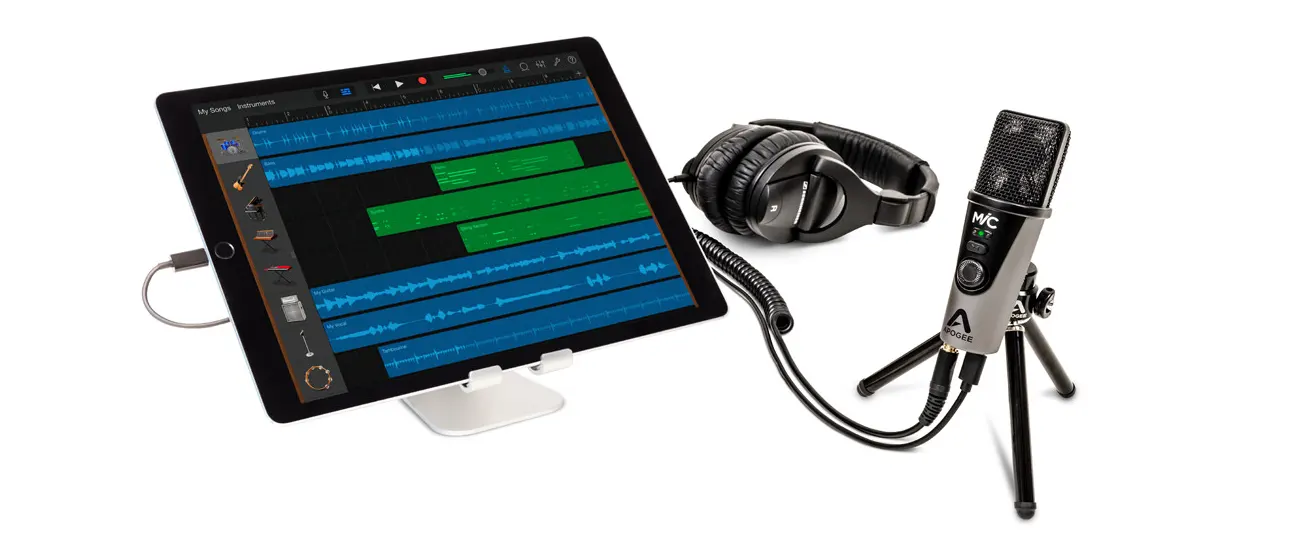 It is a microphone, preamplifier and converter
Perfect for podcasting with your MiC Plus and saving music ideas. Share great recordings with just one click.
THREE PRODUCTS IN A SINGLE SMALL UNIT.
The Apogee MiC Plus combines a microphone, microphone preamplifier, and A/D and D/A converters in one compact unit. Apogee has carefully engineered every part of the MiC Plus to deliver the highest possible signal quality with the lowest noise - it's called PureDIGITAL.
The MiC Plus also features a ⅛" stereo headphone output and a blend function for latency-free monitoring. With the MiC Plus' blend setting, you can easily adjust how much of the microphone input you hear compared to the recorded signal from your software, allowing you to choose the perfect mix.
Apogee MiC Plus
USB MICROPHONE FOR IPAD, IPHONE, MAC AND PC