High-Performance 768 kHz 2-Channel ADAT SPDIF AES/EBU AD/DA converter

RME's anniversary reference AD/DA converter is a host of devices all put together into one unit, with a simple and mostly automated way of using it right out of the box. A unit with the industry's biggest footprint per feature ratio, excellent tech specs, crystal clear and transparent sound signature, and two extremely powerful headphone outputs. ME's anniversary reference AD/DA converter is:
A high-end AD/DA converter in professional studio quality
A double headphone amplifier in true high-end quality
A USB DAC like no other - the most versatile and capable one
A high-end AD/DA frontend and headphone amp for iPad / iPhone
A multi-format converter (AES, SPDIF, ADAT) with monitoring function
A DSD record and playback solution
An AD/DA frontend for audio measurement at up to 768 kHz sample rate
As the most flexible converter available, the ADI-2 Pro offers balanced/unbalanced analog I/Os, double Extreme Power headphone outputs, SteadyClock FS, 4-stage hardware input and output level control, DSP-based signal processing, external power supply operation, Class Compliant USB compatibility, sample rates up to 768 kHz as well as DSD record and Direct DSD playback (256 / 11.2 MHz).
ANALOG OR DIGITAL - OPTIONS GALORE
The ADI-2 Pro includes two servo-balanced analog inputs on combo XLR / TRS jacks, two separate balanced and unbalanced outputs on XLR and TS, two stereo Extreme Power headphone outputs on the front, an optical SPDIF I/O that also understands ADAT, and coaxial SPDIF (RCA) and AES I/O (XLR) via an included breakout cable. This universal set of I/O options offers superior quality and flexible connectivity to those who take a no-compromise approach to audio.
The USB 2.0 port is fully Class Compliant (UAC 2) for connection with compatible iOS devices, and is also used for firmware updates. Including an external switched power supply with lockable connector, the ADI-2 Pro can be easily powered from battery, opening up mobile applications as well as galvanically isolated use cases.
As a computer interface the ADI-2 Pro offers a stereo (2 in / 2 out) and a multichannel mode (6 in / 8 out). Compatibility with Mac OS X comes right out of the box. Under Windows the ADI-2 Pro uses RME's MADIface series driver, for full WDM and ASIO compatibility and highest performance.
HIGH RESOLUTION DISPLAY OPERATION
RME have incorporated many unique features, not found on any comparable devices, like 5-band parametric EQs for fully individual phones compensation, adjustable Bass/Treble controls with quick access, a binaural crossfeed function, adjustable loudness filter, selectable AD/DA filters, four discrete I/O reference levels, auto reference level setting, auto balanced phones mode, and many more. The display is not only used to control the unit, but also shows warning and guidance messages.
Professional features such as M/S Processing, stereo width and phase reversal up to full control and storage of all settings are included, as well as RME's famous Spectral Analyzer, a 30-band biquad filtered analysis tool offering unprecedented musical visualization, perfectly complementing the high-resolution IPS display.
EXTREME POWER HEADPHONE OUTPUTS
Having two stereo outputs, balanced headphone operation is possible. As RME's engineers were not satisfied with the existing techniques they developed a new Advanced Balanced mode for the ADI-2 Pro, that removes most limitations of standard balanced operation, and turns this mode into a a fully new experience. The exclusive Advanced Balanced mode delivers a balanced signal path from the DAC straight to the phone, with 3 dB gain in Signal to Noise Ratio, smoothed out deviations in components, optimized frequency response, super low output impedance (0.2 Ohms), and a maximum output level of +28 (twenty eight) dBu.
RME ADI-2 Pro FS
HIGH-PERFORMANCE 768 KHZ 2-CHANNEL ADAT SPDIF AES/EBU AD/DA CONVERTER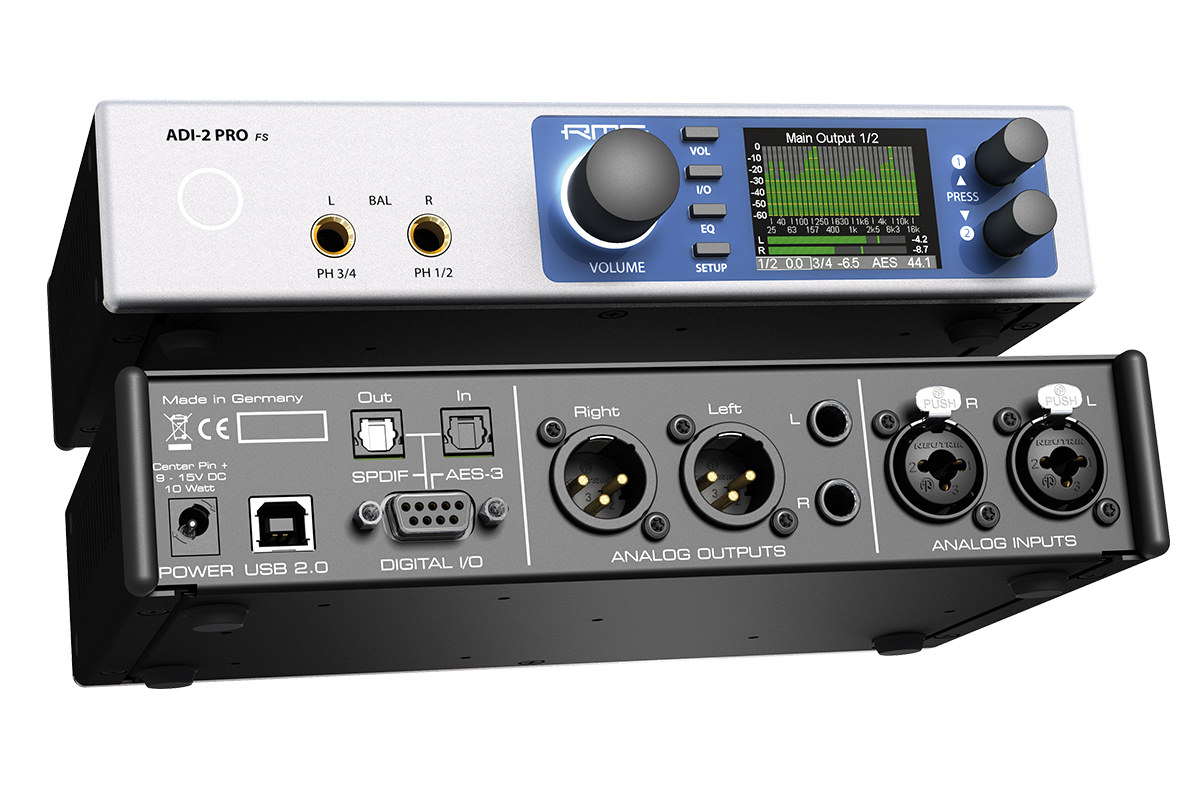 RME ADI-2 PRO ANNIVERSARY EDITION
ULTRA-FIDELITY PCM/DSD 768 KHZ AD/DA WANDLER