8-In/4-Out 24/192 USB Audio/MIDI Interface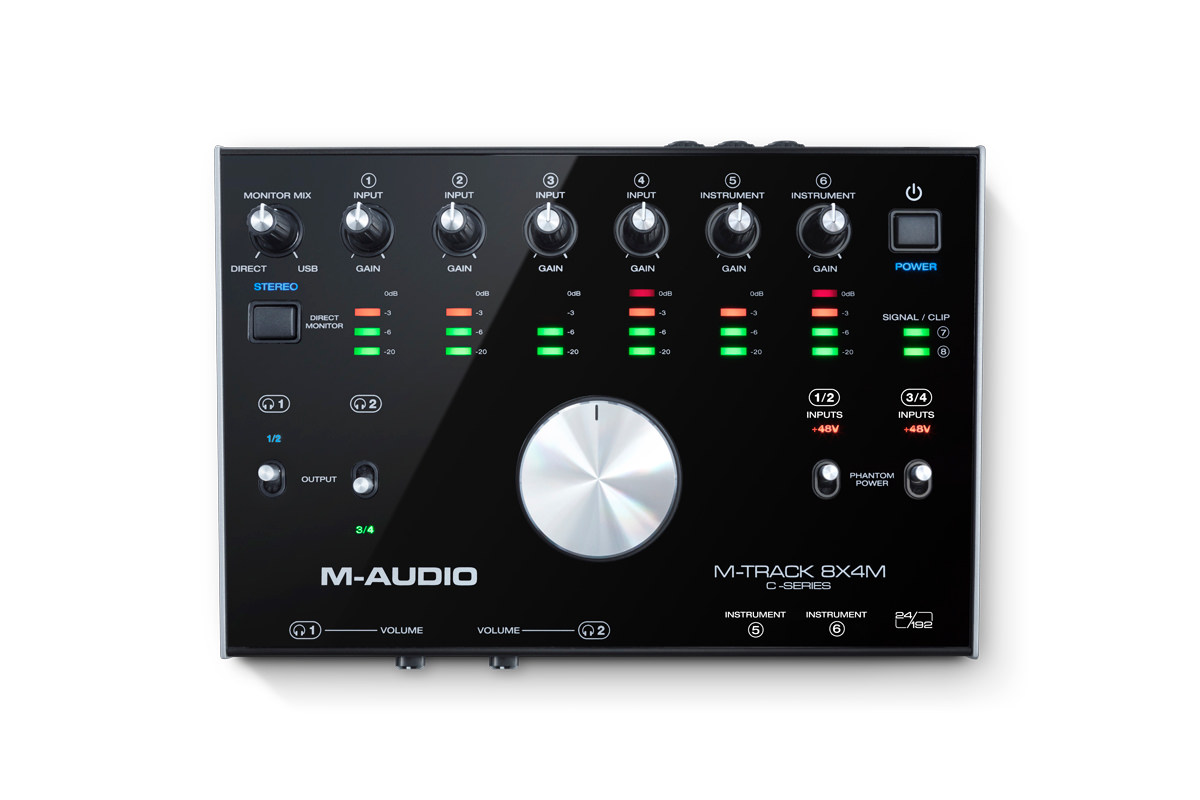 DAS HERZ DEINES STUDIOS
Das M-Track 8X4M ist ein 8-In / 4- Out USB Audio-Interface, welches vollgepackt mit durchdachten Funktionen ist und alle Anschlüsse enthält, die Sie benötigen um professionelle Aufnahmen in Studioqualität, bei 24-bit /192 kHz, zu erstellen. Es verfügt über ein elegantes und robustes Metallgehäuse mit einem großen zentralen Monitor-Lautstärkeregler, über kristallklare Crystal Preamps™ und makellose A/D-Wandler, die in dieser Klasse höchste Audio-Leistung bieten.
REIN UND RAUS
Das M-Track 8X4M ist ausgestattet mit vier XLR / TRS – (6,35 mm) Kombi-Eingängen, zwei 6,35 mm Line- und zwei 6,35 mm Instrumenten Eingängen, die über eine speziell entwickelte Gain- und Impedanz-Stufe verfügen um beste Qualität zu ermöglichen, wenn eine Gitarre oder ein Bass angeschlossen werden. Es verfügt über einen MIDI In und Out, ein Paar 6,35 mm - Studio Monitor Ausgänge und zusätzlich über zuweisbare 6,35 mm Audio-Ausgänge. Um zwei Musikern die Möglichkeit eines getrennten Monitor Mixes während einer Aufnahmesession zu bieten, kann dieses über zwei 6,35 mm Kopfhörer Ausgänge realisiert werden. Diese haben separate Source- und Volume-Einstellungsmöglichkeiten.
Das M-Track 8X4M kann an einen Mac oder PC über Standard USB-A Port oder einen USB-C Port angeschlossen werden. Es sind sowohl USB-C zu USB-C als auch USB-C zu USB-A Kabel im Lieferumfang.
Der Hi-Speed-USB Anschluss zusammen mit dem USB/Direct Control ermöglicht ein latenzfreies "Zero Latency" Monitoring. Die Kombination aus professioneller Audio-Performance, einfach zu bedienenden Funktionen und dem mitgelieferten Softwarepaket macht das M-Track 8X4M zu einem unglaublich vielseitigen Hochleistungs-Audio-Interface, das sich perfekt für jede Aufnahmesession eignet.
PRO SOFTWARE SUITE
Das M-Track 8X4M wird mit einem ausgiebigen Softwarepaket ausgeliefert, welches bereits alles beinhaltet, was für professionelle Studioaufnahmen notwendig ist. Mit 2 leistungsstarken DAWs enthält M-Track 8X4M ProTools | First M-Audio Edition und Ableton Live Lite. Pro Tools | First M-Audio Edition ist speziell angepasst an M-Audio Hardware und garantiert so die Inspiration für Musiker, Songwriter und Musikproduzenten zur Kreation, Aufnahme und das weltweite Teilen der musikalischen Ideen. Ableton Live Lite ist eines der beliebtesten Programme für Musik-Performance und -Produktion. Ableton Live Lite ist ein leistungsstarkes Werkzeug zur Musikgestaltung und ermöglicht es Musikern und Produzenten spontan musikalische Ideen in einer flüssigen Audio- / MIDI-Umgebung zu komponieren, aufzunehmen, zu remixen, zu improvisieren und zu bearbeiten.
Now included with all current M-Audio Keyboard products and audio interfaces. For all new and existing customers!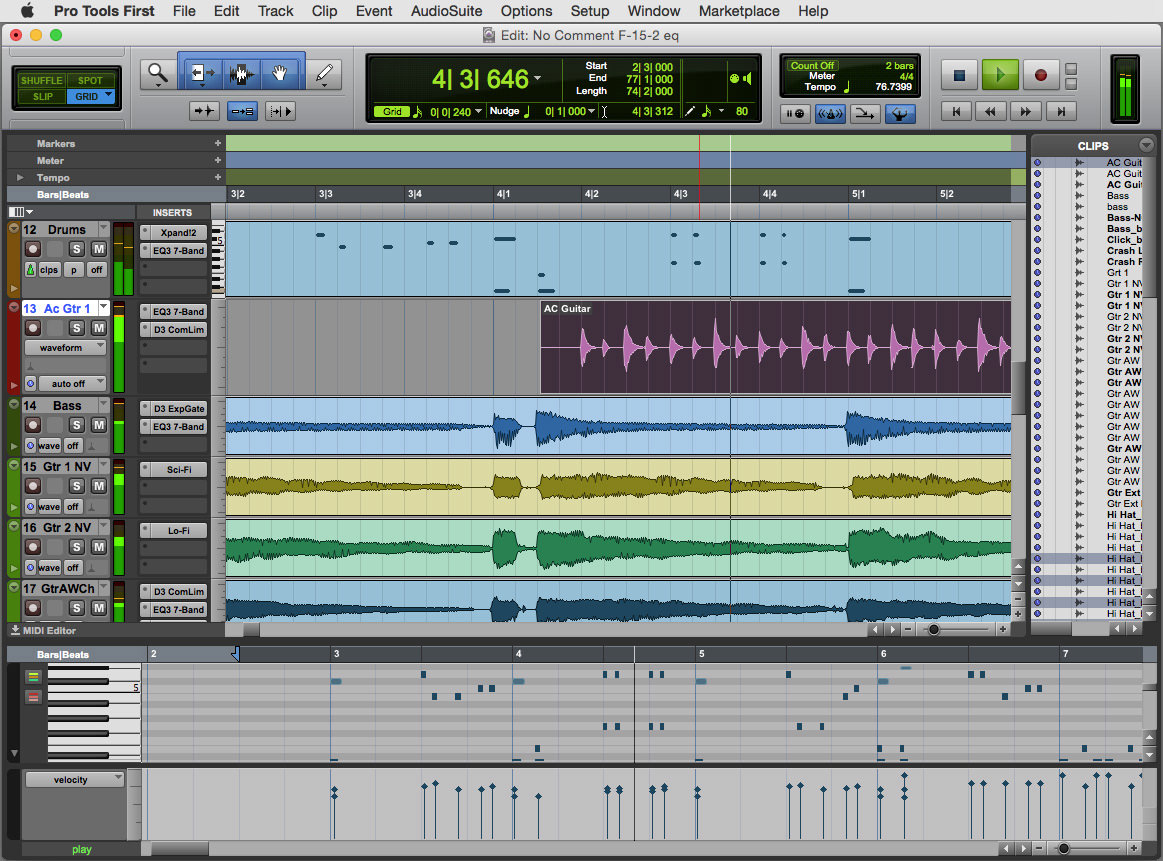 Zusätzlich enthält M-Track 8X4M ein komplettes Effekt-Plugins- und Virtual Instruments-Paket um all Ihre Anforderungen der Musikproduktion zu erfüllen. Egal, ob Sie einen Gitarrensound, Reverb oder Delay benötigen, die Plugin Sammlung des M-Track 8X4M ist bereit auch die höchsten Anforderungen zu erfüllen dank Eleven Lite und 20 Effekt-Plugins der Creative FX Collection von AIR. Mit den im Lieferumfang enthaltenen AIR Virtual Instrument-Plugins erhalten Sie Zugriff auf ultra-realistische Drums, Synths, Streicher, Percussion- und Piano-Sounds um Ihrer Produktion erstklassige Instrumente hinzuzufügen.
Get a free 2GB sample library from Touch Loops
Based in Los Angeles and London, Touch Loops equips customers with the most cutting-edge sound elements, instruments, hardware, and software recordings, expertly curated by a team of professional music producers and sound designers.
M-Audio and Touch Loops have formed a strategic partnership to give new and existing users of the Uber Mic, C-Series Interfaces, M-Track 8, Axiom AIR Mini 32, CTRL49, CODE Series (Black), Oxygen Series, Hammer 88 and Keystation Series, a 2GB (500+ sounds) library of cutting-edge in-demand sound content – from one shot drum hits to sultry melodic loops and deep, driving bass, this production-ready sample pack doesn't disappoint and guarantees to spearhead user's musical creativity, adding the finishing touch to a composition or simply sparking that initial idea.
AIR MUSIC TECHNOLOGY MINI GRAND 
AIR Music's Mini Grand is a simple-to-use yet powerful virtual piano instrument with seven different acoustic piano sounds to suit a broad range of musical styles and production needs. Combining premium quality piano samples, innovative re-pedaling technology, built-in room simulation and equal and stretched tuning, Mini Grand is the go-to plugin for authentic, emotive piano sounds.
AIR MUSIC TECHNOLOGY VELVET
AIR Music's Velvet is a virtual electronic piano that combines five legendary electric pianos from the 60s and 70s into one versatile instrument. Based on the Fender Rhodes Suitcase, Fender Rhodes MK I and MK II Stage Pianos, Wurlitzer 200A and Hohner Pianet-T, Velvet accurately emulates the sound quality, response and nuances of each original instrument to bring your piano tracks to life.
ABLETON LIVE LITE
Ableton Live Lite is one of the most popular performance and production programs available in the world. A powerful music creation tool, Ableton Live Lite enables musicians and producers to spontaneously compose, record, remix, improvise, and edit musical ideas in a fluid audio/MIDI environment. Explore sonic possibilities in real time whether on stage or in the studio. When you are satisfied with your work, Ableton Live Lite lets you save it or mix it down.
AIR MUSIC TECHNOLOGY XPAND!2
AIR Music's Xpand!2 is a multitimbral workstation offering four active sound slots, or parts, per patch. Each part is provided with its own MIDI channel, Note Range (Zone), Mix, Arpeggiation, Modulation, and Effects settings—an excellent method for creating individual parts. Harnessing the four parts together to build one amazing Patch is where Xpand!2 reveals its true power. Using everything from wavetables and FM synthesis to sample playback, the expert sound design team at Air Music Tech has carefully created thousands of ready-to-play Xpand!2 patches.
HÖRE DEINE PERFORMANCE JETZT – NICHT EINE SEKUNDE SPÄTER 
Während einer Aufnahme möchtest Du Dich darauf konzentrieren den perfekten Moment zu erfassen und die beste Performance des Künstlers und Talents zu erzielen. Du möchtest nicht durch Klicks, Pops oder Latenzen gestört werden. Das M-Track 8X4M verfügt nicht nur über eine Hochgeschwindigkeits-USB-Schnittstelle für eine niedrige Latenz (2,59 ms *), sondern auch über eine Monitor-Mix-Steuerung, mit der Du direkt auf die Audioeingänge zugreifen kannst. Dieses ermöglicht Dir die stressfreie ultimative Zero-Latency-Technologie ganz ohne störende Latenzzeiten.
* Latenz ist abhängig von den Puffereinstellungen und der Computerhardware
VERBINDE ALLES
Das M-Track 8X4M verfügt über insgesamt 8 Eingänge für die gleichzeitige Aufnahme von bis zu 8 Kanälen um alle Aufnahmeanforderungen Deines Studios zu erfüllen. Die 4 dedizierten XLR- / TRS- Mic / Line Kombi-Eingänge mit Crystal Preamps™ und Phantomspeisung sind perfekt für die Aufnahme eines Sängers (oder mehrerer Sänger), für das Mikrofonieren einer akustischen Gitarre, eines Gitarren- / Bassverstärkers oder eines Schlagzeugs. Die zwei zusätzlichen 6,35 mm Instrumenteneingänge verwenden speziell entwickelte Gain- und Impedanz-Stufen um saubere Signale von Ihrer Gitarre, Bass oder Keyboard einzufangen, während die zwei 6,35 mm Line-Eingänge ein reines ungefärbtes Signal für den Anschluss von Röhrenvorverstärkern, Keyboards, Synths oder Mixer liefern. Ein MIDI-Ein- und -Ausgang vervollständigt das Arsenal an Anschlüssen und ist perfekt für den Anschluss von externen Studio-Prozessoren, Effekten, Boutique-Synth-Equipment und vieles mehr.
M-TRACK 8X4M FEATURES
24-bit/192 kHz Auflösung für professionelle Aufnahmen und Monitoring
Hi-Speed- USB Anschluss mit USB-/Direct - Balance Regler für latenzfreies Monitoring
Enthält sowohl Standard USB und USB-C Anschlusskabel
Vier XLR /TRS (6,35 mm) Kombi-Eingänge, zwei 6,35 mm Instrumenten Eingänge und zwei 6,35 mm Line Eingänge
Zwei 6,35 mm Kopfhörer Ausgänge mit separater Audioquellen- und Volume Kontrolle
Stereo 6,35 mm Main- Ausgang; zwei zuweisbare 6,35 mm AUX Ausgänge
MIDI In und Out zum Anschluss von externer MIDI Hardware
Robustes Metallgehäuse; große zentraler Regler für einfache Lautstärkeeinstellung
M-AUDIO M-TRACK 8X4M
8-IN/4-OUT 24/192 USB AUDIO/MIDI INTERFACE