88-KEY HAMMER-ACTION
USB MIDI CONTROLLER
Hammer 88 ist ein USB-MIDI Controller mit 88 gewichteten Hammermechanik Tasten. Es bietet Ihnen ein sehr schönes und authentisches Piano-Spielgefühl und einen Anschluss für externe MIDI Soundmodule und/oder virtuelle Instrumente. Zusätzlich zur wirklich hochwertigen Klaviatur bietet der Hammer 88 sowohl ein Pitch- als auch ein Modulation-Wheel für Portamento und Glissando Effekte, einen Master Volume Fader, der beliebig über MIDI zugeordnet werden kann, sowie zuweisbare Up- und Down- Tasten zur Programm-, Effekt-, Oktav- Umschaltung und vieles mehr.
Nahtlose Integration
Ein Instrument sollte Ihre Kreativität nicht einschränken, sondern fördern! Hammer 88 ist USB-fähig, klassenkonform und unterstützt USB-MIDI-Konnektivität für eine schnelle und problemlose Einrichtung, bei der Sie sich auf das konzentrieren können, was wichtig ist - Ihre Leistung. Ausserdem unterstützt Hammer 88 für iOS-Enthusiasten die nahtlose Konnektivität mit dem Apple iPad Camera Connection Kit (separat erhältlich), mit dem Sie Audio-Apps auf Ihrem iPad und anderen iOS-Geräten ausführen und komponieren können.
Premium Software Suite inklusive
Hammer 88 wird mit einer Premium Software Kollektion ausgeliefert und enthält zusätzlich eine 3-Monats Skoove Lizenz für den Online Klavierunterricht sowie die Sequenzer Ableton Live Lite und MPC Beats. Hammer 88 kann flexibel über USB mit Strom versorgt werden und ist Class Compliant für eine schnelle Anbindung an eine DAW.
2 GB Sound Library von Touch Loops
Based in Los Angeles and London, Touch Loops equips customers with the most cutting-edge sound elements, instruments, hardware, and software recordings, expertly curated by a team of professional music producers and sound designers.
M-Audio and Touch Loops have formed a strategic partnership to give new and existing users of the Uber Mic, C-Series Interfaces, M-Track 8, Axiom AIR Mini 32, CTRL49, CODE Series (Black), Oxygen Series, Hammer 88 and Keystation Series, a 2GB (500+ sounds) library of cutting-edge in-demand sound content – from one shot drum hits to sultry melodic loops and deep, driving bass, this production-ready sample pack doesn't disappoint and guarantees to spearhead user's musical creativity, adding the finishing touch to a composition or simply sparking that initial idea.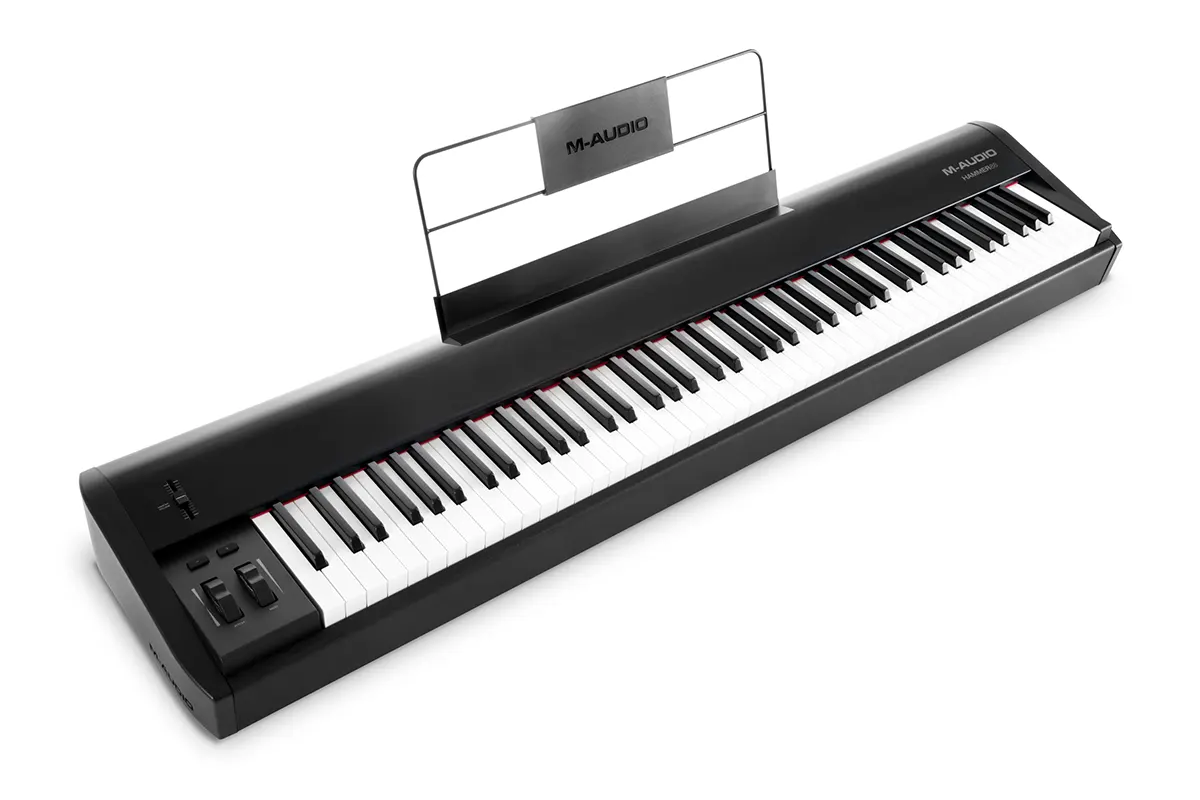 88 gewichtete Tasten mit Hammermechanik
USB-MIDI Anschluss zum Spielen von virtuellen Instrumenten
MIDI Ausgang zum Anschluss an externe MIDI Peripherie •
Pitch-Bend und Modulation Wheel, Volume Fader und Up-/Down- Taster
Pedaleingänge für Sustain-, Switch und Expression Pedale
Stromversorgung über USB, kein Netzteil notwendig
Plug und Play-fähig beim Anschluss eines MAC oder PC
iOS kompatibel mit Apple iPad Camera Connection Kit (separat erhältlich)
Enthält Ableton Live Lite
Hochwertiges Software Paket im Lieferumfang: AIR "Mini Grand" Acoustic Grand Piano, AIR "Velvet" Vintage Electric Piano, AIR "DB-33" Tonewheel Organ Simulator und SONiVOX "Eighty Eight Ensemble" Authentic Piano Instrument
Enthält eine 3-Monats Skoove Lizenz für den Online Klavierunterricht
Keyboardzonen-Zuweisung für Tastatur Split und Layer und 1 Finger Chord Funktion (4- stimmig)
Einfache Editierung der Parameter über einen im Lieferumfang erhältlichen Hammer 88 Editor
Notenständer
M-Audio HAMMER 88
88-KEY HAMMER-ACTION USB MIDI CONTROLLER
M-Audio HAMMER 88
88-KEY HAMMER-ACTION USB MIDI CONTROLLER