ATEMBERAUBENDES NEUES SPIELERLEBNIS
Entdecke ein fantastisches neues Musikinstrument: eines, das die Limits des Tastendrucks an die absolute Grenze treibt. Bereite Dich darauf vor, die Grenzen zwischen Dir und der Musik aufzuheben. Bereite Dich darauf vor, Dich wie nie zuvor auszudrücken.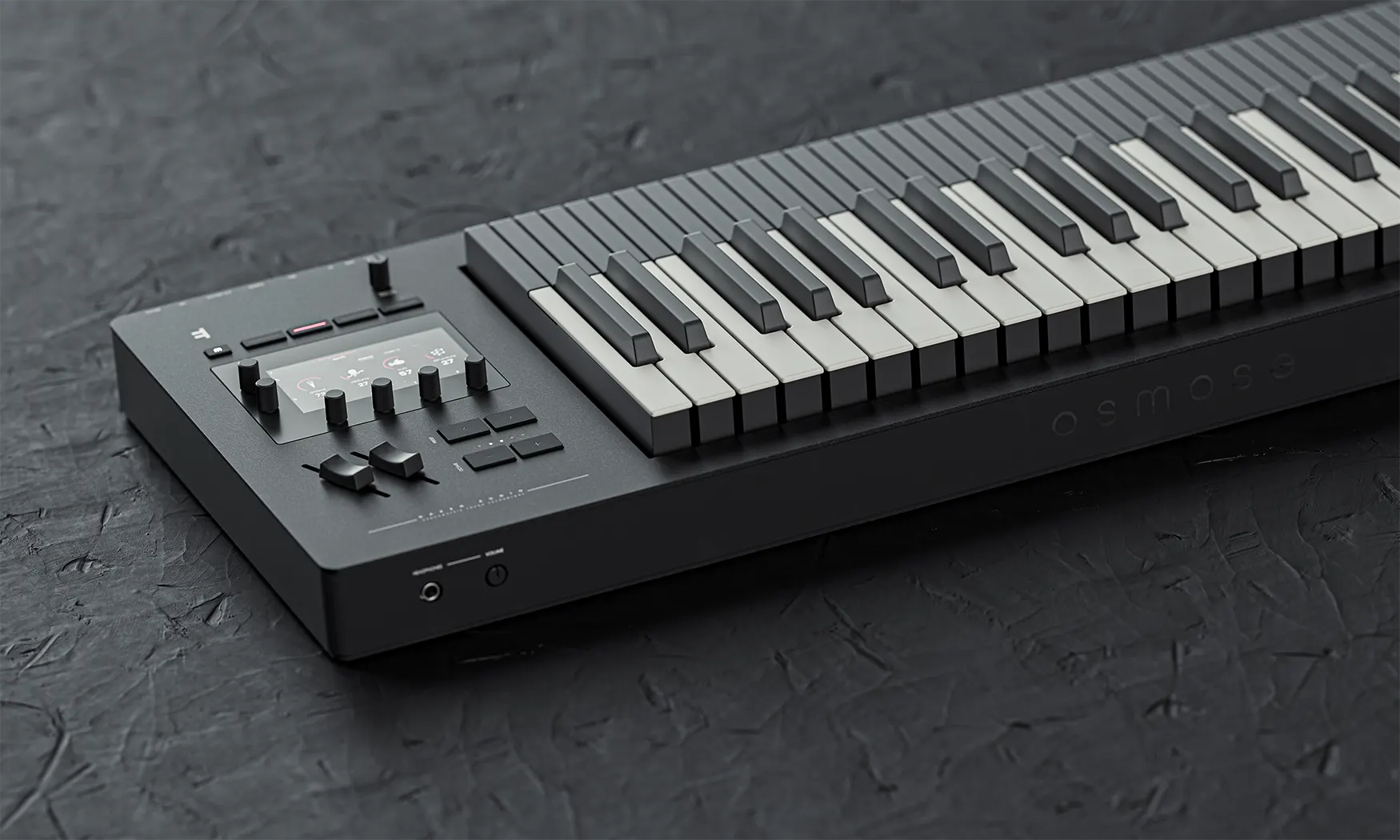 be one with sound
Es gab noch nie ein Instrument wie Osmose. Osmose ist ein Keyboard das Dir eine noch nie dagewesene Ausdruckskraft verleiht, mit jeder einzelnen Taste. Lerne den Keyboard Synthesizer kennen, wo jeder Sound Dir völlig neue und atemberaubende Spielerlebnisse bietet. Lass uns die neuen Fähigkeiten entdecken:
ENHANCE YOUR
PLAYING EXPERIENCE...
Entdecke das Instrument, das Du wie nie zuvor spielen kannst , wo jede Note einzigartig anschwellen, artikuliert und geformt werden kann. Wo jeder Sound Dir ganz neuartige Spielerlebnisse bietet.
The Initial Pressure on every key is capable of capturing a very wide palette of subtle taps.
The Initial Pressure on every key is capable of capturing continuous gestures with absolute precision.
Push a single key to 'strum' a whole range of notes.
Tapping a note, or swelling a note, can each be interpreted as different actions to provide completely different results.
Osmose's pitch is mechanical, and that changes everything. Play Vibratos and Bendings like never before.
Ultra-Dynamic Polyphonic Aftertouch: adds an extra level of sound control, with an unparalleled sensitivity and playability.
Vibrate a note to add articulations to your sound.
...WITH 3D CONTROLS
IN
EVERY KEY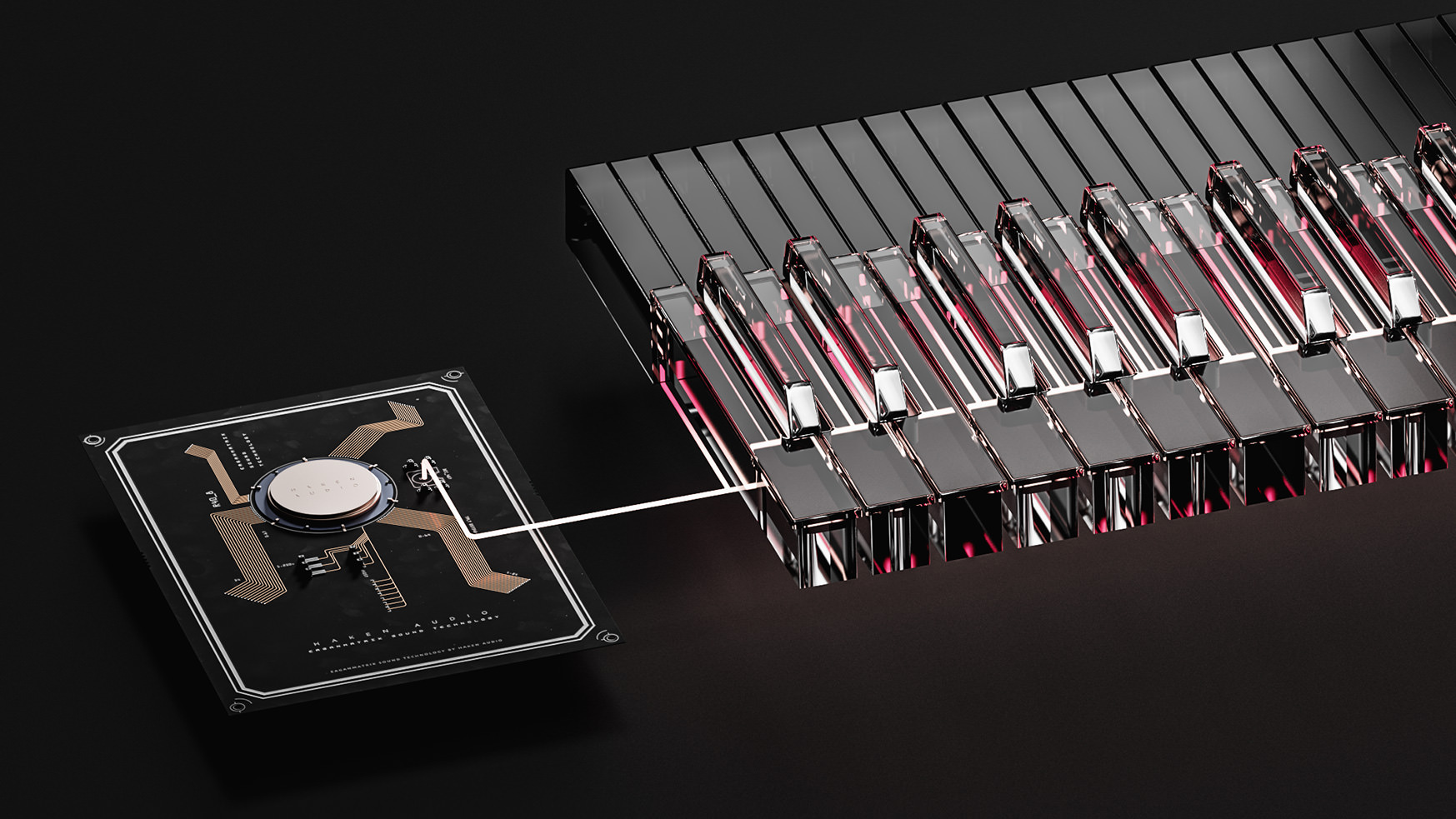 DIE FORTSCHRITTLICHSTE SOUND-ENGINE FÜR EXPRESSIVITÄT
Osmose bindet Haken Audio's einzigartige EaganMatrix Sound Engine ein: Von virtuell analog bis FM-Synthese, physikalische Modellierung und alles dazwischen, noch nie hat eine Synth-Engine so viel Potenzial für expressive Klangsteuerung geboten. Entdecke eine unendliche Welt mit unglaublichen akustischen und elektronischen Klängen.
YOUR EXISTING SYNTHS JUST GOT BETTER

Entdecke das wahre Potenzial Deiner Lieblings-Hardware- und Software-Synthesizer, wenn Du sie mit der erstaunlichen Ausdruckskraft von Osmose kombinierst. Selbst wenn Dein Synthesizer nicht auf polyphonen Aftertouch oder MPE reagiert, kann Osmose ihn trotzdem steuern:
PIANO MODE
Osmose kann einen klassischen Keyboard-Controller emulieren, der einfache Velocity-Messages sendet.
POLY AFTERTOUCH UND GLOBAL PITCH BEND
Steuere Deinen Synthesizer mit dem Osmose Initial Pressure System und Poly Aftertouch. Jede Taste kann auch die globale Pitchbending-Funktion Deines Synthesizers steuern.
MULTICHANNEL MPE, MPE+
Osmose ist auch mit dem wichtigsten MIDI-Protokoll polyphone Expression und MPE+ kompatibel, für eine fortschrittliche und präzise Reaktion.
STANDALONE-KONFIGURATION
Die MIDI-Konfiguration kannst Du direkt am Gerät über den eingebauten Bildschirm vornehmen, ohne dass Du Dein Gerät an einen Computer anschliessen musst.
Osmose ist einer der ausdrucksstärksten Synthesizer, die je entwickelt wurden. Es ist ein komplett eigenständiger polyphoner Synthesizer mit dem patentierten A.K.A. ©-Mechanismus, bei dem das Keybed polyphon auf Druck, Aftertouch und Note Bend reagiert. Es verfügt über eine tiefgreifende modulare Sound Design Engine, die Hunderte von unglaublichen Sounds enthält, die sofort einsatzbereit sind, und kann zudem als fortschrittlicher Controller für Hard- und Software-Synthesizer verwendet werden.
INTERNAL SOUND ENGINE
EaganMatrix, ein digitaler modularer Synthesizer von Haken Audio
AUDIO CONTROLLERS
Pitch stick, Modulation stick
AUDIO OUTPUT
¼" Stereo-Kopfhörerbuchse, zwei ¼" Mono-Ausgangsbuchsen für Mainout, 24 Bit D/A
PEDAL INPUT
Zwei kontinuirliche Pedaleingänge, die den Sustain- oder flexiblen Syntheseparametern zugeordnet werden können.
*Änderungen der Spezifikationen vorbehalten
keybed
49 Tasten mit A.K.A.-Technologie
POLYPHONY
Bis zu 24 Stimmen mit layered, Split Modus
MIDI
MIDI In, MIDI Out/Thru, USB Type B
PANEL CONTROLS
8 Regler/Encoder, 9 Tasten, LCD-Farbdisplay