Apogee Symphony I/O MKII SoundGrid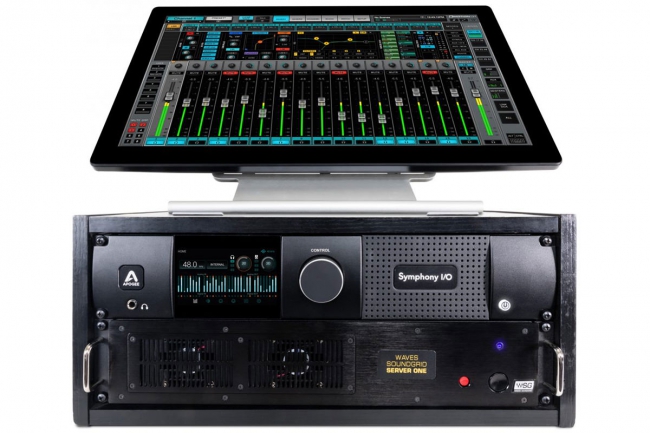 MULTI-CHANNEL AUDIO INTERFACE FÜR WAVES SOUNDGRID SYSTEME
Ultimate Soundf Quality meets powerful DSP enabled Networking
Mit einer einfachen Ethernet-Verbindung kann nun die branchenweit führende Soundqualität von Symphony I/O MK II aus dem Hause Apogee mit Ihrem Computer verbunden werden, zwischen mehreren Räumen und Computern geteilt und mit fast unendlicher Echtzeit-DPS-Power via Waves SoundGrid-Servern aufgeladen werden.
Symphony I/O MK II SoundGrid integriert alle möglichen DAWs nahtlos, was ungeahnte Möglichkeiten für Setups jeder Studiogrösse, Live- und Postproduktions-Workflows eröffnet.
Highlights
Connect Symphony I/O Mk II via Ethernet cable to computer(s) and/or SoundGrid compatible devices
Sync audio between multiple computers, DAWs & rooms (Mac or PC)
Near-zero latency recording with any SoundGrid compatible plugins*
Mix with near unlimited plugin power*
Up to 32 channels of modular analog I/O with optional 8 mic preamps per Symphony
Best per-channel value of any interface in its category
Setup and advanced control with Waves SoundGrid Studio application
Available as free download from Waves
Ideal for studio facilities, live sound, broadcast and post-production
Designed in California, Built in the U.S.A.
*Requires Waves SoundGrid server
Konfiguration
Symphony I/O MK II SoundGrid Chassis mit höchstens zwei der folgenden Module:
8x8 Modul + 16x16 Modul Symphony I/O MKII 24x24 SoundGrid
16x16 Modul + 16x16 Modul Symphony I/O MKII 32x32 SoundGrid
SYMPHONY I/O MK II SOUNDGRID STUDIO
Easy Collaboration
Collaboration is easy with a SoundGrid equipped Symphony I/O Mk II at the center of your studio. Simply connect any additional computers via ethernet cable to effortlessly route audio digitally between multiple computers and your main Symphony I/O, using any combination of DAWs.
Let's say you have a great drum beat started in Logic Pro X and a collaborator comes to your studio with their laptop and Ableton Live. You can simply connect the laptop to your host computer with an ethernet cable, download the Waves SoundGrid connect audio driver on your guest's computer and you're ready to collaborate. Transport controls will be synced between the two computers and you can play all tracks through your Symphony I/O Mk II.
Record with Real-Time Plugins. Mix with Unlimited Power.
Add a Waves SoundGrid server to your Symphony I/O Mk II to supercharge your workstation and be able to record with plugins, with near zero latency. The SoundGrid Server handles plugin processing so your computer can handle other demanding tasks while mixing or editing. Use more plugins than ever by spreading the load between your computer and the server. When you are away from your studio, these plugins can continue to run natively on whatever computer you're on – no hardware or dongle required.
Take Apogee and Waves from the Studio to the Stage
Your audience expects the concert to sound just like the record. Symphony I/O Mk II and Waves eMotion LV1 digital software mixer makes this possible for any size touring band. Waves' plugins and Apogee AD/DA conversion are industry standards in the recording studio. For the first time, you can combine them with arena-sized mixing power in a compact package you can easily travel with to deliver incredible sound quality for any performance.
Waves' LV1 provides the quick and convenient workflow needed in demanding live environments. Adjust Symphony I/O Mk II's mic preamp gain and 48 volt phantom power right from the LV-1 channel strip or open the SoundGrid Setup page for advanced hardware control.
Looking to provide a comprehensive audio solution for your house of worship or venue? Symphony I/O Mk II and SoundGrid offer front of house mixing, multitrack audio recording and multi-room distribution in one integrated system.
Connection:
Performance:
Computer:
Control:
Waves SoundGrid Studio Application (Free download from Waves) or Front panel touchscreen
Compatible Software:
See Waves website for details