Apogee Control Remote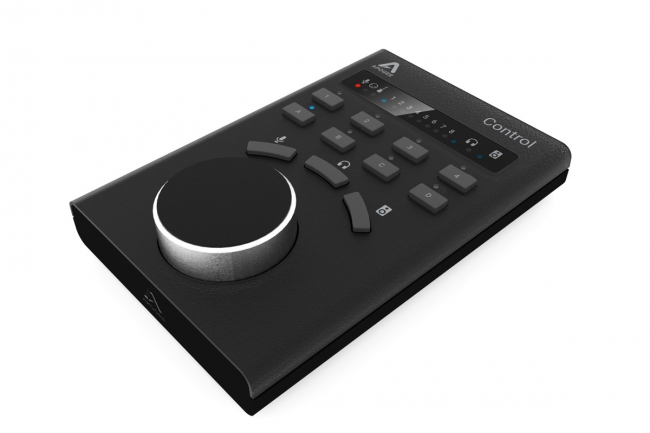 Control the Elements
Apogee Element 24, 46 und 88 sind so gebaut, dass sie von einer leistungsstarken eco-system Software gesteuert werden. Mit der Element-Serie hast Du mehr Steuerungsmöglichkeiten als je zuvor.
Greife auf alle I/O Bedienelemente und Einstellungen Deines Element Geräts mit Hilfe der Element Control App zu, Apogees Softwaresteuerung für den Mac. Nutze die App, um den Eingangssignaltyp festzulegen, Eingangs- und Ausgangspegel einzustellen, bis zu 3 verschiedene Niedriglatenz-Mixer zu konfigurieren und viel mehr. Du kannst auch die Pfeiltasten auf Deiner Tastatur nutzen, um schnell Ein- und Ausgänge anzuwählen und den jeweiligen Pegel einzustellen.
Mit dem Essentials Fenster von Element Control siehst Du alle benötigten Hardware-Einstellungen in einem Fenster, dass minimalen Platz verbraucht. Platziere das Essentials Fenster unter, über oder seitlich neben Ihrer DAW, um so blitzschnell auf Ihr Interface zuzugreifen. Dein Arbeitsfluss wird dadurch nicht beeinträchtigt und Du kannst Dich weiter auf Deinen Bildschirm fokussieren.
8 programmierbare Tasten
grosser Regler für eine Vielzahl von Einstellungen
Verbindung via USB-Kabel (nicht im Lieferumfang enthalten) direkt an den Mac
Features
Hardware remote accessory for Symphony I/O Mk II, Element series I/O interfaces, and Ensemble Thunderbolt
Sold separately
Symphony-inspired Control Knob plus Input, Headphones and Speaker control knob focus buttons for lightning access to input and output levels
8 user-assignable buttons offer a wide variety of functions:
Analog Input control – input type, 48V, soft limit, group, polarity
Analog Output control – mute, dim, sum to mono, speaker set selection, reference level
Engage Talkback
Launch Control software app
Connects to Mac with supplied USB cable
Compatible with Symphony I/O Mk II, Element 24, Element 46, Element 88, and Ensemble Thunderbolt audio interfaces
Sometimes, it just feels right to have hardware control at your fingertips – we know, we pioneered this approach with Apogee Duet. With the Apogee Control hardware remote, you have 8 buttons and a control knob that you can configure to control a wide range of settings. Apogee Control hardware remote connects directly to your Mac using a simple USB cable.
{gallery}Apogee_Control_Remote{/gallery}