Apogee QUARTET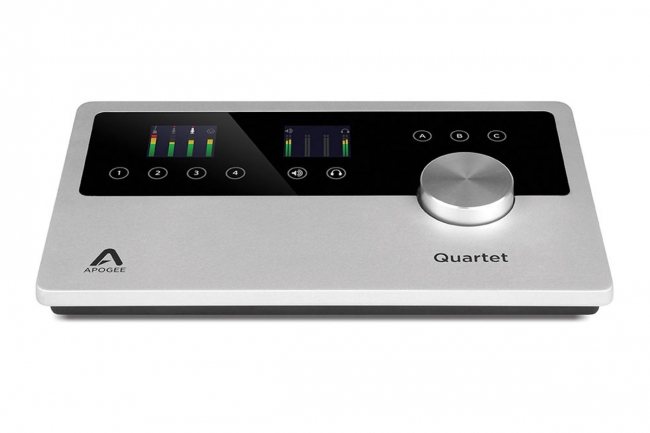 12 IN X 8 OUT USB AUDIO INTERFACE FOR IOS MAC AND PC
THE ULTIMATE DESKTOP AUDIO INTERFACE
Apogee Quartet is the ultimate desktop audio interface and studio control center for professional recording. Made for the musician, producer and engineer that wants the ultimate sound quality and studio control in a compact desktop form factor, Quartet features legendary Apogee AD/DA conversion, 4 world-class microphone preamps, USB MIDI I/O, ESS Sabre32 DAC technology and monitor controls.
With Quartet's 4 Combo inputs you can connect microphones, guitars, keyboards or line level devices such as external mic preamps or a mixing board. Expand your system with 8 additional inputs via Quartets optical (ADAT/SMUX) digital IN. Quartet also includes 8 analog outputs – 6 1/4" balanced outputs for connection to speakers or outboard equipment and a separate, independently controlled 1/4" stereo headphone output. You can control up to 3 pairs of speakers or set Quartet up for 5.1 surround monitoring.
HIGHLIGHTS
AD/DA conversion for recording up to 192kHz / 24-bit.
4 analog inputs with world-class mic preamps and selectable 48v phantom power for connecting microphones, instruments or line-level devices.
8 analog outputs – 6 balanced 1/4" outs for speakers or outboard gear, 1/4" stereo headphone output.
8 digital inputs via 2 optical connections (ADAT/SMUX).
Monitor control for up to 3 sets of speakers or 5.1 surround.
USB 2.0 High Speed connection to Mac or PC.
Direct digital connection with iOS devices (iPhone, iPad and iPod touch. 30-pin cable sold separately).
Software control of hardware parameters including input selection and low latency monitoring.
Sound Quality - The Apogee Advantage

A difference you will hear

From the mic preamps to the AD/DA converters and the clocking, Quartet is best-in-class and cutting-edge Apogee technology. With components carefully selected in critical listening tests and a highly efficient circuit design, Quartet was built by Apogee engineers to make a difference you can hear.
Pristine, next generation AD/DA converters

Quartet's AD/DA converters are designed to deliver the purest recordings and best listening experience possible. Quartet's efficient circuitry and state-of-the-art components provide a simplified signal path resulting in incredibly transparent recordings.
Smooth, detailed world-class mic preamps

Much like the AD/DA converters, Quartet's mic preamps feature the latest components and offer seamless click-free transitions as the gain increases and decreases throughout the incredible range of 0-75dB. This unprecedented feature allows you to dial in the perfect level, either with the controller knob or from within software, while delivering ultra-low noise and smooth, crisp detail. Quartet's mic pres are suitable for all dynamic, condenser or ribbon microphones, allowing you to capture any sound without compromise.
Soft Limit for protection from digital overs

An Apogee technology first introduced in 1992 on Apogee's AD-500 converter, Soft Limit can be heard on countless platinum selling records around the world. Once a technology exclusively reserved for Apogee's most advanced audio converters, Soft Limit is included in Quartet and can be enabled in Apogee Maestro software.
This superior analog design prevents the digital clipping that causes distortion by instantaneously rounding off transient peaks before they hit the analog-to-digital converter. Soft Limit allows several more decibels of apparent level to be recorded while subtly providing an analog-like warmth to the sound.


Inputs & Outputs
Analog Inputs
Quartet is equipped with 4 combination input connectors (XLR and 1/4") for connecting microphones, guitars and keyboards or your favorite external mic preamps, compressors and EQs.

Digital Input
Quartet also includes 8 channels of digital input via 2 optical connections (ADAT/SMUX) for connecting an additional analog-to-digital converter such as Apogee's Ensemble.

Analog Outputs
Quartet's 6 balanced 1/4" TRS outputs offer an impressive range of possibilities. Listen and compare stereo mixes on up to three sets of speakers.

Word Clock
Quartet provides Word Clock OUT for synching an external A/D converter to Apogee's superior clocking technology.

MIDI
Quartet provides a single USB MIDI connection for your CoreMIDI compatible keyboard, synth, or DJ controller.


Design

Solid build quality

Built with die-cast aluminum, steel and a scratch-resistant display panel hardened by UV processing, Quartet is solid, compact and perfectly integrated into the desktop studio environment.