SMART CONTROLS AND AUTO-MAPPING
M-Audio have just announced the introduction of a brand-new series of keyboard controllers, the Oxygen Pro series! These new keyboard controllers have been made for music producers everywhere that want professional grade features, maximum control of their virtual instruments, and precision playing options on a fun and easy to use controller. The M-Audio Oxygen Pro controllers are the ultimate studio and live performance tools, allowing you to keep your focus on creating music – not programming your software.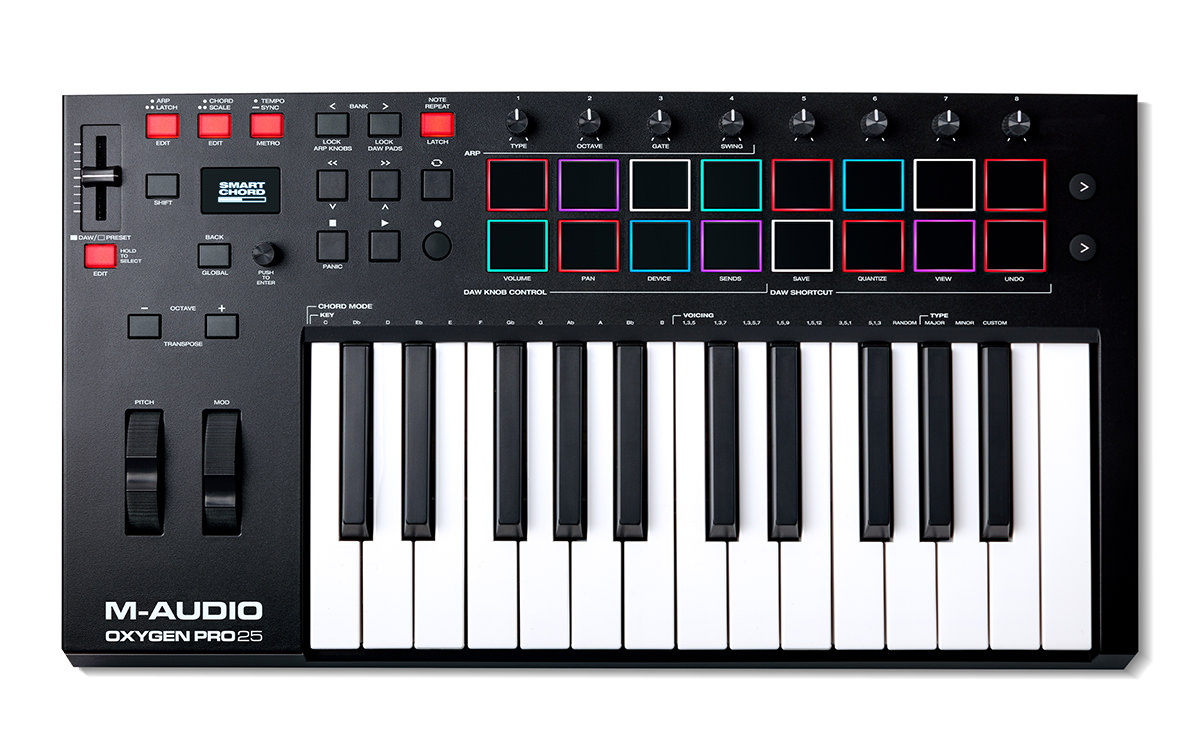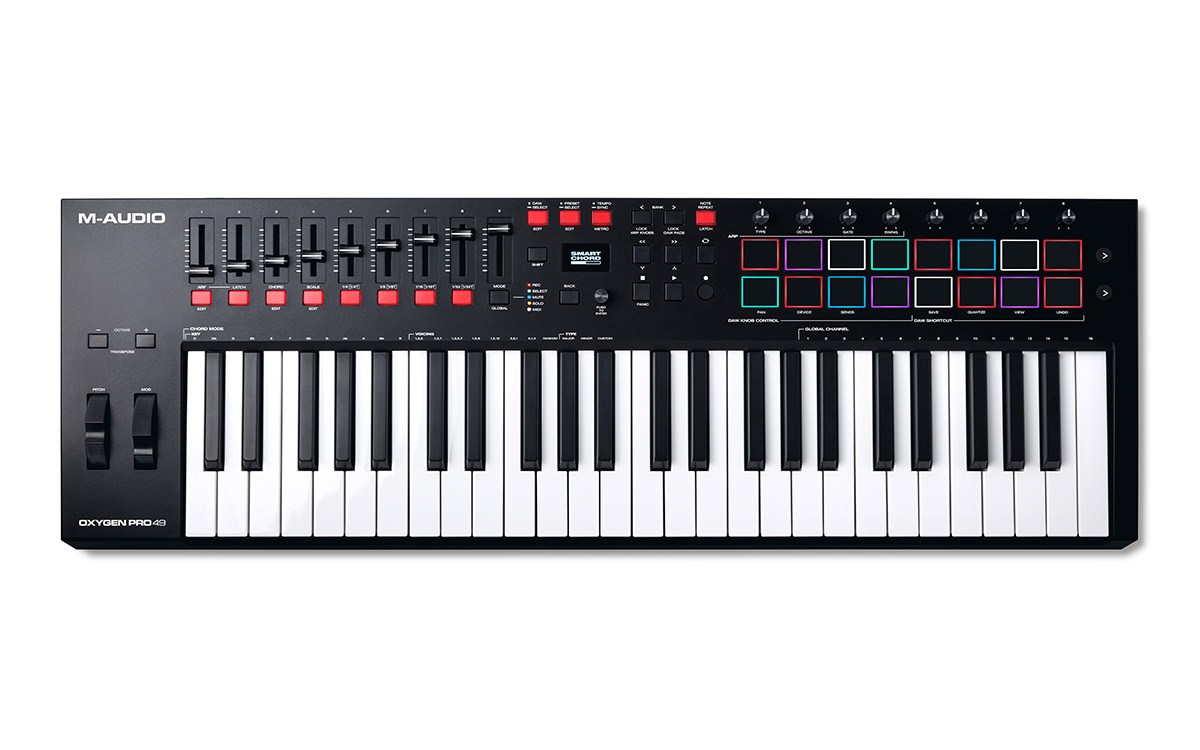 Available in 25, 49, 61, and Mini key versions, the entire Oxygen Pro Series are USB powered and all feature an OLED screen, smart chord and smart scale technology, auto-mapping, a built-in arpeggiator and note repeat, which are all essential to modern music production. The Oxygen Pro 25, 49, and 61 all have 16 RGB backlit velocity-sensitive pads, nine assignable faders (excluding the Pro 25), eight assignable knobs, 5-pin MIDI output, and an incredibly smooth- feeling keyboard bed that provides maximum control of your software. The Oxygen Pro Mini packs eight performance pads, four knobs, and four faders into a more compact design.
Building upon M-Audio's legacy of innovative workflow and playability, the Oxygen Pro series automatically map to popular DAWs such as MPC Beats, Pro Tools, Ableton Live, Logic Pro, Studio One, and Steinberg Cubase. The Oxygen Series will also auto-map to the included Air Music Tech virtual instruments (Velvet, Mini Grand, Vacuum, Boom, DB- 33, Xpand!2) so artists can easily convert their creativity into immediate, tangible results. Smart Chord lets the user play full chords with a single press of a key, while Smart Scale enables the user to set the key bed so that only notes in the selected scale are able to be played. This allows you to play within a chosen scale without the risk of playing any "wrong" notes.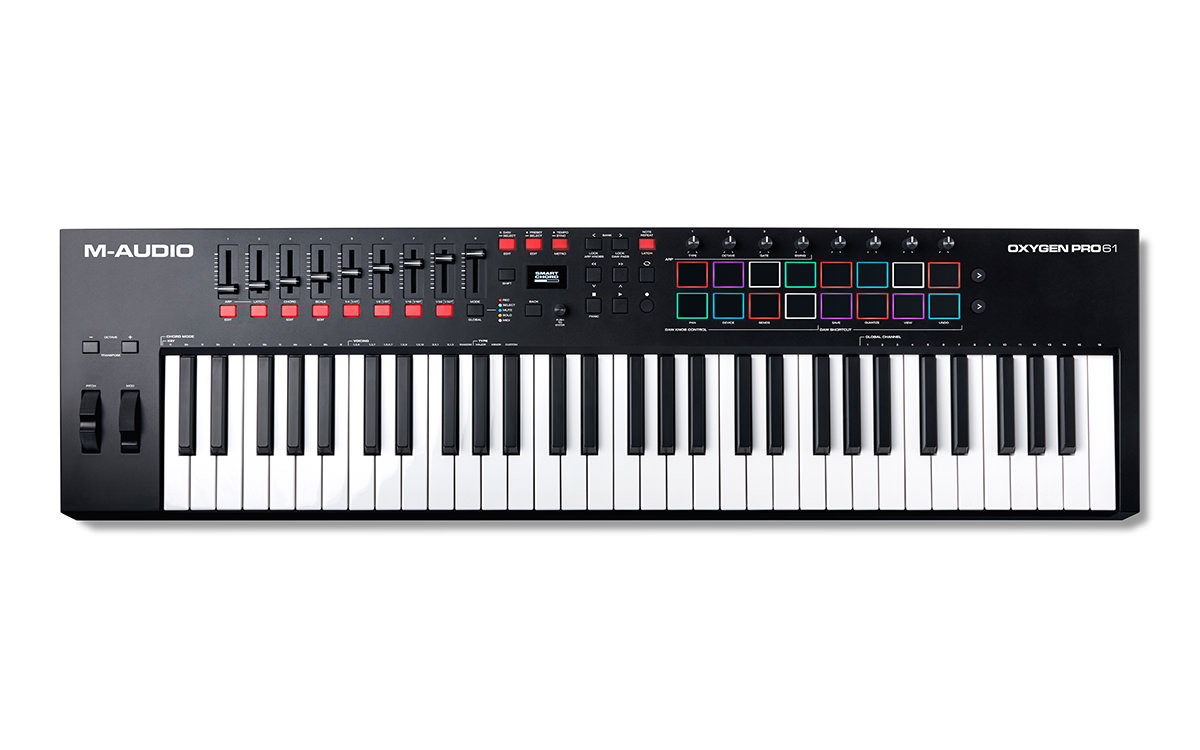 PREMIUM SOFTWARE SUITE INCLUDED
DAWS
MPC Beats
Pro Tools | First M-Audio Edition
Ableton Live Lite
VIRTUAL INSTRUMENTS
Hybrid 3 - Multi-oscillator synthesiser
Velvet - Electric Piano
Mini Grand - Acoustic Piano
Vacuum - Analogue synth
Boom - Vintage drum machine
DB-33 - Classic Organ
MPC EXPANSION PACKS
MPC Beats Producer Kits - Multi-Genre Beat Production Pack
F9 Instruments Beats Edition - 25 High Quality Instrument Samples
LANIAKEA Sounds – TrapSoul & LoFi Production Pack
MSX Audio - Soulful Drums Collection
ADSR - LoFi Producer Collection
MVP Urban Roulette Beats Edition - Urban Kits & Samples Expansion Pack
Cr2 Deep House Beats Edition - Deep House Expansion Pack
OXYGEN PRO SERIES KEY FEATURES
Best-in-class, velocity-sensitive, semi-weighted keys with aftertouch and assignable zones
(16) RGB, backlit, assignable, velocity-sensitive pads with Note Repeat for beat production, clip launching, andmore (8 for Mini)
(8) assignable knobs for controlling virtual instruments, mix plugins, DAW controls and more (4 for Mini)
Preset and DAW buttons for auto-mapped DAW controls & plugin parameters
Smart Chord mode enables playing of enharmonic or custom chord voicings
Smart Scale mode eliminates wrong notes making it easy to craft a perfect song
Arpeggiator with Type, Octave, Gate and Swing controls
Ergonomically designed pitch and modulation wheels & 1⁄4-inch sustain pedal input
USB-MIDI connection and 5-pin MIDI Output for controlling external MIDI gear
Intuitive layout featuring an OLED screen for quick control edits
Includes MIDI editor software and a complete software production package
M-Audio Oxygen Pro Mini
CHF 119

.-
Order Number: 010601203-000
EAN : 0694318025116
Weight: 1.6kg
Quantity discount: 4 pcs
Available: December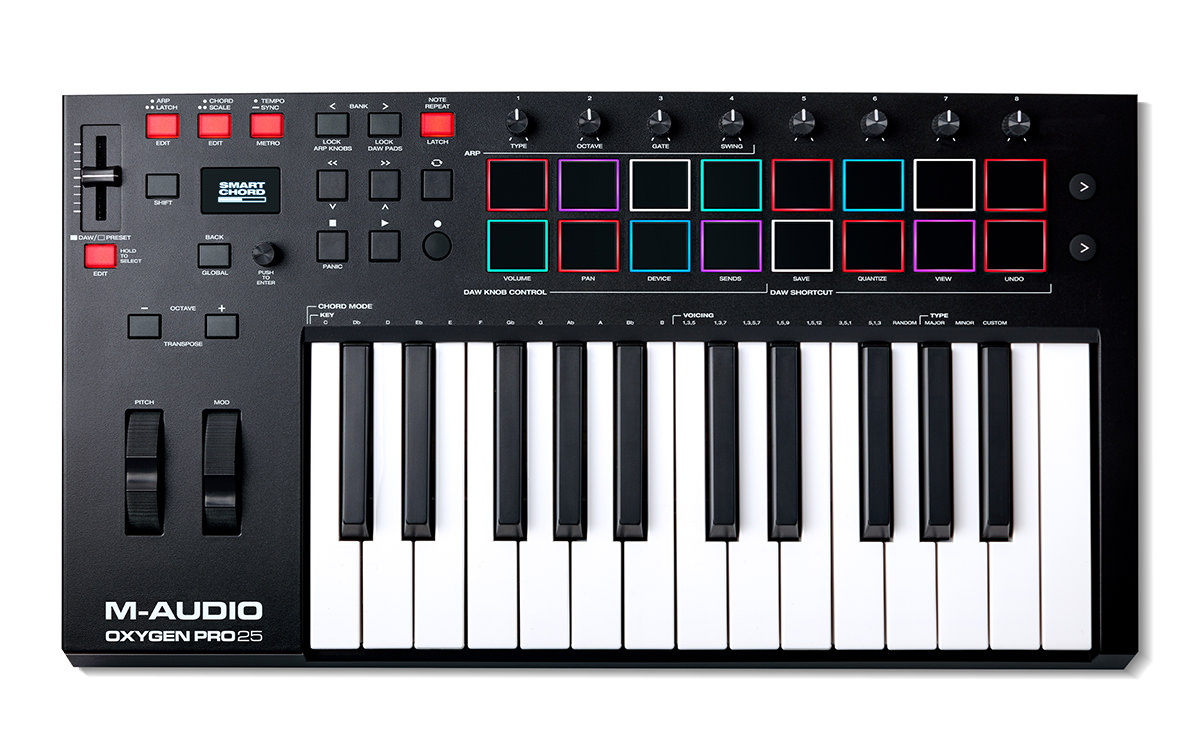 M-Audio Oxygen Pro 25
CHF 179

.-
Order Number: 010601204-000
EAN: 0694318025123
Weight: 3kg
Quantity discount: 5 pcs
Available: In stock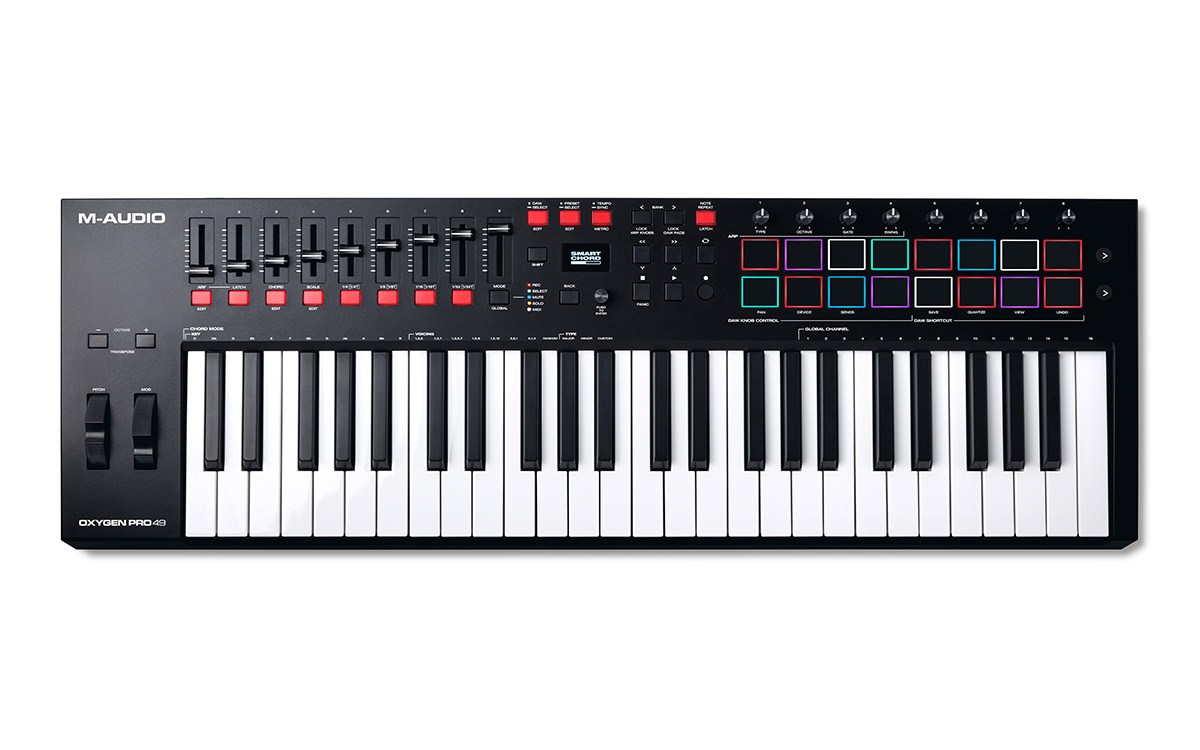 M-Audio Oxygen Pro 49
CHF 229

.-
Order Number: 010601205-000
EAN: 0694318025130
Weight: 4.9kg
Quantity discount: 3 pcs
Available: In stock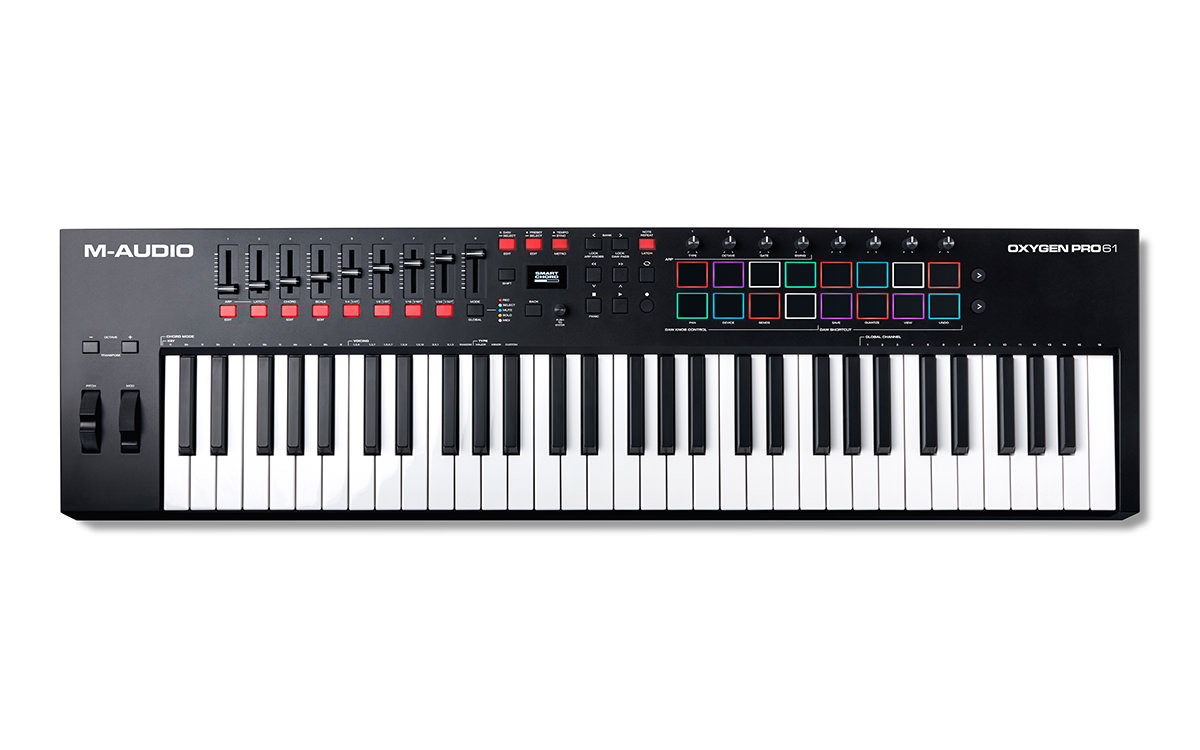 M-Audio Oxygen Pro 61
CHF 279

.-
Order Number: 010601206-000
EAN: 0694318025147
Weight: 5.6kg
Quantity discount: 3 pcs
Available: November
END OF LIFE M-AUDIO CODE SERIES
The M-Audio CODE Keyboards, CODE 25, CODE 49 and CODE 61 are end of life, effective immediately. Backorders will be automatically cancelled by us.