USB MIDI Controller with X/Y Pad
M-Audio presents its Code Series keyboard controllers, a family of three full-featured models, combining all of the production power and performance you need to get the most from your music software and MIDI gear.
The Code Series offers several thoughtful design touches that enable you to create and perform your best. A keyboard should not be an obstacle standing in the way of creativity. Instead, it should function as a direct extension of your thoughts ensuring that you convey musical ideas with immediacy, precision and clarity.
ASSIGNABLE CONTROLLERS
Code controllers are equipped with everything you need to produce some serious musical creations. Extensive assignable parameter control is a breeze with multiple banks of faders, knobs, buttons, pads, and a smooth feeling pitch bend and modulation wheel on top. New to the line of M-Audio controllers is the X/Y Touchpad, which provides additional and direct interaction with effects and instrument plugin parameters across an X/Y axis.


In addition, the keyboards can be split into four assignable zones to maximize the flexibility and functionality of your setup. (ie: trigger four different instruments in their own separate zone, or overlap zones and trigger two instruments at the same time).
BACKLIT DRUM PADS
There are 16 assignable RGB backlit velocity sensitive drum pads to indicate at a quick glance exactly what function any particular pad is assigned to. The buttons, knobs and faders are also color-coded to indicate what mode they're in. An alphanumeric LED display provides informative feedback, including on-screen display of parameters and settings. It all adds up to no confusion, no guessing, just precision control.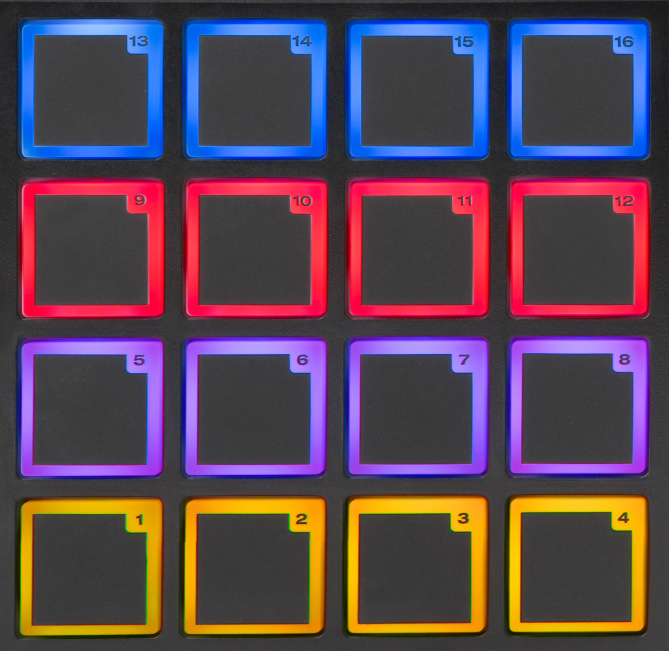 Now included with all current M-Audio Keyboard products and audio interfaces. For all new and existing customers!
EXCLUSIVE SOFTWARE INCLUDED
A comprehensive software package is included—Ableton Live Lite, full versions of AIR Music Technology's award winning virtual instruments Loom and Hybrid 3.0—so you have unrestricted access to the best creative tools.


Ableton Live Lite delivers much of the functionality of Ableton Live—the revolutionary, multi-award winning music production solution that allows you to spontaneously compose, record, remix, improvise and edit your musical ideas in a seamless audio/MIDI environment. Live brings your acoustic, electronic and virtual instruments—as well as your digital audio recordings and MIDI sequences—together in a single interface with unparalleled ease of use.
The Code Series offers the highest professional level of performance control and keybed feel, combined with an unusually comprehensive set of features and included software.


Pro Tools First Download:
Pro Tools | First, the industry standard for recording software, is now included with M-Track C-Series Audio/MIDI interfaces, as well as our renowned CTRL, Code, Oxygen, Hammer and Keystation USB/MIDI keyboard controllers. This amazing audio recording software helps inspire any artist, traveling musician or singer-songwriter to create, record and share all of their ideas across the world at any time.


Pro Tools | First features Unlimited Busses, Elastic Time and Elastic Pitch, Offline Bounce and 1 GB of free cloud storage space for collaboration or accessing your projects from any computer anywhere that is connected to the internet.


This truly amazing software recording package is primed to get your ideas out of your imagination and amplified out into the world, enjoy!
TOUCH LOOPS
Chop up and mix 2 gigs of samples ranging from deep ambient synth pad loops to vintage drum one shots. These are all designed to inspire your music production and provide professional sounding samples that will shine in your mix. Touch Loops perfectly captures the tone and intensity of each sample, so they enhance and complement any song, wherever you use them. This incredible value can be found in your M-Audio account, ready to be downloaded and chopped to your liking!
The dealers listed here are our long-standing brand partners and know the brand and its service structure well. If no dealer is near you, contact us.
M-AUDIO CODE 25
USB MIDI Controller with X/Y Pad