2X2 24-BIT / 192 KHZ USB AUDIOINTERFACE
With the M-Track 2X2, you can capture your instrument and vocal performance in 24-bit/192kHz studioquality with an intuitive and easy-to-use audio interface. Boasting an elegant pro-grade metal chassis with a large central volume knob, the M-Track 2X2 features all-new transparent low-noise Crystal pre-amps and pristine A/D converters that deliver the highest audio performance in its class. The M-Track 2X2 enables you to record up to 2 channels at once with its dedicated XLR+1/4" balanced combo input, and an all-new 1/4" instrument input that has a specially designed gain and impedance stage to provide the most accurate representation of a guitar or bass plugged directly into the interface. The M-Track 2X2 connects to your Mac or PC via a standard USB or USB-C port using one of the two included cables.
This premium Hi-Speed USB connection combined with the USB/Direct balance knob enables you to have zero-latency monitoring of your inputs, making the recording process easier than ever. The overall combination of professional audio performance, easy-to-use features, and the included software bundle that provides everything you need to start recording now makes the M-Track 2X2 the best and only choice for solo artists.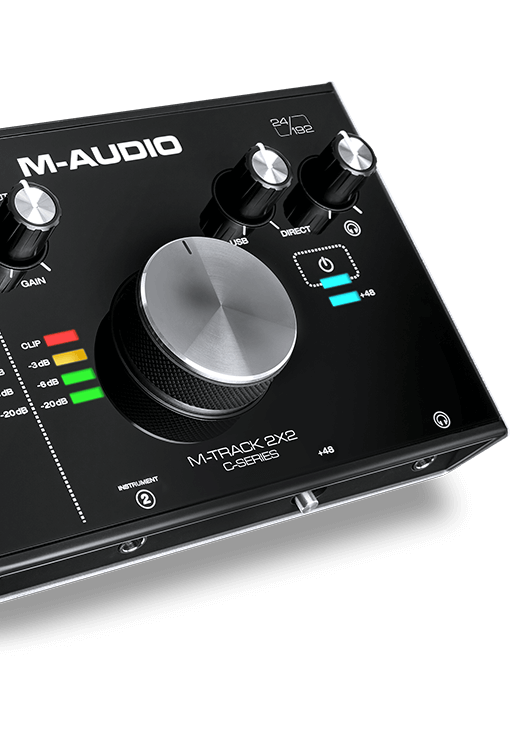 Crystal Clear Recording
With M-Audio's C-Series Interfaces, high quality signal capture has never been easier courtesy of all-new, pro-grade "Crystal" Preamps. Engineered from the ground up, Crystal Preamps provide musicians and producers with a transparent, low-noise solution that guarantees to get the best out of your microphone and capture your performance the way it was intended to be heard – plus, the inclusion of a +48v Phantom Power Switch assures all microphone types are catered for, including the coveted sound of high-quality condenser mics.
Ultra-Portable Studio-Grade Capture
The M-Track 2X2 fuses pristine A/D converters, tailor made to provide 24-bit resolution digital audio for exquisite dynamic range that captures every nuance and subtlety of your performance; when combined with sample rates of up to 192kHz you can be sure your recordings are completely clear and true to the source audio. Whatever the occasion, be it demos or master recordings, the M-Track 2X2 provides the quality you demand in an ultra-portable, user-friendly and robust package.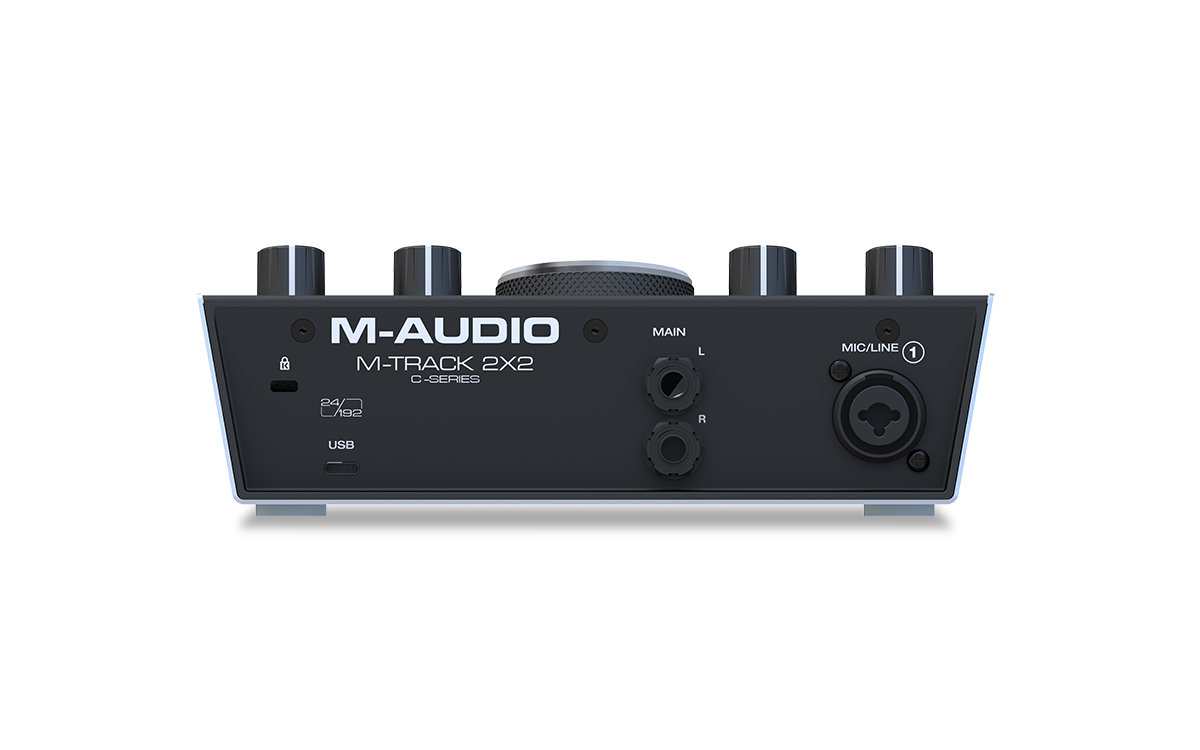 Now included with all current M-Audio Keyboard products and audio interfaces. For all new and existing customers!
2GB Touch Loops sample library
With the inclusion of ProTools First M-Audio Edition in January 2018, M-Audio has paired their unequalled studio hardware with an amazing DAW, crafting a software bundle that fits the needs of a diverse range of musicians, producers, engineers, and content creators. Since everyone's production styles are different and unique, M-Audio has carefully picked unique bundles for all of their hardware that includes Pro Tools First and packaged it with some of the most powerful virtual instruments, and effects. Users will get all the sounds they're looking for, all in one spot.
Combined with Pro Tools First M-Audio Edition and the 2GB Touch Loops sample library, this software / sample line-up is unbeatable. Seeking immediate creative potential right out-the-box? Get your hands on the latest M-Audio studio essentials – you won't be disappointed!
The dealers listed here are our long-standing brand partners and know the brand and its service structure well. If no dealer is near you, contact us.