The Industry Standard for Audio Repair
Designed specifically for the demanding needs of music and post professionals, RX 7 continues to be the industry standard audio repair tool used on movies and TV shows to restore damaged, noisy audio to pristine condition. Get full control over your audio, whether it's isolating vocals, rebalancing mix elements, or changing the inflection of spoken dialogue.
WITH MUSIC REBALANCE, NO MIX IS "FINAL"
Vocals too quiet? Drums too loud? Can't find the original stems to your song? Using an algorithm trained with machine learning, Music Rebalance can intelligently identify vocals, bass, percussion, and other instruments and allows you to individually enhance or isolate elements in a mix, making remastering without multitracks possible.
REMOVE AND ISOLATE VOCALS
Not only can Music Rebalance be used to adjust the levels of musical elements in a mix, but it can also make once-impossible workflows like vocal isolation and vocal removal a reality. In RX 7 Standard, you can easily extract an entire vocal performance from other musical elements or even remove the vocals, leaving only the instrumental elements.
INTRODUCING REPAIR ASSISTANT
Repair Assistant analyzes your recordings to detect and solve the most common audio issues so you can focus on what's most important—your music. With RX, you can eliminate unwanted clicks, pops, hum, and noise in just a few clicks using this revolutionary assistive audio repair tool.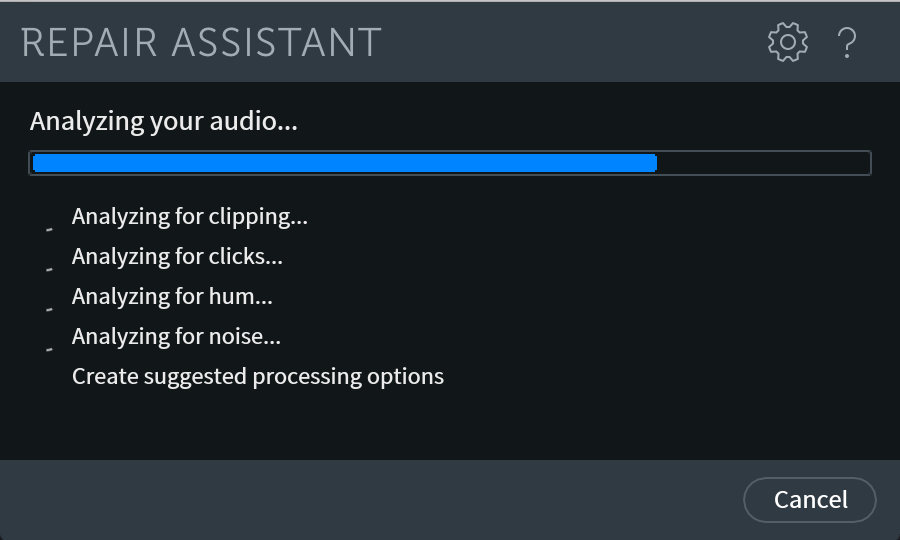 ONE EDIT TO RULE THEM ALL
The RX 7 Standard audio editor includes Composite View, which allows you to bring in up to 16 individual audio tracks and edit them as if they were one, easily addressing audio issues that appear across multiple microphones.
INSTANT REPAIR
RX 7 Standard includes Spectral Repair and Instant Process, allowing you to surgically remove noise issues that can ruin an otherwise flawless performance. Instantly paint away recording issues like air conditioners, fret noise, outdoor traffic, cell phones, and mic bumps in a matter of seconds. Perfect for home recording studios and live performances where ambient noise is an issue.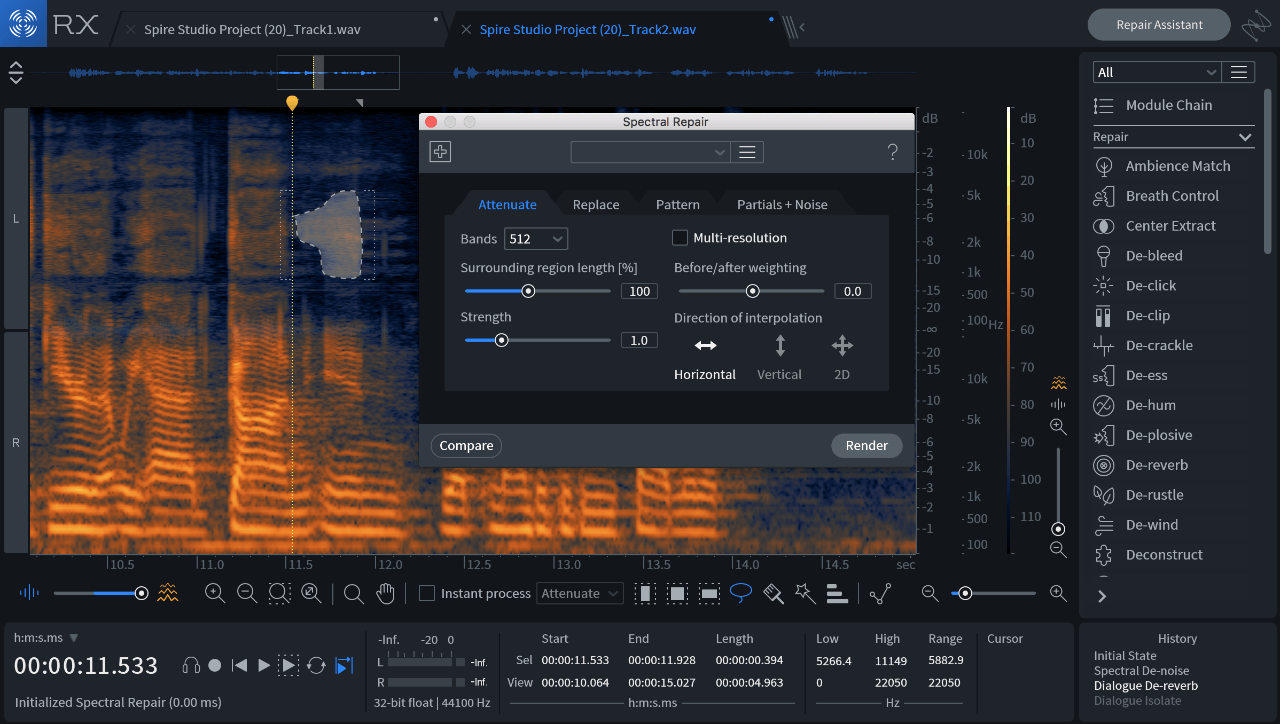 IZOTOPE RX ELEMENTS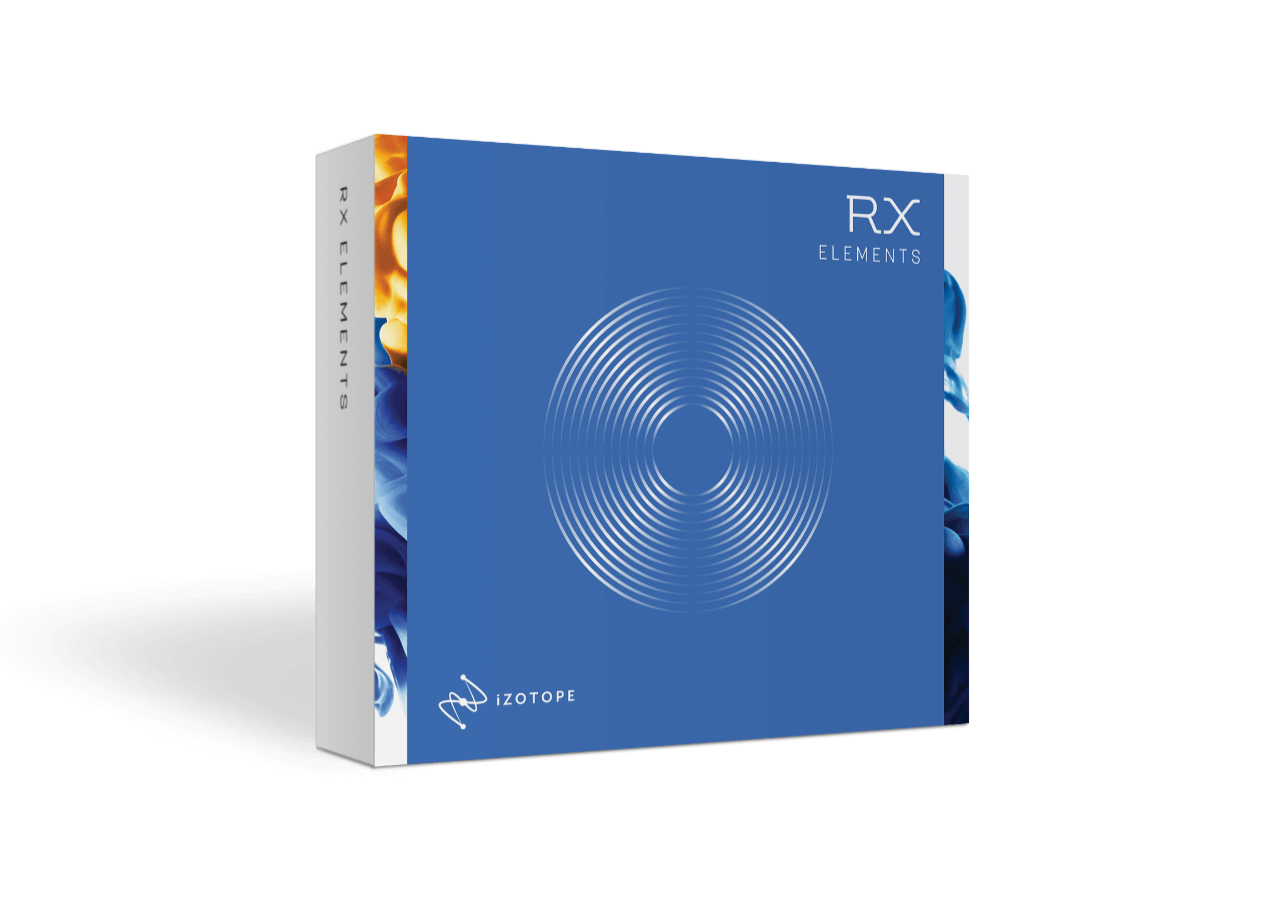 ESSENTIAL AUDIO REPAIR FOR HOME STUDIOS
RX Elements is the perfect introduction into the world of audio repair, featuring the new Repair Assistant which automatically finds and removes noise, clipping, clicks, and other problems that can plague your production audio.
IZOTOPE RX 7 STANDARD
PERFECT FOR MUSIC AND POST PRODUCTION STUDIOS
Includes everything in RX Elements
Isolate and remove vocals or rebalance mix elements with Music Rebalance
Independently adjust time and pitch with Variable Time and Variable Pitch
Eliminate noise issues with the magic of Spectral Repair
Easily fix vocal issues like sibilance, breath, and mouth clicks
Instantly repair multiple files at once with Composite View
IZOTOPE RX 7 ADVANCED
PERFECT FOR POST PRODUCTION PROFESSIONALS AND FACILITIES
Includes everything in RX 7 Standard
Remodel the performance of a line with Dialogue Contour
Remove the reverb on dialogue with Dialogue De-reverb
Repair multichannel audio up to 7.1.2
Reduce vocals in background music for clearer dialogue with Music Rebalance
Remove rustle from lav mics and other sources with De-rustle
Isolate dialogue from noisy backgrounds with Dialogue Isolate
Reduce intermittent low-end wind rumble with De-wind
Features machine learning tech and Advanced-only tools
IZOTOPE RX POST PRODUCTION SUITE 3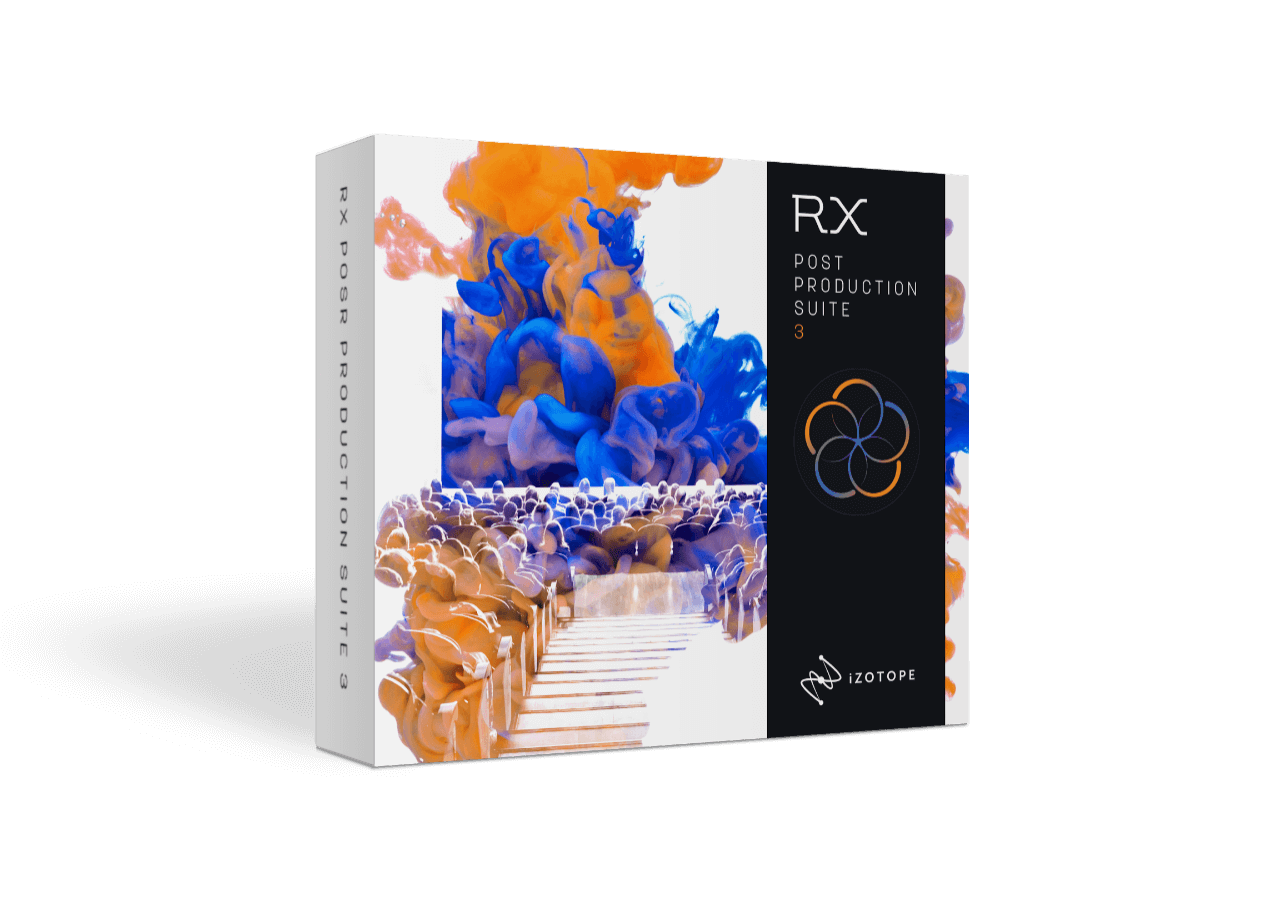 GET IZOTOPE'S COMPLETE AUDIO POST PRODUCTION SUITE
RX 7 Advanced
Insight 2
Neutron 2 Advanced
RX Loudness Control
Groove3 Video Training all-access pass
The Odyssey Collection: Design Elements from Pro Sound Effects (250 free sounds)